Why DevOps/ What is DevOps
It's quite frustrating for IT people to keep solving the same issues on computers and to wait around endlessly for other people or machines. But with the introduction of DevOps in IT operations, automated deployments (predictable) and standardized production environments free the IT staff from routine tasks and be more productive to the company.
Improve Software development and deployment cycles
Deploy frequency and quality
Release software to enable tighter alignment with business objectives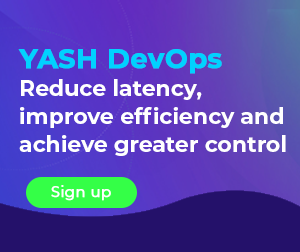 YASH's DevOps Services/Offerings
YASH offers key features to an Enterprise – Culture and Mindset; Automation and Tools; Measure, Test and Rectify; and Sharing.
These key features provide the following benefits:
Breaks organizational silos
Emphasises on collaboration and communication
Automates processes
Creates or use accelerators
Uses tools which compliment thought process
Monitors and track performances of systems and processes
Tests everything to ensure quality
Uses monitoring data to rectify issues
Shares cross-team trainings on different tools and technologies
Thank you for your message. It has been sent.