Why DevOps/ What is DevOps
It's quite frustrating for IT people to keep solving the same issues on computers and to wait around endlessly for other people or machines. But with the introduction of DevOps in IT operations, automated deployments (predictable) and standardized production environments free the IT staff from routine tasks and be more productive to the company.
Improve Software development and deployment cycles
Deploy frequency and quality
Release software to enable tighter alignment with business objectives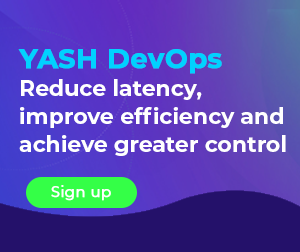 DevOps merges development and the operations team by following a set of processes, in order to complete software development. Traditional software approaches are passé and are complex to manage; whereas, DevOps benefits orgnizations by providing continuous software delivery, gives faster resolution to problems and is less complex to manage.
Benefits
At YASH, DevOps is implemented in evolutionary stages across incremental functions of the software development lifecycle. The stages are:
Continuous integration
Continuous testing
Continuous delivery
Continuous deployment
DevOps
The extent of DevOps adoption across the software development lifecycle significantly impacts the benefits that can be realized.
Adoption of DevOps can reduce time-to-market and improve flexibility, responsiveness and customer centricity – hence, the benefits include:
Incremental changes ensure less defects
Reduced downtime thus lowering loss to business
Reduced deployment or execution failures
Release of minimum viable product
Increased time savings due to more collaboration
Reduced dependency among resources
Quicker rectification of faults
Results of previous sprints can be used to adaptively tweak future sprints
Continuously incorporates feedback from stakeholders
Flexibility to cater to changing market demands
Our DevOps Model
YASH's DevOps Services/Offerings
YASH offers key features to an Enterprise – Culture and Mindset; Automation and Tools; Measure, Test and Rectify; and Sharing.
These key features provide the following benefits:
Breaks organizational silos
Emphasises on collaboration and communication
Automates processes
Creates or use accelerators
Uses tools which compliment thought process
Monitors and track performances of systems and processes
Tests everything to ensure quality
Uses monitoring data to rectify issues
Shares cross-team trainings on different tools and technologies
Thank you for your message. It has been sent.