SAP Infrastructure Support Services
.
Create a robust foundation to propel your Intelligent Enterprise.
The mounting pressure for staying competitive, rapidly evolving technical intricacies, and business imperative of greater visibility, transparency, operational excellence, and improved profitability have led organizations to adopt futuristic SAP solutions. However, ensuring efficient operations of any SAP environment is a herculean task, and it needs a specialist to ensure smooth functioning and continuous strengthening of the landscape.
YASH's SAP Infrastructure Services portfolio is derived from the vision of delivering an agile, service-oriented SAP ecosystem. Our service suite focuses on strengthening the SAP landscape aligned to keep pace with the technology advancements to transform enterprises into a real-time business.
At YASH, we provide a comprehensive portfolio of SAP Infrastructure support services designed and governed by the SAP Infrastructure CoE. With highly experienced SME's and SAP technology experts at its helm, the CoE provides Administration activities (i.e. Availability, Maintenance, Performance, Change Mgmt. etc.) of entire SAP stack (Infrastructure-OnPrem/Cloud, OS, DB & Application) to organizations globally. We have rich hands-on experience in ensuring availability, performance, change management, etc. of the entire SAP landscape (Infrastructure –On-premise/Cloud, Operation Systems, Databases, and applications).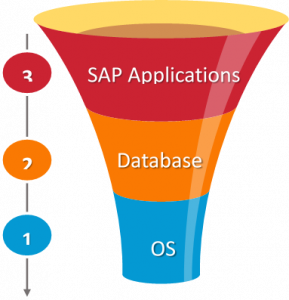 YASH Differentiators
.
With YASH's Managed SAP Infrastructure support Services, customers ensure the highest standards and adhere to ITIL best practices. Our teams possess strong credentials across the entire gamut of administration activities, i.e., Hosting, Availability, Maintenance, Performance, Capacity Planning, Change Management, Security etc. of the entire SAP Stack. Leveraging two decades of experience, our teams have developed multiple innovative tools, accelerators, and templates that drive automation across assessment, end-user activities, operations, maintenance, performance, etc. By leveraging our proven DISCOVER, BUILD, and DELIVER (DBD) framework, we take complete ownership of the SAP technology lifecycle and amalgamate it with the right engagement model.