Optimizing your Supply Chain operations while fulfilling the evolving demands of consumers, managing business disruptions, and meeting regulatory requirements could be challenging. Discover how our expertise and in-depth business knowledge can help you address these challenges and take advantage of emerging opportunities in these times that are filled with uncertainties.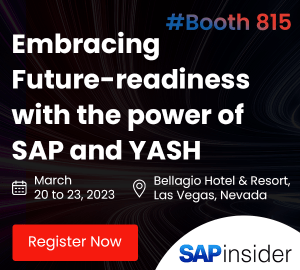 In case you are facing these biggest digital supply-chain questions today:
How do I drive pervasive Just-in-Time (JIT) to increase supply chain efficiencies?
Are inaccuracies in forecasts making my supply chain planning ineffective?
How can I deliver immediate response and accurate ETAs to address last-mile logistics?
Can my system forecast Demand Events at the earliest and react to them quickly?
How can I eliminate Stock-Out Situations while minimizing Inventory Carry Costs?
How do I overcome difficulties in managing optimal utilization and maximizing output?
NEW AT YASH
Trending Now
.
YASH Differentiators
.
Redefining supply chain resiliency with an intelligent digital core.
YASH's Supply Chain Management expertise thought leadership and advisory allows you to address market volatilities, predict risks, foster transparency and flexibility, and enables your team to collaborate better