Digital Transformation
Yash Technologies offers a one-stop, end-to-end solution delivered by our combined IT and Business Consulting services team.
Digital projects are designed & delivered by a single supplier, Biz-Next, our strategic consulting services team, and YASH IT Team. The project would be implemented seamlessly through the business and technical areas.
Industry-Specific Solutions
.
At YASH, we offer specific solutions that meet your business requirements based on the business domain and industry.
Petro-Chemicals Agro & Fertilizers
Integrated planning between downstream and upstream operations eliminates the need for transfer pricing, thus enabling profit maximization at an enterprise level using SNP (Agility and Resilience) models
Easing the pressures of feedstock variability via predictive analysis modeling (AI/ML)
Integration of maintenance & shut down planning based on seasons and upstream feedstock price variations
Integrated planning using what-if analysis to predict negative profitability and diversion of feedstock to other profitable channels
Balancing feedstock price and supply variability for downstream consumption vs. sales in open markets considering by-product cost and credit from feedstock mfg. Chain (cracker streams) using IBP Response Planning
Using the SNP optimization model, we can effectively recycle the C2 C3 carbon chain to extract maximum output in a typical recycling process model
Hi-Tech
Modelling of the VMI (Vendor manage inventory) process in IBP using Response Planning
Implementation of Contract Mfg. Process in customers' native ERP system to effectively manage leased contractors
Modelling customer-specific demands in forecasting using IBP for Demand.
Front-end and packing processes typically have longer run lengths, whereas backend cycle times are shorter, causing bottlenecks and needing proper load balancing and capacity and storage modeling
Product allocation for Customer Orders using priority, fair share, and other complex business rules to prevent partiality and human bias (S4 AATP – Advanced Available-to-Promise)
Increase No-Touch sales order allocation using SAP IBP AATP and BOP (Back Order Processing) processes and our in-house rapid connect APIs for SO interface to customer portals
Vendor modeling & PO (Purchase Order/Supply Plans) aggregation to avoid multiple POs in execution
Commodity and Specialty Chemicals
Discrete planning for chemicals and intermediates once feedstock & cracker by-products are finalized for the monthly consumptions downstream vs. sale on open markets using SAP IBP order and response planning
Planning for commodity products based on price fluctuations, considering allocation and customer demand fluctuation due to price drops and rise. Controlled allocation model to prevent overstocking by any specific customer using price insider information
Continuous mfg. Orders with long run lengths and producing stock daily are to be taken into daily planning for allocation generations
Setup Cost minimization and avoidance of frequent changeovers on the shop floor using S4 ePPDS (Production Planning and Detailed Scheduling)
Daily deployment using DDMRP IBP models using actual stock updates at shift changes and planned production to manage customer commitment planning accurately
Rapid response to customer orders using powerful Back Order Processing functions on Sales Orders
Pharma Industry
Active Ingredient Management (strength/concentration) in the RCCP (Rough Cut Capacity Planning) planning process
Campaign planning and variable length models depend on yield and weight-to-volume ratios using ePPDS (Production Planning and Detailed Scheduling)
Decartelization of the continuous mfg. the process with discrete BOMs and multi-stage planning process
Embedding QA and QC in the planning process
Consideration of lot size and batch life cycle in the planning process
Managing high demand fidelity in the generics pharma space using AI/ML demand sensing modeling in SAP IBP
Use Push and Pull production strategy to reduce naked bulk / APIs being left on the shop floor
Customization to model parallel QC processing of bulk drugs while packaging operations downstream are in progress
When you partner with YASH, you get an end-to-end engagement from advisory, product assessment and evaluation, road mapping, POC creation, and configuration management to implementation, integration, support, and co-innovation.
SAP Integrated Business Planning
The technology environment on which IBP is executed is fundamentally Changing-planning solution focus shifts from SAP APO to SAP IBP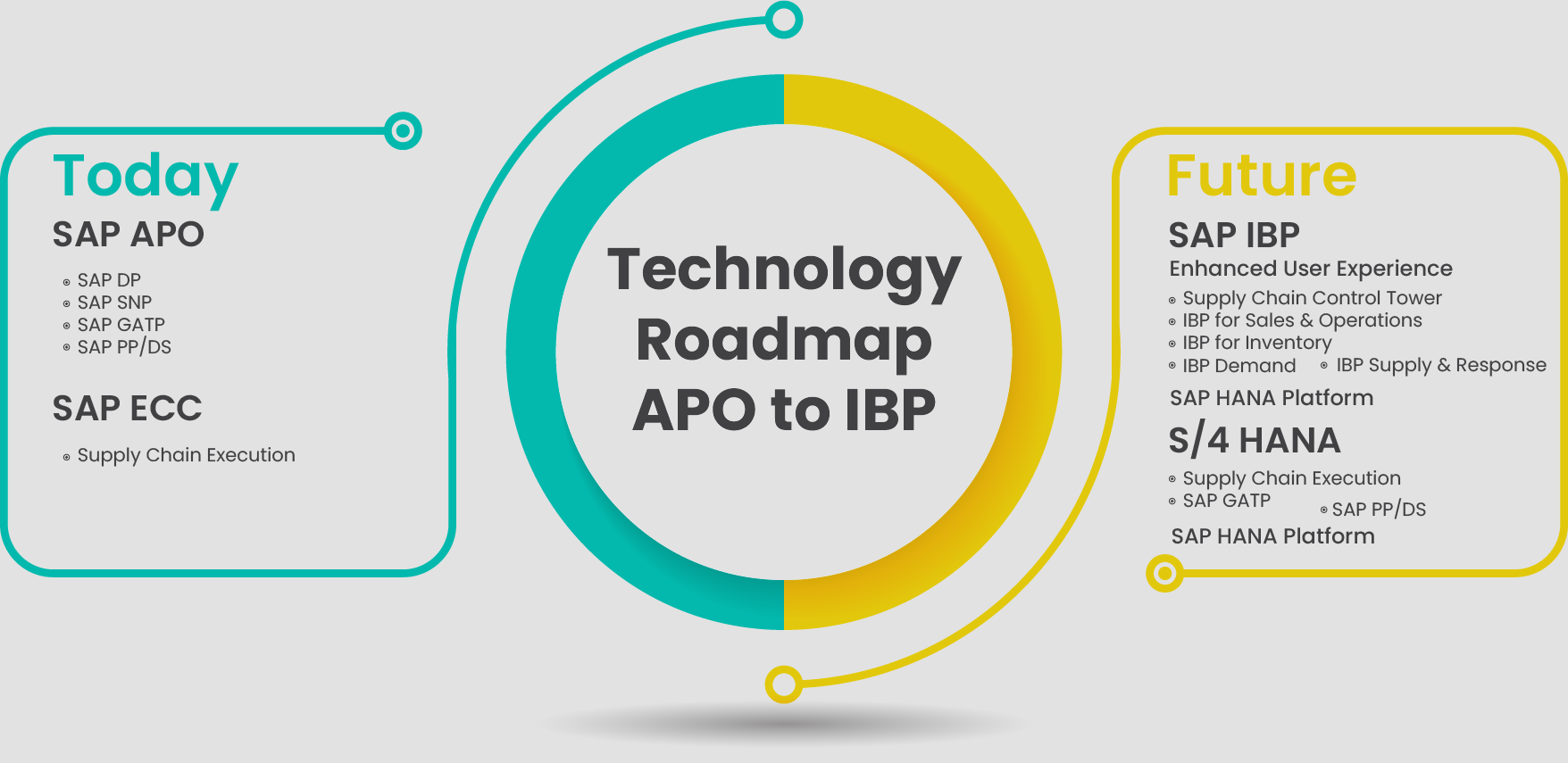 1. Simplified, Commonly used architecture | 2. Standard approach | 3. Long term vision to have SCCT span over planning & execution solutions
SAP Supply Chain Planning Roadmap
SAP extended its Supply Chain planning offering with the new SAP IBP Suite
Long term solution development for SAP APO has been discontinued but maintenance will be provided until 2025
SAP HANA will be the new planning platform
SAP APO functionally will partially be available in SAP Business Suite S/4 HANA

SAP PP/DS, gATP functionality will be integrated into ERP
By then functionality will exist in SAP APO and Business Suite S/4 HANA
SAP IBP
Is the new planning solution
Is native to SAP HANA platform
Is cloud based
Has a modular architecture
Customers are offered to migrate successively to the new planning solution