.
Re-envisage the overall effectiveness of your manufacturing enterprise with QAD.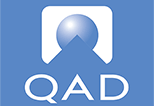 YASH Technologies offers exemplary QAD ERP software services and support, solely developed for the ERP requirements of manufacturers. By drawing upon our QAD ERP experts and proprietary tools, organizations can boost proficiency, attain agility, reduce costs, and minimize the supply chain and operational faults.
Our proven QAD ERP solutions span industries. From automotive and consumer products to life sciences and food and beverage and much more, manufacturers benefit from quick and flawless ERP implementations they need to advance. On-site or in the cloud, join manufacturers globally collaborating with YASH for top-of-the-line, cost-effective services from the ERP leader committed to customer success
YASH offers end-to-end consulting services on QAD's Enterprise Solutions
YASH QAD ERP Services - Key Feature
.
Our services benefit organizations improve efficiency, reduce costs, and realize innovative solutions using best practices, through a portfolio of pre-assembled and customizable solutions.
At YASH, we are dedicated to helping you to accomplish the vision of what we identify as the Effective Enterprise.
YASH has added value to several customers by providing QAD specific enablers for improving operational efficiency and user experience.  We have a robust and scalable methodology to meet our client needs support them on-going business requirements.
Automation , Cloud , Manufacturing