Deliver Exceptional Customer Service & Ensure that Field Services is Your Strategic Differentiator.
The Challenges that Field Service teams face
.
Your field service team is at the point of intersection between your customers and your brand. To create great customer experiences, your field team must resolve these challenges:
Team Silos
Multiple systems and siloed data, create friction in the service experience.
Lack of Automation
Manual and disconnected processes that result in a heavy administrative lift.
Scheduling Inefficiencies
Scheduling and dispatching inefficiencies impacting travel time, overtime, and first-time fixes.
Service Challenges
Increased job complexity and difficulty with onboarding, ongoing training, collaboration in the field, and access to tribal knowledge.
Missing Data Insights
Gain insights to enhance operations, identify trends, and remove service bottlenecks.
YASH Field Service Management
.
Our Field Service Management (FSM) services help teams collaborate, optimize processes, and get increased visibility. YASH integrated System of Action improves the customer and employee experience by reducing unnecessary complexities in the workflow. FSM allows your team to focus on high-value work instead of getting bogged down by inefficiencies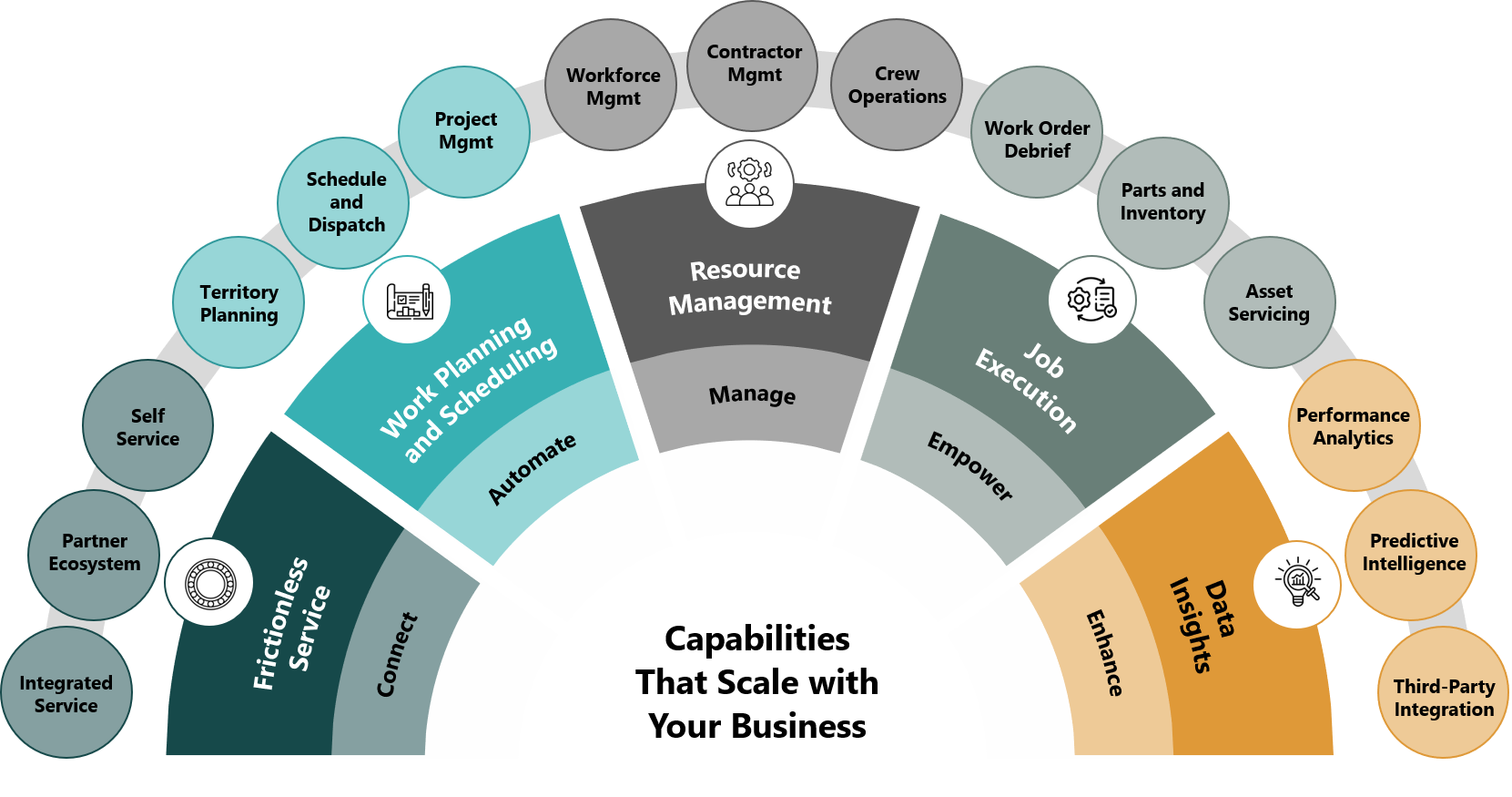 Connect Processes
Reduce deflection rates for dispatches and remove silos with integrated field and customer services connected to the rest of the business.
Increased Scheduling Efficiency
Assign jobs to skilled resources based on territories and priorities. Automate scheduling and dispatching of work orders and simplify exception management.
Improve workforce management
Optimize resources for work requirements and demand. Improve shift planning, scale operations with third parties, and simplify managing crews.
Empower technicians
Equip technicians with what they need and enable them to complete jobs on the first visit. Reduce administrative burdens with mobile and streamline inventory management for the field.
Enhance service delivery
Gain insights from data, identify trends, and remove bottlenecks. Power workflows with AI and machine learning and make data actionable through third-party system integration.
YASH Differentiators
.
As a ServiceNow Premier partner, we bring 10+ years of experience and subject matter expertise to drive your ServiceNow initiatives from implementation to optimization.
80000+ Support hours delivered with 100+ ServiceNow consultants and certified resources through our ServiceNow CoEs) making YASH a transformation partner of choice for businesses of all sizes.
YASH integrated ServiceNow platform provides real-time automated alerts and real-time device health monitoring to deliver just-in-time or predictive maintenance to prevent business disruption and increase customer satisfaction scores.
Improve resource allocation, reduce wasteful spending with dynamic scheduling, and assign cases automatically based on the field agent's expertise and proximity to the customer.
Click here to talk to our SMEs and scale service operations with connected digital workflows that automate work across departments.
BFSI Digital transformation ServiceNow
Saurabh Kashikar