Digital transformation has grabbed global attention across industries, with "digitalize or perish" emerging as the new-age mantra. The banking, financial services, and insurance (BFSI) sector, too, is looking at new ways to reinvent itself and address exploding customer demand and cut-throat competition—from front-end innovations that enhance customer experiences (CX) to back-end automation that optimize processes. Propelled by the pandemic, banks and financial institutions of all shapes and sizes have fast-tracked their digital transformation journey.
The benefits of this transition on the BFSI industry are multi-fold. For instance, banks can deliver compliant, secure, and connected experiences, from the branch to the back office. Insurance companies can drive higher engagement that improves policyholder and agent satisfaction, while wealth management companies are empowered with innovative ways to streamline client-centric processes throughout the enterprise. Several critical digital transformation initiatives directly result from the need to address customer pain points, grow business, and or transform CX. Let's understand how digital transformation impacts vital areas within the BFSI industry.
Customer service management: A research by PWC found that a whopping 86% of customers used digital channels more actively during the pandemic. Propelled by such statistics, players in the BFSI sector are leaving no stone unturned to engage customers and deliver exceptional digital experiences. Features like easy accessibility of the digital app, real-time assistance, personalized services, and data security are paramount to superior CX. To achieve this, BFSI firms need to invest in a platform that cuts across the enterprise to boost visibility, enable compliance, and deliver enhanced services.
Evolving employee experience: Behind every happy customer are employees who have the means to deliver exceptional CX. Employee experience "consumerization" is emerging as an excellent way for financial institutions to leverage digital transformation and support an increasingly mobile, agile, and flexible workforce. The right approach to enhancing employee experience involves delivering a unified, consumer‑style employee service experience across IT, HR, admin, finance, and legal with smart apps and intelligent workflows. In addition, empower employees by automating repetitive, time-consuming tasks and streamlining processes to enhance employee engagement and spur productivity.
Security, Governance, Risk, and Compliance: Managing security risks and regulatory compliance is a crucial operational component in the BFSI industry. It is vital to address these requirements without inflating costs to stay competitive. Organizations that continuously focus on improving resilience while preparing for disruption are the ones that eventually remain relevant and deliver value. Financial organizations can implement robust governance and compliance solutions that arm them with integrated risk-informed decision-making capabilities, align IT activities with business goals, offer real-time visibility into risk, and augment organizational performance.
Omnichannel interactions: Today's always-on customers want a frictionless, omnichannel experience across multiple channels and touchpoints for content consistency and context continuity. A recent industry survey found that 60% of banking consumers want a true omnichannel experience that provides them the flexibility to switch seamlessly between physical and digital channels—messaging, web, chat, email, phone, social media, or walk-in experience. An omnichannel approach goes a long way in upping customer engagement and loyalty.
Automation, automation, automation: Given the increasingly complex BFSI environment, it is vital to declutter and make flexibility a critical competitive edge. Building automated, digital experiences for key stakeholders—customers, employees, partners—brings financial firms closer to delivering transparent, compliant, customer-centric experiences. An organization connected across one platform unites the front, middle and back offices, provides superior experiences, builds resilient operations, and unlocks productivity.
The financial services industry is, without question, undergoing a massive reboot. Modern financial firms are actively leveraging data for actionable insights and spur innovation in enhanced customer and employee engagement. This is possible with ServiceNow, which is the smarter way to workflow. It not only improves customers' experience but also boosts employee satisfaction, particularly in the financial service industry.
Businesses can now substitute unstructured work practices of the past with prudent workflows of tomorrow with ServiceNow Platform capabilities. This is where YASH Technologies comes in.  YASH is a Premier ServiceNow partner, and sales, service, and managed service provider help you make your organization digitally savvy and aligned. YASH Technologies' ServiceNow capabilities will automate and align business service workflow across the organization to support the core mission. We will discuss how YASH's ServiceNow offerings will help you capture organizational data and configure information in the next blog. Till then, if you are looking to improve your technology, employee, and customer experiences through the digital transformation of your process workflows, write to us at info@yash.com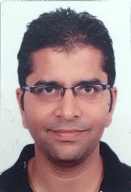 Pre-sales, Solution Architect