BFSI
ServiceNow
Five Best Practices to Digital Transformation in BFSI and How ServiceNow Helps
Publish Date: June 6, 2022
The ever-evolving technology environment is compelling all economic units to undergo digital transformation (DX). FinTech companies have already challenged traditional banks and financial institutions to evolve to match the expectations of tech-savvy customers. But the need is more now than ever to stay competitive as the markets emerge from the pandemic-led downturn. Adopting industry best practices that BFSI organizations can lean on is a sure way of ensuring successful and streamlined digital transformation. The outcome? Measurable returns with improved customer experience, brand loyalty, and a positive impact on the bottom line.
In our first blog of this three-part series, we discussed How Enhancing Experiences are at the Core of Digital Transformation in BFSI, while the second blog threw light on Why DX Initiatives in BFSI Fail. In this third and final blog, we share five best practices imperative for DX success.
Eliminate customer friction points
With the average consumer attention span averaging 8 seconds, any friction inexperience will spur them to look at the competition. This makes it vital for BFSI firms to discover and remove friction from support functions. For example, when customers open new accounts or subscribe to an online payment service, authentication methods typically involve micro-deposits and manual verification, taking a few days to process. But streamlining operations across siloed teams can accelerate this transaction. This is where a cloud computing platform like ServiceNow helps. It automates customer service work across the front, middle and back offices, simplifying consumer information verification procedures to validate accounts and activate them within minutes.
Make the most of personalization possibilities
According to BCG, for every $100 billion in assets a financial institution has, it can achieve revenue growth of over $300 million by personalizing customer interactions. Financial service providers can harness their existing customer data to build relevant, personalized offers and experiences through different stages of the CX journey. With its AI-fueled engine, ServiceNow helps collect personalized data and applies analytics for actionable insights via its dashboard so BFSI firms can provide tailored omnichannel experiences to customers.
Invest in employee experience
Besides optimizing customer experiences, banks and financial institutions must also focus on employee needs by simplifying how work gets done. Remote work models that most businesses did not consider before 2020 have become the norm today. BFSI companies can adopt digital systems that allow their employees to collaborate efficiently irrespective of their work locations. They can also automate and systematize all HR interactions in a unified platform to help employees address their queries and concerns quickly. A platform like ServiceNow helps architect hybrid workplaces and HR service delivery centers and can be used to create unique portals or repositories based on workforce skills. What's more, ServiceNow is attuned to AI to help employees become more productive and efficient in routine workflows.
Build a culture of security
Cyberattacks are by far the biggest threat to DX in the sector. Any breach can severely impact the FI's reliability, tarnish the brand, and attract penalties. By taking proactive steps toward DX, organizations can build a better security and risk management culture to avoid such disasters. This is another domain where ServiceNow offers support. Its AI module called Agent Intelligence gives it strong encryption abilities and a fail-safe security stack to help users detect and patch any vulnerability in their data centers and enterprise applications before they cause any damage.
Manage compliance and regulatory changes
Regulatory compliance is non-negotiable in BFSI organizations. Be it for customer service through voice support or new investment in the market; a regulated financial institution cannot take action without considering all compliance parameters. Any compliance failure leads to punitive measures with catastrophic results. And organizations in the BFSI vertical are surrounded by many complexities when it comes to compliance as regulations differ according to products, services, and/or jurisdiction. ServiceNow enables financial institutions to manage compliance resiliently with several functionalities, including integrating governance, risk, and compliance applications into all workflows, active risk monitoring, and real-time compliance reports and alerts.
Final Thoughts
For BFSI players, digital transformation is about matching the expectations of their stakeholders akin to the seamless tech-based experiences they have on social media or OTT platforms. By deploying ServiceNow, financial institutions can optimize their operations for higher productivity, customer satisfaction, and resilient compliance. It boosts their agility to address any challenge with ease and speed.
YASH Technologies is a Premier ServiceNow partner and sales, service, and managed service provider with domain expertise across all facets of the application. We help our clients drive targeted digital transformation to improve their workflows and revolutionize how they serve customers and support employees.
To know more about how we can help you maximize value from DX, write to us at info@yash.com.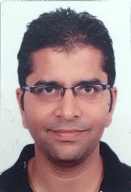 Pre-sales, Solution Architect