ServiceNow
Enhancing Vendor Risk Management with a Centralized Platform: Advantages Beyond Automation
Publish Date: October 16, 2023
Today, third-party partnerships are integral to achieving business success. Enterprises are progressively leaning on these collaborations to expedite innovation, drive digital transformation, and fuel growth. However, this deepening interdependence also lays bare organizations to heightened risk. A third party's risk and compliance stance directly influences your risk profile, resilience, and reputation, making it imperative to manage these partnerships vigilantly.
Businesses routinely work with several vendors who are the sources of supportive services or products for their revenue-generating processes. However, this practice also introduces a certain degree of risk in their work environment because these third parties typically get access to sensitive data maintained by the organization. Organizations need a well-defined third-party risk management (TPRM) system to monitor, control, and mitigate associated risks. This is a best practice for safeguarding data and a regulatory imperative for most enterprises.
Challenges Associated with Manual TPRM Approaches
When managed manually through emails, various messaging platforms, spreadsheets, and isolated tools, TPRM becomes labor-intensive and error-prone. As the organization's vendor count grows, the responsibilities of risk managers only amplify in complexity.
Typical shortcomings observed in manual TPRM practices include:
Documentation of a third party's performance and risks associated with their work needs to be more consistent and complete.
The exit of long-term employees can lead to the loss of institutional knowledge if records of previous TPRM activities and upcoming requirements are not preserved.
Audits become needlessly complex when the requested documentation and evidence related to vendors are unavailable.
Managing crucial TPRM components like vendor performance and payment becomes challenging when these processes are confined to siloed systems.
Additional problems such as contract management, document version control, and redundant efforts compound the overall workload.
Inadequate execution of haphazard manual processes gives rise to various challenges for the organization. According to a Gartner survey, 84% of respondents reported mishandling third-party engagements resulted in operational disruptions. Other quoted challenges included negative financial and reputational impact, heightened regulatory scrutiny, and potential regulatory measures such as fines.
Evidence of Third-Party Risk "Misses"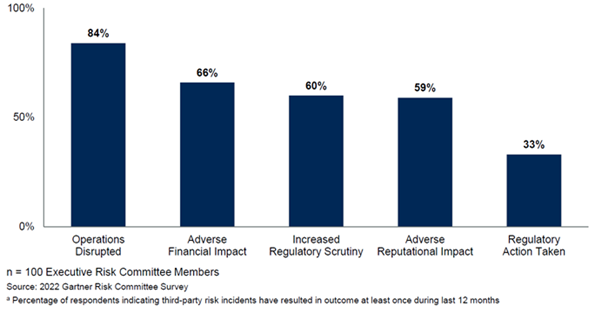 Source: Gartner (February 2023)
Hence, organizations undergoing digital transformation must streamline their TPRM by investing in a centralized platform like ServiceNow Vendor Risk Management, moving from traditional methods and approaches.
ServiceNow transforms how you approach vendor risk management, seamlessly integrating it with business objectives. It empowers you to contextualize and establish connections between third-party risk and your overall business success. The platform offers robust reporting on vendor risk and identified issues, streamlines the assessment and remediation processes, and significantly enhances efficiency through automation. Furthermore, it fosters transparency, holds all third-party stakeholders accountable, and aligns seamlessly with enterprise risk management to provide a unified, holistic view of risk within your organization.
ServiceNow presents an all-encompassing Vendor Risk Management application designed to offer efficient, intelligent, and interconnected solutions for overseeing third-party risks and ensuring supplier resilience, from Supplier Onboarding to Retirement. Built on the robust ServiceNow cloud platform, the Vendor Risk Management solution features seamlessly integrated modules that change how you approach vendor risk.
It streamlines the process with automated assessments, providing transparent reporting and a consistent approach to supply chain remediation. With a single platform to manage your entire third-party risk program and a unique vendor portal, you can monitor, prioritize, and swiftly address vendor assessments and compliance concerns that impact your organization. This enhances response times and drives efficiencies for both you and your vendors. It facilitates essential oversight and continuous monitoring between assessments, allowing you to manage assessment statuses, address issues, and implement solutions seamlessly across your organization's extensive third-party network.
Main Features of ServiceNow Vendor Risk Management:
Automated Risk Scoring: Streamlined assessments with dynamic risk score updates and robust due diligence support.
Issue Management: Effortlessly track, record, and remediate issues through collaborative processes with third parties and internal teams.
Continuous Monitoring: Periodically reassess and automate third-party monitoring across critical risk areas.
Integration Hub: Leverage a vast ecosystem of third-party integrations, content, and data on the ServiceNow Store.
Unified Platform: Employ a single data model and integrated intelligence system (CMDB) to dissolve silos and automate cross-functional workflows.
Critical Risk Indicator Tracking: Utilize manual, basic, and scripted indicators to gather data for control and risk monitoring, as well as audit evidence collection.
Integrating vendor risk into workflows streamlines operations, empowering risk managers to automate tasks, resolve AI /ML-identified issues in real-time, and collaborate seamlessly. Users can also engage with vendors via the Vendor Portal.
ServiceNow simplifies portfolio management by centralizing third-party products, allowing for precise subsidiary assessment and comprehensive risk scoring. Automated alerts for contract renewals, payments, and SLA compliance outshine manual management.
Continuous AI-driven risk monitoring and real-time alerts limit exposure, while the cloud-based nature of ServiceNow enables 24/7 access for swift issue resolution and informed vendor selection.

Deploy Your Vendor Risk Management System with YASH, a Premier ServiceNow Partner
Are you finding it challenging to navigate the complexities of third-party risk management? Many organizations need help with manual, disconnected, and difficult-to-scale practices that can hinder their operations. However, there's a solution that can streamline and enhance your approach. YASH Technologies can help mitigate these challenges by implementing ServiceNow Vendor Risk Management for your organization.
As a digital transformation collaborator spanning various industries, we facilitate legacy system innovation and seamless cloud migration for critical operations. With our expertise in ServiceNow solutions, we excel in integrating all phases of third-party management, enabling proactive risk assessment. Our adept solution architects harness AI-ML and automation within Vendor Risk Management, amplifying supplier relationships and fortifying resilience strategies.
To learn more about the software and YASH differentiators for its deployment, write to us at info@yash.com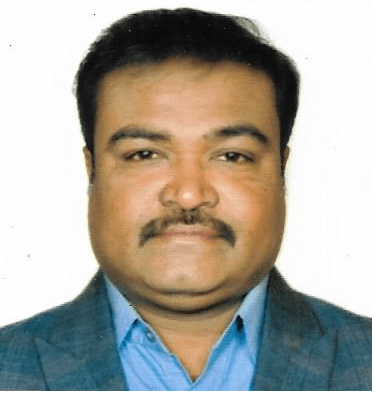 Sr. Practice Manager