Data Never Sleeps! Over 2.5 quintillion bytes of data are created every single day, and it's only going to grow from there. By 2020, it's estimated that 1.7MB of data will be created every second for every person on earth [1]
Data, Data and more Data ……… it's all about Data in a world inflicted with Twin-effect of Disruptive Innovation, Speed of Change and Digital Transformation.  Over the years and by every fleeting minute and second; Data has been growing by leaps and bounds. What do we make of it?  Moving a step forward we are starting to see Data getting commoditized.
Data getting commoditized??? Interesting, isn't it?  Lets' explore into – What and why of this commoditization? How critical and important is it for businesses to be data-driven?
For a different outlook and to sideline the context here – from the below cartoon, what dimension would you attribute to the dependency in their conversation?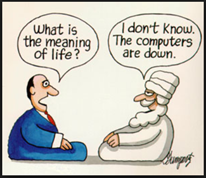 Could the dependency involve a technology shift, a device shift, mindset shift, advancement in knowledge, single source of truth, the speed of change, innovation reached to grassroots of minimal human needs? A lapse in business continuity? …..
In the words of Einstein – 'If you can't explain it simply, you don't understand it well enough.'
For the Wisdom, aka, the Decision Making or arriving at interpretation, Data is vital.  Generically, Data has various aspects and dimensions that qualify it along with a lifecycle attribute.  It is here that Analytics comes to ply. As most of you know and from wiki, Analytics is the discovery, interpretation, and communication of meaningful patterns in data.
Ubiquitous Data in Today's Age
As latest as for June 05th, 2018, Domo released its sixth annual report, 'Data Never Sleeps 6.0' and its associated Infographic.  
When you look at the Infographic – All around and everywhere you see the ubiquitous Data.  Also, if you observe about the best part of the qualifier in the infographic – Data is talking for itself , on the numbers.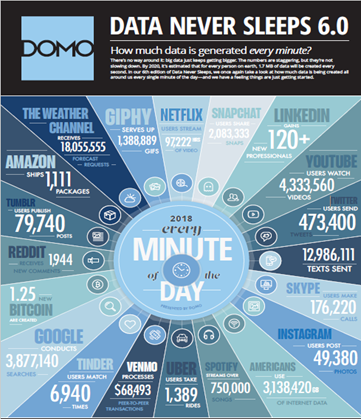 Wow!  Whooping numbers in the Infographic!  Aren't they? 
So true that Data never sleeps and has long-term value as well.
What do you observe and how do you start feeling in looking at the Infographic?  Doesn't this ring a bell with the analogy on lines of say 70000 Human thoughts and we living in an ocean of human thoughts? 
100 Data and Analytics Predictions Through 2021, an article by Gartner thus states –
"Over the next few years, data and analytics programs will become even more mission-critical throughout the business and across industries."
'KNOWLEDGE' – enabling the much needed, 'Decision Making.'
With a lot of data lying around, it would only be useful if meaningful derivations are made enabling business decision making.  So, Analytics is the key here.
Pondering on the much-needed Business outlook on some of the below-mentioned dimensions, it is here that Business Analytics comes to play.
How Data-Driven are you?
How important is it (the Data) for the Business?
How do you safeguard and manage its life-cycle?
In today's age of Digital Transformation, the digital world is exploding leading to the growth of data by each passing hour and day.  More and more data starts getting accumulated and added to the already existing pile of it that is lying around. Now with IoT involving digitization of the physical world and anything and everything interconnected, IoT further accelerates the pace of data growth. To this, SMAC (Social, Mobile, Analytics, and Cloud) which Forbes calls as 'Nexus of Forces' is compounding the effect. To combat the convergence of SMAC; Organizations should brace to face the challenges of modernizing not only their systems but also, people mindset shifts. This paves the avenue for umpteen opportunities for innovation. 
How Smart is your Analytics & what facets of your Business does it cover?
Tim Berners-Lee, the Inventor of World Wide Web thus quoted – 'Data is a precious thing and will last longer than the systems themselves.'
Key for understanding business is the application of Business Analytics which wiki [2] refers to as –
The skills, technologies, practices for continuous iterative exploration and investigation of past business performance to gain insight and drive business planning
What aspects of Analytics could you use to derive various facets of your understanding for business?
Many! As you know, based on Industry and domain ranging from Finance to Healthcare to Sports to Marketing to Supply Chain, etc.  The underlying aspect of Customer Analytics, Service Analytics, Performance Analytics, etc. can further hasten the sub-domain aspects of business analysis.  You can go-ON from historical analysis of your data to predictive analytics employing advanced techniques of modeling using statistical and machine learning techniques to prescriptive analytics that recommends decision making.
The Concept & Evolution of XaaS Extends – Get onto Maximizing these Service Availabilities
Digitization and Globalization are furthering today's world of XaaS. The industry is fast moving away from the traditional look at, 'Products/Solutions' offering ONLY, and expanding to explore a holistic approach of E2E (End-to-End) service offering for a better market segment capture and towards a customer-centric focus. The industry has evolved from the initial as-a-service offering of cloud solutions, ie, SaaS, PaaS, IaaS, to Communication-as-a-Service, Data-as-a-Service, Compliance-as-a-Service and now to the latest Machine Learning-as-a-Service (MLaaS) & Artificial Intelligence-as-a-Service (AIaaS) and further into Analytics world with Analytics-as-a-Service, Data Science-as-a-Service, Insights-as-a-Service, Cloud Analytics, etc.
Here is a huge opportunity for businesses to either innovate and as service provider get onto providing these various Analytics-as-a-Service models, or get onto the other side of the table and consume these services from the service providers already offering these services and take your business to the next aspirational level.  Use various Business analytics tools to influence the outcome of your customer interactions and engagement for the CXI – Customer Experience, which is much needed in today's age of, 'Customer First in Digital Age.'
Here, we start seeing the fusion of Analytics with ITSM.
Fusion of Analytics & ITSM
As we continue further, we start seeing the fusion of Analytics and Service Management. Why, How and in what manner?
Gartner refers to below critical capabilities for Data and Analytics service providers [3]–
Business Process Consulting
Business Change Management
Design-Led Approach
Managed D&A/D&A as a Service
Asset+ Consulting
Technology Enablement
To enable D&A (Data and Analytics) service providers provide AaaS (Analytics-as-a-Service), Service capability is needed. It is here, IT Service Management as a practice would enable businesses to get to the needed Service Thinking and service-oriented culture.
To provide AaaS, service providers can go for outsourcing towards a Public cloud or a Hybrid model, or a private mode.  Private mode, if limited to their on-premise (self) business analytics. Self-service analytics comes to ploy here in the private mode – where the LOB (line-of-professionals) are enabled and encouraged to perform queries and generate reports on their own, with nominal IT support. From Gartner's IT Glossary [4] – Self-service analytics is often characterized by simple-to-use BI tools with basic analytic capabilities and an underlying data model that has been simplified or scaled down for ease of understanding and straightforward data access.
Latching onto the Essentials of Knowledge, Skills & Learning
Apart from ILTs – Instructor-Led Courses with lab facilities, several free online & MOOC courses on Business Analytics along with various other combinatorial courses are available for seekers to latch onto the essentials needed to further skills.  In an article on, 'Analytics Hiring Scenarios for Indian Companies' – the author delves upon expertise in Data querying, knowledge of statistical tools like SAS, R, Python, data visualization tools such as Tableau, PowerBI, Qlikview, big data technologies like Hadoop, Apache Spark etc. amongst others such as Tensor Flow for ML etc.
Tools as Enabler
Advanced analytics and data science are fast becoming mainstream solutions and competencies in most organizations, even supplanting traditional BI and analytics resources and budgets [5].
ITSM tools like ManageEngine, BMC, ServiceNow, etc. have various built-in features to facilitate analytics, say for example – Real-time solutions from ServiceNow [6].
Real-time solutions from ServiceNow [6] enables to reduce costs through visualizing performance trends, eliminating inconsistencies, and in making confident decisions on the spot.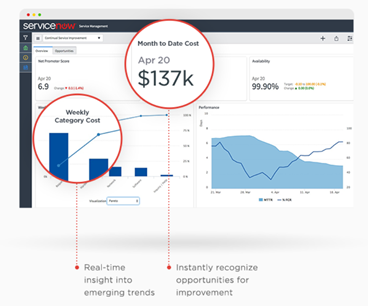 Squirro Service Insights app [7], again from ServiceNow helps to rapidly extract the most relevant and valuable insights across ServiceNow environment setup for businesses. By using advanced search functionality for fast incident resolution, reduced downtime duration, and proactive approach to capacity and resource planning.  Some of its key features –
Power Search
Anomaly Detection
Trend Prediction
Recommendation Engine
Incident Overview
Where is the Future Headed to?
Analytics in today's digital age is going to transform the way organizations do business and help derive and drive value and revenue from data. Its' again the Disruptive Innovation and Speed of Change that is going to define the game and get the edge.
"Augmented analytics, an approach that automates insights using machine learning and natural-language generation, marks the next wave of disruption in the data and analytics market. Data and analytics leaders should plan to adopt augmented analytics as platform capabilities mature" – Garter in its article [8] dated 27 July 2017
'ServiceNow is bringing enhanced machine-learning capabilities to its Now Platform for business process automation to help customers prevent outages, automatically route service requests, and predict and benchmark IT performance' – CIO.com
Here are various other predictions from Gartner on – 10 Predictions For AI, Big Data, And Analytics in 2018 [9]
66% of enterprises will deploy insight centers of excellence as a remedy for organizational misalignments.
With firms bringing the voice of the customer into every business decision in a unified way, 56% of enterprises already report creating customer insight centers of excellence rather than centralized or purely distributed models to accomplish this.
The insights-as-a-service market will double as insight subscriptions gain traction.
66% of enterprises already outsource between 11% and 75% of their Business Intelligence applications. Forrester predicts that up to 80% of firms will rely on insights service providers for some portion of their insights capabilities in 2018.
50% of enterprises will adopt a cloud-first strategy for big data analytics.
Forrester expects 50% of enterprises to embrace a public-cloud-first policy in 2018 for data, big data, and analytics, as they look for more control over costs and more flexibility than on-premises software can deliver.
Data engineer will become the most sought-after profession.
Big data initiatives becoming mission-critical and the need to provide broader support to the business analyst
Lakshmi Nanduri -Program manger @YASH Technologies
Lakshmi Nanduri
References: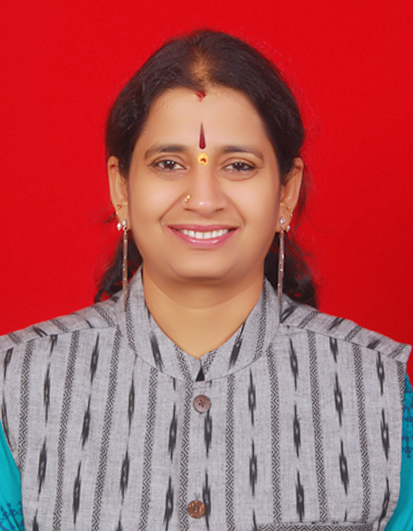 Program manager