The expectations from and aspirations for IT in the present age may never have been higher. Business leaders continue to expand on the role of IT support in business processes and a competitive environment beset with shaken industries and technology disruptions. One after the other, the latest waves of technology are now being acknowledged and adopted by innovators and early adopters alike.
Looking ahead, while IT leaders continue to create new platforms to support scale and innovation, most of them are confronting a tough time managing this transformation. However, still many have achieved efficient transformation by putting up robust plans to challenge the hurdles arising out of the evolving IT landscapes.
At YASH Technologies, as trusted advisors to  myriad mid and large global companies across multiple domains, our teams, having years of experience managing such flux have laid bare the skeleton of real-world and real-time business challenges to address the moot points. While there are many, here are some must-know takeaways from our deep interactions with our customers' IT leadership teams on what they consider their priorities are, charting a way forward towards adopting scalable technology and digital strategies.
Race for the digital white space
The days of IT being just a support function are over. Previously business transformations were leading to IT support tasks, whereas the opposite is happening at an accelerated pace in today's world. In many cases, too little of IT's resources go into business-differentiating activities. These are warning signs for the organization that views IT as just a cost center, and only a support function for the business. Successful IT leaders now have built dedicated business analyst pools and domain & technology experts to create and position IT as a revenue center. Staying ahead of the curve is crucial for survival, and both delivered-IT and consumed-IT will play a pivotal role in years to come. Our work with customers has demonstrated in several cases that IT functions have started to serve as a valuable revenue function – be it by developing IoT based applications for smart factories or AI-powered chatbots to empower sales and customer engagements.
Intelligence-driven product management
Back-end systems usually demand many resources because they do not take advantage of agile ways of working, something that is second nature to the software community. The IT leadership, as well as the business functions, benefit massively from agile principles where small functional squads work in rapid iterations to develop and deploy faster IT applications/products. Especially with the infusion of emerging technologies such as blockchain, machine learning, and deep neural networks, and immersive and integration platforms – business leaders are now more focused on product management, than project management. Product managers investigate and present several aspects of technology on how such platforms can be leveraged for competitive advantage. With the example of products rapidly developing in areas such as supply chain optimization, preventive maintenance, and fraud detection, etc. CIOs are now focused on creating product management functions more than ever.
Enhancing operational efficiency and productivity
As almost three-fourth of IT budgets are consumed by legacy systems, infrastructure maintenance, and day to day support operations,  this situation is both a bottleneck and opportunity for IT leaders. Bottleneck- because the money spent is a sunk cost and opportunity- because modernizing the applications and adopting cloud transformations will ensure not only better and faster results but also save a high magnitude in costs. Many of our customers have been able to reduce their total cost of ownership by more than 40% through digital transformation. By collaborating with reliable service providers who not only bring in domain expertise in IT but also assure a high level of operational excellence to boost productivity and performance, IT leaders are charting their digital transformation roadmaps in a more sustainable and scalable way.
Organizational change and talent management
Human resource is the backbone of any organization. One key aspect involved in today's IT setup is to find the right balance between training the existing teams on new technologies and hiring resources from the market with a positive as well as significant pay differential. In both research and practice, we have found that transformations have the best chances of success when business leaders focus on a few key actions to change mind-sets and behaviors. Transparency, along with a clear messaging in the DNA of the company, creates an "influence model" – a popular model that maps roles to ambitions and fosters understanding with conviction. Collaboration is the name of the game, and today's IT managers and analysts know that they need to hold themselves equally accountable for the initiatives as much as the CIO does.
Embedding RoI in KPIs
The fundamental value principle of delivering, creating, and capturing value in any investment still holds true and is worthwhile if applied and followed. Whereas their fervour for technology to "deliver" and "create" value is a positive, businesses are failing to "capture" the value  and that creates difficulties in approval for future investments. As per Gartner, more than 30% of the digital initiatives by organizations are profitable and are helping to clock in more revenue dollars. So, there are many companies out there that are capturing the returns and creating strong business cases. Measuring the impact of your IT investment, both qualitatively and quantitatively, is a prerogative to be taken seriously.
Deloitte's cost survey report observes a trend of "save to transform" from what previously used to be "save to grow," catalyzing both growth and defense against the ups and downs of shifting business landscape globally. The impact of economic trade cycles, regulations, and technological shifts will always inevitably impact organizational cost structures and workforce. By capitalizing on disruption and collaborating with an ecosystem of trusted partners, businesses are best positioned to become the disruptor, rather than being the disrupted.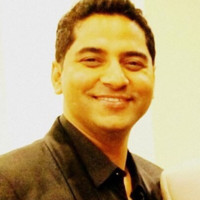 Regional Director , Client Services @ YASH Technologies