Automation
Manufacturing
Challenges on the road to manufacturing IT and Industry 4.0
Publish Date: December 3, 2019
Any data about the manufacturing industry is monitored closely not just because it says a lot about today's factories but also for the signals it sends about the demand for the economy at a macro level. Given that the manufacturing sector alone accounts for more than $8 trillion of the US GDP, it remains one of the key pillars and indicators of the overall health of the US economy. The sustainability and the growth of the US manufacturing sector depends on multiple factors, a key one being the accelerated adoption of emerging technologies.
While many of the problems may seem obvious at first glance, the right solutions to these challenges have somehow mired the D-level to C-level decision-makers with respect to IT/ITES challenges. According to experts, organizations are still trying to find a path that would help balance their current operations with the opportunities afforded by Industry 4.0 technologies. The adopted IT solutions are expected to enhance scope for innovation, improve process efficiency, enable use of predictive analytics, or transform business models. Given that there are many ways to bell a cat, but only a few which are safe, I wanted to lay down the set of IT/ITES questions that resonate with the most manufacturers today.
Here are FIVE key obstacles to manufacturing IT/ITES in the era of Industry 4.0:
How do I quickly scale in the age of fast and frequent product launches?
Being able to piece together and integrate disparate i pieces of infrastructure for new products across the entire value chain (from resourcing, suppliers to consumers) is an insurmountable task. As per McKinsey, ~50% of launches don't end up hitting their targets[1]. To do this in a short span and as effectively as in a traditional one, large manufacturers, whatever field they are in, must consider themselves to be digitally native or digital-first, as opposed to a food or steel manufacturer[2]. The benefit is that flexibility and free-thinking happen on a rapid and fluid basis, something that is critical for the survival of even the more digitally native and smaller business organizations out-competing each other globally.
How and when should I really get rid of my highly customized legacy systems?
Over the years, most organizations have developed highly customized legacy systems tailored to specific uses. It is challenging to get rid of them, and the thought is scary as well. Additionally, businesses keep adopting new applications to support new processes all the time. Consequently, CIOs have a tough time rationalizing their applications portfolio. It is important to adopt newer platforms and technologies for the back-end systems as well to integrate with the ever-increasing application landscape,  that  serve the customers better and maintain a competitive edge. But as it is easier said than done, replacing the legacy systems is an uphill task
I have data, how do I use it well?
The fourth wave of industrial revolution has allowed the shop floor to interact with the top floor in real-time, and in a simple, efficient way. The huge amounts of data that factory assets generate in real time makes way for predictive maintenance of the machines to save significant future costs. That said, the hardware to deploy and  the ways to make use of the data for their specific business outcomes is a cause of worry for many manufacturers. Collecting "not so relevant" data over a long period can lead to convoluted historical figures and the window to use such data also becomes smaller over time. Alignment of operational and informational data and intelligence at the beginning is therefore, the key and must be done with all stakeholders involved.
How do I reduce cost for my supply chain?
Regardless of size, supply chain complexities and related issues cost businesses significantly. The operating markets are so dynamic that only real-time information can help organizations stay ahead. Manufacturers are struggling to find a unified solution for real-time visibility into their supply chain, that caters to issues related to proper forecasting, demand management, sales and operational planning.  Managers struggle to find optimal ways of using inventory as well. Thankfully, market players like SAP, IBM, Oracle and others have come up with several optimal solutions to choose, but selecting the right tool is never easy.
How do I move from a consumed IT approach to a delivered IT one?
Organizations have now finally become enthusiastic about treating IT as a revenue center rather than just a cost center. Yet key IT decision-makers are now trying to find ways on how they can ensure stronger revenue channels, or establish new revenue streams altogether for their organizations by enabling IT.
"We cannot solve our problems with the same level of thinking that created them" – Albert Einstein
After almost a decade of intent-driven business interactions with a myriad of global manufacturing customers, I have been able to observe a clear pattern of technology-oriented challenges faced by these firms, irrespective of them being in the process or discrete manufacturing ecosystems.
We at YASH help manufacturing organizations get an outside-in perspective of their operations along with assessments and knowledge sharing for those who would like to keep having conversations such as these, as we keep moving closer to a digital tomorrow. We love sharing our success stories and hear from people about their battles and how they outsmarted challenges over interactive sessions. So Let's talk.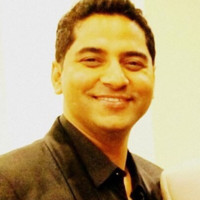 Regional Director , Client Services @ YASH Technologies