AMS
Enterprise Services
Innovative Engagement Models – A win-win for vendors and clients
Publish Date: February 6, 2020
Change is the nature of the game
Services Industry is going through a churn, and there has never been a better time in terms of adopting a change. The growth of digital products and platforms has accelerated this need for change adoption. This also brings its own challenges w.r.t capabilities and the nature of the engagement between the customer and the vendor.
What is the engagement model?
It is the collaboration between the customer and the vendor to achieve set business objectives. This collaboration has certain checks and balances between both parties and is monitored through a governance mechanism.
Traditional Models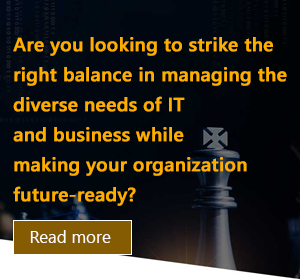 Traditional engagement models, like staff augmentation and project-based, have been primarily tactical focused and are more need-based. The activities defined are primarily reactive and do not define things prospectively. The requirements are mostly output-driven. Having a fixed model and running it for years to come does not serve the purpose.
Innovation in engagement models
Innovation is the order of the day, irrespective of whatever sphere we are in. With the advent of a fast-paced digital environment, the focus needs to be more strategic. Engagement models need to be more outcome-focused. The models need to be flexible, elastic, and essentially should have the ability to scale up and down as needed to deliver the required outcome.
What kind of models are needed now?
Existing models in use have primarily focused on "work" – Criticality of work, Complexity of Work, Volume of work, and Clarity of work.
The new-age models should focus on the customer experience. Customer experience driven models are well prevalent in organizations that offer SaaS offerings. In the context of IT services, it serves well to understand how effectively we are engaging with the end-users of the applications and not necessarily with only the IT teams. The parameters that influence this are:
| | | | |
| --- | --- | --- | --- |
| Customer engagement | Number of touchpoints the customer expecting with the vendor | High Touch | Low touch |
| Transformation | Is Transformation a key element in the engagement? | Is required | Not required |
| Price restriction | Is it a highly cost-sensitive situation, and the customer has a shallow price point? | No | Yes |
There are three key stakeholders – business user, customer IT, service vendor, who are critical to the success of any engagement. Business users: End-users and probably the most important stakeholder whose experience matters the most in the digital age. Customer IT: the enabler from the customer side who drives the experience. Service Vendor: The doer, who provides this experience. The way these stakeholders collaborate and agree on the above-defined parameters form the crux of the success of any engagement model. The business should understand the outcome that they are going to get, and the vendor should be able to articulate how effectively he is going to provide this, while the customer IT should know how they are going to drive this.
Customer engagement
Transformation
Price Restriction
Nature of engagement
Objectives
High Touch
Is required
No
Strategic
Focuses on the greatest level of customer experience.
Identify avenues for greater revenue generation, business process optimization
High Touch
Is required
Yes
Value-based
While focusing on improving customer experience, look for opportunities for business process optimization and cost optimization
High Touch
Not required
No
Tactical
Focused on driving value adds and improve customer satisfaction levels
High touch
Not required
Yes
Service-specific
Focus on only improved customer satisfaction
Low Touch
Is required
No
Value-based
While focusing on improving customer experience, look for opportunities for business process optimization and cost optimization
Low Touch
Is required
Yes
Tactical
Typically, short term engagement for coming up with the transformation ideas
Low Touch
Not required
No
Service-specific
BAU and make sure the SLAs are adhered to
Low Touch
Not required
Yes
Transactional
Just focus on getting things done, and it's a highly cost-sensitive model
Before any engagement starts, enough time needs to be spent to understand the business objectives and the complexity of the engagement. Based on this information and with a thorough analysis, a customized engagement model can be derived that is best suited to create success. This model needs to be transparent and create a win-win situation for the customer and the vendor. And to succeed in this environment, it is essential to develop a partnership approach