Rise with SAP
SAP
RISE with SAP Simplify to Business Transformation
Publish Date: June 15, 2021
We understand how important communication is in our daily lives. Any gap in understanding or response to what another person says can lead to unintended negative consequences. Similarly, data silos, outdated information, disparate processes, and disconnected applications can lead to unexpected downtimes in enterprise ERP. Not only does the burden of complexity lead to higher costs and loss of valuable time, but it also diminishes any time-to-value your technology may have to achieve business goals.
In this regard, SAP has continuously invested in business processes that are ready to run without complications. A clean ERP core translates to maintaining a pristine digital DNA – driving business agility without hurdles, ensuring intelligent applications can reach their full potential – maximize both ROI from your technology investments and tangible business benefits.
So, when the past year of the pandemic forced enterprises to accelerate digital transformation, SAP took steps to simplify the journey to the cloud for businesses. Specifically with the introduction of RISE with SAP this year, which bundles everything an intelligent enterprise may need to holistically 'transform on their terms and timeline' with unmatched TCO and time-to-value. In this blog, I would like to focus on what this means for enterprises on their cloud journey (regardless of where they stand) and its value for enterprise leaders to anticipate and respond to bigger market shifts.
Roadblocks in enterprise cloud metamorphosis
There are essentially three primary hurdles businesses face in their cloud metamorphosis journey.
Complexities of IT environments
Inability to extend and enhance core systems
Lack of a single window of truth and governance for enterprise data
With years of building legacy environments, businesses tend to operate in complex IT ecosystems – ranging from the cloud to on-premises, multiple vendors, third-party applications, to systems reaching obsolescence and open-source technologies. Integrating these systems is essential, as, without context or understanding the nature and malleability of every system and application, it is difficult to derive any meaningful value from them.
Secondly, the past year has been proof that deep market disruptions and volatilities can impact business models, with many pivoting plans and even reinventing traditional ways of working. To seize new opportunities while staying relevant, businesses need to flexibly extend their digital abilities, i.e., expanding their core processes and applications. Finally, with growing data sources, volumes, and types, making sense of your enterprise data can be a dilemma. That too, while ensuring all digital and privacy compliance needs are met without fail. This is why precisely business needs a singular view and ways to govern their data easily, quickly.
SAP has been open for a while now because they want to become a cloud-first company. RISE with SAP helps overcome the hurdles by melding what was once distributed, disparate and divided, into a single offering – all of which pave the way for simpler, faster, and ROI-driven cloud implementations. To put it simply – driving purposeful and holistic transformation using data.
One robust foundation for business transformation and integrated insights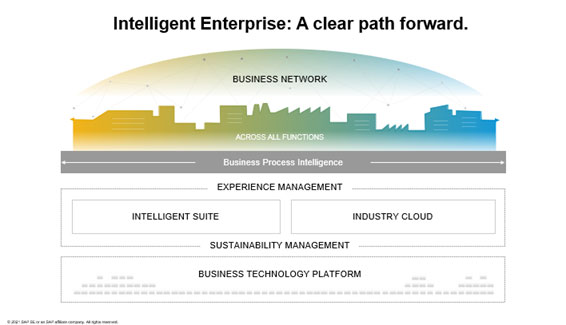 Businesses need an intelligent suite primarily to ensure all applications run harmoniously while giving the flexibility to enhance them as and when required. This is where RISE with SAP promises to bring all major businesses processes together as per the industry, along with the appropriate semantics and context to ensure relevant insights to support real-time business decisions. Not only does it bundle everything from Business Process Intelligence, Business Technology Platform, to SAP Business Network Starter Pack, S/4HANA cloud and embedded tools and services in one pack, but also offers them on a subscription basis – regardless of public or private cloud, or where you stand in your cloud maturity journey. To ensure simplicity, it also comprises a single responsible party for service level agreements, operations, and support, all without distractions, with a reduced total cost of ownership (TCO) and low upfront investments.
This means instead of a one-time technical migration that is cost-prohibitive, customized processes that slow down innovation and customizations requiring ongoing management and maintenance, you get predictable cost of migration, faster ROI, regular upgrades delivered by SAP, and flexible extensions – all in a standardized system architecture on the cloud. The results are also for all to see! SAP reports a 20% lowering of TCO, fast deployment within 2+ months, and 87% reduction in in-house costs due to a far more flexible operational environment.
The right-fit partner
A single solution never fits all problems, especially when it comes down to brass tacks of execution.  To ensure that the RISE offerings with SAP platform are augmented to their right potential specifically for your enterprise needs, businesses need a trusted partner that can deeply understand those needs deeply in a collaborative manner and ensure faster time-to-value with deep expertise and advisory. You may need a partner like YASH Technologies, who has continued to play a pivotal role with our >25 years of SAP Gold Partnership and our CoE driven advisory, implementation, and business transformation services. We not only help your enterprise become intelligent and seize new opportunities quickly but also be able to extend, build and enhance them for a disruption­-proof future.
Curious to know more about how we can support your enterprise? Be sure to check out our SAP CoE offerings here, or download the brochure here.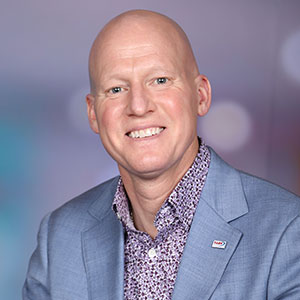 Vice President, SAP Service Line at YASH Technologies/C5MI