Introduction
In the blog, we will discuss how to perform a thorough SAP Assessment for migrating on AWS. We will focus on SAP servers and any dependent infrastructure which will be part of the migration.
Overview
The purpose of this assessment is to perform a thorough review of cloud hosting requirements, objectives and goals, to get a detailed analysis of the current SAP landscape. The assessment outcome is a proposed solution that represents a hybrid or all-in AWS cloud blueprint and roadmap for deploying SAP applications into AWS based on the requirements and priorities. The proposed solution will help identify what can be accomplished with AWS services. Likewise, it will also help determine what can't be realized in a cloud-based solution.
Discovery Phase
The Discovery phase is a process of collecting and analyzing information about the Server migration in scope. It allows getting an in-depth understanding of the scope and limitations.
As a part of the discovery phase below information is acquired,
Details of current SAP landscape – Sandbox, development, test, QA, and production
High-availability disaster recovery point objective (RPO) and recovery time objective (RTO) requirements
List server under In-scope and Out-of-scope servers
SAP Servers applications version information
Identify SAP interface and any interface requirements are currently satisfied via the operating system (OS) scripts
Uncover any information on non-SAP systems that complement the business processes executed on SAP
Assessment and Migration Approach
Review EWA Reports, Interfaces, and Peak Load and Bottle Necks
Re-platform / upgrade Interests (OS and Database)
Review Business and Technical Priorities
Migration methodologies and tools
Brainstorm session to determine optimal blueprint and roadmap for an AWS cloud hosting for SAP
Review risk mitigation techniques in migrating specific SAP systems to the cloud defined in the roadmap
Go Live: Staged deployment or Big Bang?
SAP Migration Strategy
A perfect SAP data migration strategy helps with easy migration from an on-premises database system to AWS. SAP Migration approach is determined by evaluating the below points.
Existing OS is compatible with Target AWS instance?
Size of the Database on the source?
Interface connected to SAP system?
Network bandwidth from on-premises to AWS?
Target OS, DB, and SAP version same as the source?
SAP Upgrade required?
Database platform change needed?
SAP Migration Options
SAP provides multiple migration options which are used for migrating SAP server running on-premises to AWS. Below are options that can be leveraged in migrating the SAP workload to AWS.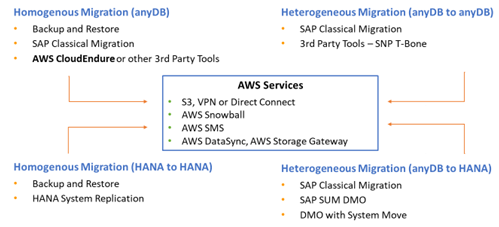 Outcome of Assessment
The following is a list of outcomes after the Assessment conclusion,
Future state architecture of cloud Infrastructure
Network connectivity requirements
Total Cost of Ownership (TCO)
Migration tool / Approach
Migration timelines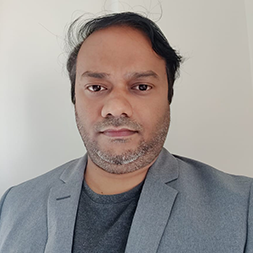 Solution Architect, SAP BASIS