.
Entrust your SAP security and compliance Excellence to the experts.
SAP business applications have become the most sought-after targets as they host business-critical data. With every passing moment, it is becoming more challenging to manage SAP Application Security due to constantly evolving technology, increasingly complex business environments, and increasing regulatory requirements. Further, maintaining a clean, compliant security architecture is becoming increasingly complex in SAP environments. Yash's experienced team of certified SAP Security experts can simplify the process by implementing industry best practices.
SAP with in-memory HANA technology and the launch of an integrated SAP S/4 HANA business suite has revolutionized the business technology landscape and brought next-generation business applications to the forefront, enabling enterprises to drive digital transformation. With expansive, business-centric and simplified features and functionalities, these applications also bring challenges to security design and its enforcement. SAP Security experts, with their in-depth knowledge of global security practices and the unique challenges in the relatively new environment, are helping enterprises deal with this paradigm shift in the design and implementation of SAP Security.
YASH SAP Security offers a comprehensive range of industry-leading services, including SAP Security Advisory, Security Assessments, Implementation, Upgrades/Migrations, and SAP Security services management. Our SAP security services have been designed to deliver flexible administration of organizational SAP security posture. The experts at YASH deliver a clean and compliant security architecture, thereby ensuring 24x7x365 security and audit-ready compliance coverage.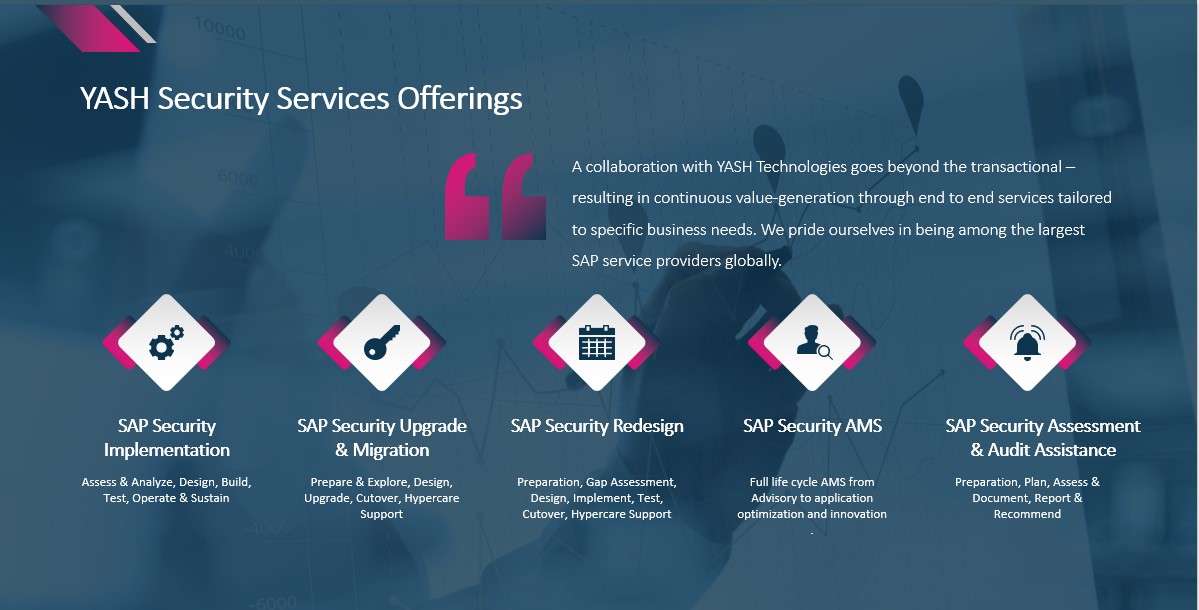 Brochure
Are you putting your enterprise at risk for unauthorized activity?
Maintain a transparent and compliant security architecture in SAP environments with superior performance and no hardware expenditure
Read More
Webinar
SAP solutions for GDPR how to manage your compliance and data security
The GDPR is one of the most comprehensive privacy laws in history and applies to all businesses that collect or process EU citizens' data, regardless of geographic location. No matter where you are on your GDPR journey, SAP and YASH can help. We offe
Watch Now
YASH Differentiators
.
Research, development, and Innovation have been the crux of YASH's strategic initiatives undertaken by SAP Security Center of Excellence (CoE). Under seasoned industry leaders' guidance in the CoE, we work on evolving security practices, constructs, and methodologies for delivering the services. By partnering with YASH, enterprises get access to a rich pool of experienced and certified SAP Security consultants, who customize strategic approaches to managing their environment. We also help customers reduce Total Cost of Operations (TCO) by automation provided through Yash proprietary Tools & Accelerators.
Infrastructure Management Services Security