Microsoft
Automate vendor payments with Microsoft's all-new Dynamics 365 Finance & Operations
Publish Date: October 1, 2020
Any organizational finance department's role can be surmised in two simple truths. One – anything impacting the bottom line is the finance department's responsibility. And two – everything impacts the bottom line. Arguably for any business, AP or Accounts Payable carries a direct impact on financial cashflow management, security against financial frauds, and vendor relationships across the organization.
With the payments world advancing rapidly with many & cyber-vulnerable touchpoints, it has become difficult for businesses to keep their finger on the pulse, and run pillar-to-post to get accounting issues resolved. As the pace of modern business accelerates, finance leaders, prioritize the adoption of productivity tools and workflow automation capabilities to add greater strategic value and eliminate process redundancies and manual errors. This year (2020) for instance, ~31% of all companies plan to introduce some financial automation, with another 26% anticipating automation efforts to be in full swing.
Spanning the entire AP process from receipt, processing, and through payments, let us examine the popularity of Microsoft's Dynamics 365. And also understand why payment automation has gained prominence in the first place.
Why automate vendor payments?
A good working relationship with vendors is directly beneficial for the company's cash flow. Open communication and accurate payments during normal times, for instance, will make your vendors more inclined to help you out during times of crisis. Moreover, for AP teams, time is money. The more efficient the process is, the better the ROI from faster invoice processing, capturing early payment discounts, and more. Lengthy invoice processing means your cost-per-invoice is higher.
With modern digital tools and technologies like Azure, Microsoft 365, Teams, and Dynamics 365, finance leaders are looking at automating workflows to simplify AP communication, improve efficiency, and boost performance. Nearly 61% of all finance operations can be partly or fully automated[1] with the currently available technologies. With the new feature of 'Automate vendor payment proposals' in Dynamics 365 Finance & Operations, AI is now finding its way into payment and invoice reconciliation, tracking bonus & benefits accruals, generate real-time reports, and more without much effort.
[1] Microsoft Dynamics 365 Report
Let us understand how, and to what ends.
The business value from payments automation with Dynamics 365
Because new systems driven by Artificial Intelligence (AI) and machine learning (ML) can process and identify patterns in data (much) faster than human resources, it is possible to automate financial tasks that are labor-intensive. These include arduous processes of manually extracting and analyzing information from spreadsheets, receipts, and invoices – and gather them into a single report – whenever needed. Automation also can streamline and shorten approval processes so that low-risk investments can be green-lit automatically. Only those that warrant closer inspection can be flagged for expert human resources as exceptions.
In this regard, Microsoft's latest feature in the Dynamics 365 Finance & Operations defines the following touchpoints through automated vendor payment proposals:
When payment proposals are being run
The criteria used to select the invoices that can be paid
A journal of vendor payments resulting payments are saved in
Organizations typically pay vendors as per a set of defined rules that apply to specific circumstances. The highest order of importance, for instance, explains which vendors need to be paid first. Other companies may look at standardizing the different payment methods to be paid on specific days recurrently. Automating these processes helps AP departments apply their own schedules to create vendor payment proposals consistently in batches and without any manual errors or inefficiencies-led delays. Another huge plus is that you can check all AP payments with data visualizations in analytics to drive real-time business decisions.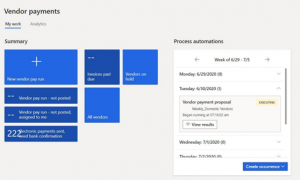 The power of integration
The power of deriving the best ROI from Dynamics 365 F&O lies is accountability, productivity, and overall efficiency; it helps drive towards the bottom line. To get a single source of truth for your balance-sheets; however, people, processes, and technologies must be aligned to strategic business goals.
Microsoft consultants at YASH, for example, leverage Dynamics 365 to re-orient financial directions and constantly gauge the financial health of an enterprise in real-time via outcome-led KPIs, financial metrics. As a certified Gold Partner with Microsoft, YASH is home to a full-fledged Centre of Excellence and Innovation (CoEI) that develops PoCs, accelerators, templates, and more, to help customers realize maximized value from Dynamics 365 investments.
Click here to explore YASH's Microsoft Dynamics 365 services and get in touch with our senior consultants.

Program Manager@YASH Technologies