Microsoft
Empowering Your Sales Team with Dynamics 365 Sales Accelerators
Publish Date: October 20, 2023
In today's cut-throat sales environment, the difference between success and failure lies in your ability to truly comprehend your customers' needs and provide them with a meaningful solution. And that's where the Dynamics 365 Sales Accelerator comes into play – a transformative engagement platform that can renovate how businesses interact with their clients. This dynamic tool empowers your sales team and enables them to leverage the potential of multiple channels within a single workspace, streamlining their efforts and optimizing customer interactions. Let's examine why the Dynamics 365 Sales Accelerator is a valuable asset for modern businesses.
A Streamlined Approach to Customer Engagement
The Dynamics 365 Sales Accelerator is a customized platform designed to minimize the time sales professionals spend searching for the next best customer to connect with. It intelligently gathers information from various sources, allowing sellers to focus on crafting meaningful client approaches. Here's a look at some of its remarkable features:
Comprehensive Worklist: The platform provides a worklist showing completed and planned activities, helping sellers stay organized and efficient.
Email and Call Tracking: All email and call interactions are seamlessly tracked on a timeline, providing a clear overview of your communication history with clients.
Integration with Microsoft Teams: Microsoft Teams is embedded into the interface, enabling seamless collaboration and communication within the sales workspace.
Meeting Transcripts: Transcripts from meetings are stored directly on the record, ensuring that important information is readily accessible.
Prioritized Leads and Opportunities: The platform offers a prioritized list of the following best leads or opportunities, helping sellers focus their efforts on the most promising prospects.
Detailed Call Analysis: It provides insights into phone calls, including sentiment analysis, giving sellers a deeper understanding of client interactions.
Automated Recommendations: Automated recommendations are integrated throughout the sales sequence, expediting the sales process and increasing efficiency.
Accurate Customer Data: Easily accessible and presented in a user-friendly format, the platform ensures sellers have the most up-to-date information.
Predefined Email Templates: Sellers can send emails efficiently using predefined templates, saving time and maintaining consistency.
So, how do the Dynamics 365 Sales Accelerators empower your sales team?
Work smarter and faster
In-depth call analysis
Streamlined activity management
More time with customers
Building stronger relationships
5 Key Benefits of Using Sales Accelerator in Dynamics 365 Sales
The Dynamics 365 Sales Accelerator offers numerous advantages, including:
Centralized Customer View: Gain a 360-degree view of your customers, regardless of where they are in the sales cycle, by tracking all interactions across various channels.
Faster Lead Qualification: Prioritize your efforts by letting the platform automatically rank leads based on their closing likelihood, providing key information to kickstart conversations.
Swift Relationship Building: Equip your sales reps with essential customer information, recent activities, and opportunities, enabling them to build relationships faster.
Actionable Insights: Receive recommendations on how to close more deals based on your sales process and CRM data, offering insights into performance and successful strategies.
Track Progress Against Sales Goals: Visual representations of sales progress make it easy to identify effective activities and areas for improvement in your sales process.
Boost Your Sales Pipeline with YASH
To achieve these remarkable advantages, you need a reliable technology partner who can offer you the Dynamics 365 Sales Accelerator cost-effectively and efficiently. Look no further than YASH Technologies. Our team of experts is ready to guide you through reimagining your sales pipeline, leveraging the cutting-edge capabilities of Microsoft Dynamics 365 CRM. Our extensive experience and expertise in Microsoft Dynamics 365 CRM make us uniquely positioned to provide tailored solutions that enhance your business outcomes. As a leading Microsoft partner, our comprehensive services and exclusive offers are designed to empower you to make the most of the advanced features, ensuring your sales team reaches new heights of efficiency and success. Partner with YASH Technology and watch your sales efforts soar to new horizons. To know more, connect with us at info@yash.com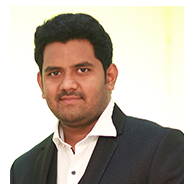 Manager