Growing economies across all sectors like manufacturing, healthcare, retail, etc., are impacting operational efficiencies, in turn, increases production levels to manage the increasing consumer demands. In order to address these growing demands, warehousing companies are also continually progressing to overcome any challenges that may arise due to fluctuating product markets and logistics schedules. Advanced technologies are being implemented in Warehouse Management Systems to meet customer requirements.
There is expected to be a sharp rise in the demand for Warehouse Management Systems due to changing supply chain models, rapidly growing consumer demands, particularly in the retail and logistics sector.
Due to this, manufacturers are focusing on automation of activities and suppliers are developing solutions to support these changing market trends. WMS software widely being implemented by all the customers from different industries.
Evolving Warehouse Management
Warehouse management can also be provided as a service where the software is hosted via a cloud-based computing system. Vendors sell their products by either offering them as a service, which helps the clients to focus on their core business operations or can also sell the software to the client without the service. Conventional warehouse planning and analysis can be enhanced through upcoming technologies like big data, artificial intelligence, and advanced predictive analytics. With the help of these real-time stock information and predictive analytics can be used to optimize ordering quantities and delivery timing. Predictability and service level for the end-customer can be visibly improved and supply chain disruptions risks minimized. If well synchronized with the tools used by customers, these technologies can support applications such as predictive maintenance.
Robots
Robots are being used in all fields and can prove to be indispensable to warehouses. Many tasks in warehouses are repetitive and mundane, consuming a lot of time, effort and human intervention like in the case of packing, assembling, transporting stocks, etc. Designing robots to work safely around humans, can support and improve manual processes. Warehousing robots can handle objects with their hand-like extensions and can routinely perform almost any task a human can do.
Drones
Inventory management systems in warehouses require manual scanning of items, a time consuming and sometimes an error-prone process. Drones and robots have become an indispensable part of large distribution warehouses. Studies indicate that two drones can replace the work done by 100 humans over the same period. This implies that several tours of a warehouse can be done – even at night – compare results, identify discrepancies, and build up a much more accurate picture quickly.  A suitable example for aerial drones using optical sensors is to locate an item in a warehouse or scan the reslated RFID tags at a distance. In larger warehouses, a drone system can be used to monitor inventory levels and transmit data directly to the warehouse management system. This will facilitate fast detection of individual items and prevent inventory mismatches. Despite drones appearing to be a must-have technology regarding speed and accuracy, they must also overcome many limitations in safety, payload capacity restrictions, etc., before they reach a high level of adoption.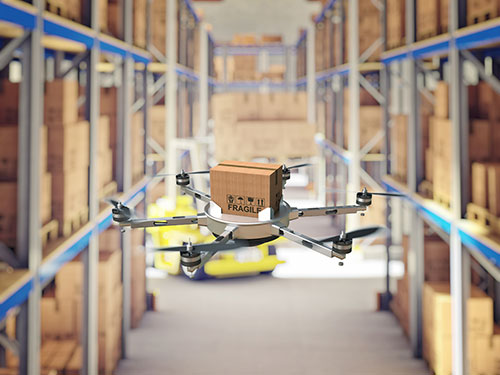 Smartphones and tablets
Tablets and smartphones are everywhere, in everything and an indispensable part of the business landscape. Warehouse management systems have been changing, and there is increased use of handheld devices. A recent study revealed that by the end of 2018, there would be a 66% increase in usage in handheld mobile devices with real-time access to WMS systems. This would make data available real-time across locations and last minute additions or deletions to stocks can be dealt with quickly.
"Gun-like" Mobile devices
Technology has evolved, and suppliers are adopting smaller mobile devices to handle warehouse tasks through warehouse management systems. Mobile devices are more durable and suitable for rough warehouse environments. They come with extended battery lives and are very handy to use replacing traditional RFID guns in scanning and updating stocks in warehouses. Hardware manufacturers are manufacturing RFID guns devices that are less expensive and less bulky to compete with the mobile solutions market.
Big Data and IoT
Smart warehouses are implementing the latest supply chain technologies using the Internet of Things (IoT). They serve as a hub to boost efficiency and speed throughout the entire supply chain. From wearables on workers to sensors and smart equipment, internet-enabled devices and technology are profoundly changing warehouse management. Connected devices and sensors help manage the right quantity of products, at the right price, time and place. They also manage the route of merchandise from the pick-up point to endpoint seamlessly. An IoT-equipped warehouse may in the future upgrade to automated guided vehicles to retrieve items. Also, sensors in the warehouse can detect locations of people or goods and can transmit them to locations. Additionally, employees using smartphones or tablets can also control these modern systems and load boxes or pallets on a truck in the correct order for shipping.
Blockchain in WMS
Blockchain applications facilitate the interaction between many parties along the supply chain resulting in a much faster and transparent process. Blockchain can also be used to track an item along the value chain and also trace all process steps and provide proof of legitimacy or even proof of authenticity for required goods.
Modern technology has the advantage of being ubiquitous. Almost everybody including the average floor worker in a warehouse, are familiar with technology today. Increased familiarity means less training needed, fewer errors, improved productivity, flexibility and a faster pace of work. Automation and robots will continue to replace most of the traditionally labor-intensive roles and monotonous tasks, freeing up time for warehouse staff to complete other fulfilling and value-added work. Interactive and mobile technology, intelligent robots, big data analytics, plug, and play automation will have a pivotal role to play in managing warehouses.
New technologies continue to develop and will significantly alter the way goods are received, stored and shipped in a warehouse and will transform the Supply Chain beyond what is in place currently. Research predicts that it's entirely possible that by the year 2045, warehouse management systems will be able to control every aspect of warehouse operation, including security, receiving, put-away, storage, picking, and dispatch, as well as lighting, temperature control, indirect materials purchasing and maintenance.
Karthik Ayyala SAP Solution Architect @YASH Technologies
Reference: www.explorewms.com/warehouse-future-trends.html
More Blogs from this Author:
Comments
No Comments
Add Comments