All businesses run through a warehouse, and as businesses evolve, it becomes imperative for warehouses to evolve too. A considerable chunk of warehousing activities is still being executed manually, resulting in shipping delays, product mix-ups and extra costs being incurred. Warehouses have turned to new and emerging technologies such as cloud software, augmented and virtual reality, drones, robots, autonomous vehicles, wearable devices, and IoT to transform their operational practices and increase efficiencies. With the support of artificial intelligence, big data and advanced predictive analytics, warehouse planning and analysis are steadily evolving to the next level.
Evolving processes
Not only in terms of technology, but warehouse practices are also continually evolving to accommodate changes based on demands as listed below:
Increased flow, lesser storage
Manufacturers all over are reducing their inventories by operating fewer holding locations and also by increasing their inventory velocity. Warehouses today are more flow-through or cross-docking facilities where goods that enter are reconfigured based on requirements and immediately dispatched, all this using the latest in technology.
Flexible operations
Businesses are trimming down their distribution-facilities networks and moving towards higher distribution velocities. Warehouses are looked at to provide flexibility in the supply chain to deal with last-minute requests or requests that might crop up after goods complete the production process. Since warehouses are now expected to deal with manufacturing or assembly related tasks, adding more services or functions to warehouse tasks might bring in more risks. Agility and sophistication of the warehouse's technology systems will determine lead to better success.
Improved Warehouse Management Systems
Warehouse Management Systems (WMS) are the brains of the warehouse constantly managing and monitoring distribution tasks. The new generation of WMS offers considerably more functionality and flexibility than the older Warehouse Management Systems. WMS must be able to process vast amounts of information quickly, with the highest degree of accuracy especially for escalating speedy demands throughout the supply chain. Accuracy in execution is extremely critical during demand, as a setback in it might create costly bottlenecks in the process flow.
Challenging web commerce
Web commerce presents real challenges to business's distribution networks when it comes to fulfillment.
How well an organization executes, its service promises will depend on how they back up their websites with the systems and logistics know-how to make them work. While many organizations today use the Internet to reach their customers, more and more companies will start using the web to manage their supply chains. Suppliers, manufacturers, distributors, and retailers use the Web to exchange information promoting better planning and shorter delivery times. WMS are becoming web-enabled tools and are procuring incoming purchase-order information from a website, proceeding to a transportation website to list shipping information on outbound documents, and then to the manufacturer's website to download the needed product characteristics. Everything happens on the web and this can either be an advantage or can pose a huge challenge to the Warehouse Management System.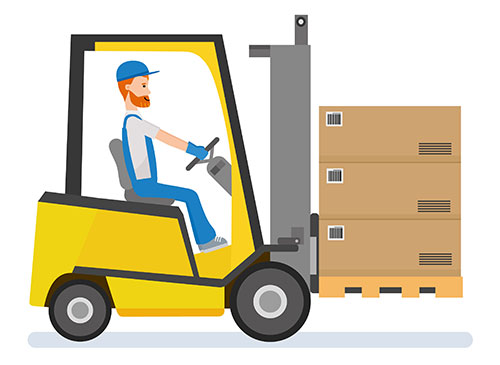 Warehousing challenges
In accomplishing their goals, warehouses might face the following challenges:
Continued pressure to decrease costs with a higher expectation for accuracy.
Emphasis on minimizing inventory by consolidating holding sites, and cross-docking programs.
Collaborative planning and e-commerce to reduce cycle times, inventory, etc.
E-orders might increase the requirements for same-day shipping.
Handling all emergencies and dealing with last minute orders.
Warehouse functions have become mission-critical evolving from an inventory storage center to that of a distribution center designed to move products and add more value. They also include services that serve customers with increasingly diverse requirements all while controlling costs. Cross-docking, postponement, and value-added services all add to the complexity at the warehouse distribution center. Traditional functions like receiving the product, packing, storage, picking, and shipping must be executed flawlessly, and the information should also be 100% accurate for the systems to work. Traceability, trackability, and accountability also add to the complexity and the need for accuracy. The future of warehousing lies in using appropriate systems and technology to enable transformation.
Evolving trends in Warehouse Management Systems (WMS)
Warehouses or Distribution Centres were merely a storage facility for goods as they made their way through the supply chain but today warehouses need to be agile and capable enough to support all the required functions, e-commerce, B2B, home deliveries and parcel shipments—to name just a few. To achieve this two aspects are very critical increased labor/real estate and advanced technology that can deal with issues like high labor costs and also streamlining the process, making it more efficient than ever. From autonomous mobile robots to complete supply chain solutions to advanced inventory tracking systems, the options continue to increase enabling logistics professionals to develop smarter, more efficient facilities.
Flexible software
Customers today demand quick, personalized service and that is the reason for today's logistics professionals to look up to warehouse management systems (WMS) software vendors for systems that accommodate their specific company's needs and pain points. Software developers are creating platforms that are as flexible as possible, and that cater to increasingly fickle customers. Also, the thin line of difference between Warehouse Control Systems (WCS) and Warehouse Management Systems is reducing. WCS was earlier in-charge of the interface for material handling systems while WMS managed processes, people, and activities like shipments and orders. WCS is now playing a more significant role in the overall management of a warehouse's inventory especially in organizations that implement more automation into their warehouses.
Autonomous mobile robots
Autonomous robots are becoming more intelligent and universal in their applications as they are now in the field interacting with the human workforce in coordination. Robots are designed to work alongside employees and to relieve them from physically strenuous tasks. Robots and collaborative robots fit to be used in warehouses improve the speed and efficiency of operations, as well as reduce costs. Activities such as scheduling, and order tracking can be easily automated using robots.
Advanced planning capabilities
Warehousing is said to be an industry that's lagging behind its counterparts when it comes to advanced planning. Warehouse and logistics teams are often said to be good at expediting, but not as good at planning for the here-and-now or the future. However, this is moving towards a change as forces like e-commerce and omnichannel are pushing the teams to rethink the way they approach their jobs. More and more organizations are using Warehouse Execution Systems (WES) to implement more sophisticated logic to how they manage their work. Optimization and machine learning techniques prove to be viable ways to plan in even the most challenging environments.
Constant monitoring and optimization
The wave of digital transformation in the long term is bringing in more fundamental changes across all industry segments.  Data-driven technologies such as cloud systems, predictive analytics and Blockchain is being utilized to make existing logistics processes smarter by creating real-time visibility at all levels. Data-driven technologies also take care of data inputs, both internal and external, for constant monitoring and optimization of the supply chain. With transparency and visibility implemented across all levels, warehouses are adding more satisfied customers every day.
Collaborative robotics
More technology vendors are coming together with automated solutions that specifically target the warehouse. Systems integrators/warehouse automation providers are also working together with smaller, autonomous, collaborative robotics firms to develop newer solutions that will streamline and speed warehouse processes, with minimal risks and reduced costs.
Chatbot assistance
A Chatbot is an AI application that interacts with customers and instantly responds to customer queries, providing them with real-time information as and when they demand it. Customers interact with the chatbot either by text or by voice, and the chatbots can handle reclamations and error processes automatically. The customer can also switch to a customer service representative at any time if they need to.
With innovative storage systems, better tracking systems, improved training, and technologies in place warehouses are changing for the better every day. The differences between warehouses then and warehouses of today is prominent. Warehouse management consisted of manual processes earlier, but with the emergence of newer technologies and ideas, warehouse management has evolved into a much more automated process. Over the past few decades, WMS have developed from complex systems and are much more affordable than systems of the past, convenient to use, and more beneficial resulting in faster response and delivery times as well as improved visibility. As more and more technologies continue to evolve, and markets continue to expand, warehouse management systems will also continue to grow for the better.
Karthik Ayyala SAP Solution Architect @YASH Technologies
More Blogs from this Author:
Comments
No Comments
Add Comments