Sr. SCM Consultant@YASH Technologies
Extended Warehouse Management (EWM) offers flexibility in automating various goods movements processes and for managing stocks in complex warehouse. The system supports planned and efficient processing of all processes of goods movement in your warehouse.
EWM gives the ability to map a complex warehouse in detail in the system, providing the visibility of stock, down to the storage bin level. EWM enables you to optimize the use of various storage bins efficiently and can effectively store stock together from several plants in the same warehouse. Using EWM, you can control and optimize various goods movement processes in the warehouse. There are multiple ways in which an EWM solution can be deployed to solve the complex warehouse requirements and challenges. Choosing between these different deployment options of SAP EWM has always been a hot topic of discussion. There are two methods to deploy EWM that can be broadly classified as Embedded EWM or a decentralized EWM solution.
Embedded EWM
Beginning with 1610 version of S/4 HANA Enterprise Management, SAP has provided the core functionality of EWM solution in SCM system in the digital core of the S/4 HANA system. This method of deployment is known as the embedded EWM solution. This meant that the basic functionalities of EWM such as Inbound, Outbound process, Process Oriented Storage Control (POSC), Layout Oriented Storage Control (LOSC) and Handling Unit Management (HUM) etc. are part of the standard  S/4 HANA license.
Main Deployment Options of SAP EWM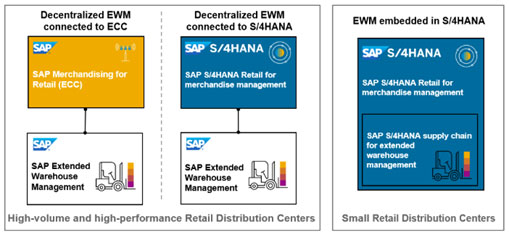 Embedded EWM is a suitable model of deployment for small and medium sized businesses with small warehouses with low volume, throughput and lesser degree of warehouse automation. In such cases, business can benefit from the simplified integration of embedded EWM to SAP S/4HANA business processes.
Decentralized EWM on S/4 HANA Platform
Until the release of embedded EWM in S/4 HANA 1610, EWM solution was part of the SAP Supply Chain Management (SCM) server. This version of EWM system was deployed on SAP Netweaver. SAP released the new EWM 9.5 solution on S/4 HANA platform in May 2019, this is the new decentralized EWM solution on SAP's HANA database. Some of the key features of decentralized EWM on S/4 HANA are listed below,
Until now Decentral EWM solution was available only on NetWeaver or SCM stack with any database. New decentral EWM is the same existing EWM solution built on S/4HANA platform with HANA database.
Decentralized EWM on S/4 HANA platform, is S/4 HANA Enterprise management 1809 FPS02 application. But only EWM application can run on a client level, other components are deactivated.
Decentral EWM the latest release (May 2019) will have the EWM functionalities of embedded EWM in S/4 HANA 1809 and will not have the functionalities which are not in embedded EWM like SCM Route, Fiori App 'Process E-commerce returns etc.
To begin with, decentral EWM on S/4HANA will have the same functionalities of embedded EWM, but SAP's roadmap is to have a feature parity with the classic Decentral EWM (SCM stack). For example, Quality inspection engine (QIE) is not present in embedded EWM, however QIE will be added to decentral EWM on S/4 HANA platform in future release.
Some of the functionalities not available in classical EWM (SCM stack) such as reuse of LE delivery number, transparency of ERP storage location, new Fiori apps, change log of storage bins etc. will now be available in Decentral EWM on S/4HANA.
CIF (Core interface) will not be used for transfer of material, batch etc. in decentral EWM on S/4HANA. Master data from ERP will be transferred through ALE / IDOC interface. However, the same queued RFC (as used in classic decentral EWM) will be used for bi-directional transfer of transaction objects in Decentral EWM on S/4HANA
EWM on S/4 HANA platform will be the preferred solution for decentralized deployment option going forward. Classic decentralized EWM (SCM stack) will have its life cycle end in Dec 2025.
Decentralized EWM on S/4 HANA platform is suitable for businesses with large volumes of transactions with multiple complex warehouses connected to a single ERP system. With this SAP has moved the decentralized EWM application to the HANA database, which will facilitate to bring in advanced applications such as IoT and machine learning to warehouse application and help in automation of the warehouse processes.
Watch the Webcast 5 Reasons to move to SAP S/4 HANA