Enterprise Services
IT Governance and Integrated Framework of Best Practices Enabling Businesses
Publish Date: December 15, 2017
Firms with superior IT Governance have more than 25% higher profits than firms with poor Governance given the same Strategic Objectives
– Peter Weill, Director of the Center for Information Systems Research (CISR) and a Senior Research Scientist at MIT's Sloan School of Management
Gartner on IT Governance states, 'IT governance (ITG) is defined as the processes that ensure the effective and efficient use of IT in enabling an Organization to achieve its goals'
The aim of IT Governance, a subset of Corporate Governance, is to focus on Performance and Risk Management of Information Technology.
Top Management in Organizations need to know if their
IT Management is:
Likely to achieve its objectives?
Resilient enough to learn and adapt?
Judiciously managing the risks, it faces?
Appropriately recognizing opportunities and acting upon them?
Optimise the cost of IT services and technology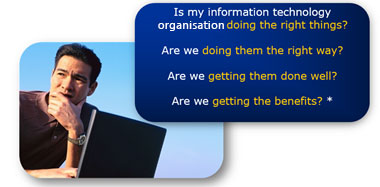 Today the IT Industry has evolved drastically making it more complex as well as dynamic in its structure. Governance creates disciplines within a particular process or IT activities or amongst people in the Org, to enable them to perform better. This includes Responsibility, Ownership, Authority and Accountability at various levels for every individual involved.
IT governance focuses on the structural as well as process components. Structural component revolves around the Organization's IT related activities and process component revolves around policies, compliances, decision-making, etc. IT governance is a continuous journey that has helped make organizations stronger, more resourceful and agile in its thought and approach.
Which Integrated Framework of Best Practices could you choose and Why?
There are many IT-related standards and good practices, each providing guidance on a subset of IT activities. Couple popular IT Governance frameworks include COSO, COBIT [2] etc. COBIT and COSO focus on enterprise wide IT Governance to amalgamate and generate maximum value to Businesses.
These integrated frameworks are used by both, public and private sectors, as a way to ensure IT Services within the Organization as working in tandem with the scope of defined Organizational Objectives. There can be more than one integrated framework that can be opted rather than limiting to only one. COBIT is a Business Framework that also outlines the Performance Measures to be achieved in terms of Lag and Lead Metrics.
When we look to fitment of COBIT to facilitate an Integrated Framework, here's how it enables adoption to an Organization as it harmonizes practices and standards such as ITIL, ISO 27001 and 27002, and PMBOK and improves their alignment to business needs and covers full spectrum of IT-related activities.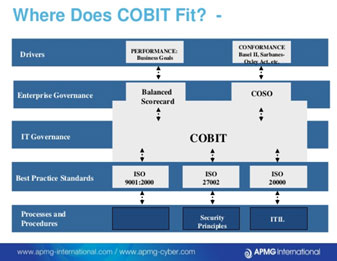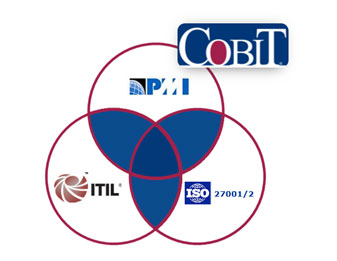 How does an Integrated Framework help align Businesses?
A well-integrated framework enables businesses to align with IT Strategies in the Organization on a set of common objectives. Provides a comprehensive roadmap to clarify oversight along with accountability and decision-making rights within the framework for the adopting Organization.
An Integrated Framework enables Businesses by –
Improving integration, planning and communication between Business Groups and IT Groups of an organization
Helps draw clear links between Business Objectives and Project Deliverables to achieve better IT strategy and lessen the security risk
Understanding the various resources needed to accomplish a particular task. There are set priorities on the resources and this need not only be restricted to human resources, but could also include financial and technology allocations as well. It helps to increase accountability and structure.
Having Business Leaders of different verticals in sync with the transformation or integration is very important to uphold its resourcefulness
Attain a clear list of priorities that will help understand which task to accomplish first
It helps to draw a clear focal line between IT projects and Business goals as one cannot function properly without the other.
IT Governance and Integrated Frameworks are crucial Business enablers that help IT to survive and thrive business challenges and risks.
References –
Lakshmi Nanduri – Program manger @YASH Technologies
Lakshmi Nanduri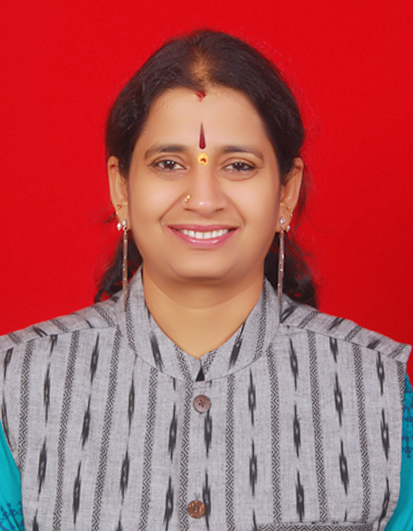 Program manager