Microsoft
Empower sales by expanding consumer intelligence with Dynamics 365
Publish Date: March 12, 2020
If digital transformation drives customer experience today, then customer relationship management (CRM) is central to managing that experience. Conventionally speaking, sales roles in the past depended largely on the person's ability to encourage, motivate, and convert a sale – i.e., success relied on the personality of the salesperson. Increasingly, however, that is no longer enough.
New demands in sales management roles have become far more analytical about the value it presents to customers, articulating business success, etc. – i.e., the outcome is defined by the personality of the customer. As a result, great sales leaders today are running their operations with the precision of an engineering firm. Data with a layer of AI-led analytics and personalization to performance management is helping sales teams to inculcate best practices and boost business growth.
In my previous blogs of Microsoft's Dynamics 365 CRM series, we deep-dived into what makes Dynamics 365 unique for marketing, driving operational efficiencies, and managing customer relationships. Today, let's understand how AI-driven sales insights from D365, enable sales teams to minimize routine tasks, build personalized relationships, and navigate ahead by keeping their best foot forward.
Dynamics 365 AI for Sales: Must-know features
In an era when consumers have more choices than they have time, companies are being forced to have a holistic view of their buyers, predict buying intent, and then orchestrate a tailored buying journey for the customer. A host of features from the D365 Sales are dedicated to sales with two primary roles in focus.
The first is of a sales agent or seller who initiates, negotiates, and finalizes sales with customers. The D365 application helps the seller analyze the overall communication with the customer, 'lead analysis' understand which leads show the best chances of conversion, and 'opportunity analyses to list out the potential customers. The second role is of the sales manager. For this role, D365 for sales is designed to give clear analytical information about the sales manager's team. This includes reports about the team's performance and customer call analyses.
The platform even connects well with the rest of the Microsoft family products such as Exchange, LinkedIn, and Outlook and even scores communications using machine learning to provide sentiment to customer conversations/activities. Here's a closer look at the host of cool features businesses can take advantage of with D365 for Sales.
Through a single dashboard, you can:
Contextualize insights to sell smarter with conversational intelligence: Improve win/conversion rates with lead and opportunity scoring systems to identify customers who are most likely to convert. You can also customize your engagements based on contextual analytics so that sellers get personalized talking points and the next best actions when speaking with a customer. AI-led interventions from Office 365 and Dynamics 365 also help you identify relationship health status and risks.
Scan communications and filter insights with your relationship assistant: The 'assistant' (or Relationship assistant, as it was formerly called) is included in the D365 Sales Insights suite. From analyzing all of the data like emails, calls, to generating action cards, the assistant provides actionable insights to sales leaders by keeping a close eye on daily sales actions and communications. The assistant also reminds you to call/email inactive contacts, identify customer emails that are waiting to be replied and even alert you when a certain deadline is close approaching.
Predict and score leads and opportunities for wins: To convert potential clients into wins and meet sales targets, it is today important for businesses to spend quality time on the opportunities. Using a machine-learning scoring model, D365 lets you do predictive scoring to determine the likelihood of a lead converting successfully. Using these scores (between 0 and 100), sales teams can identify and prioritize opportunities. Necessary actions can also be taken to improve the opportunity score, including setting up meetings and follow-ups.
Get quick answers through Natural language Q&A: When you want to get quick answers, or a piece of specific information picked up from your data reservoir without having to search, D365 Sales Insights also comes with Natural language Q&A feature. Using Natural Language Processes, this search bar lets you explore all your data intuitively, and even receive answers in the form of graphs and charts.
The heartbeat of modern sales: Sustaining consumer relationships
Transformations in sales models aren't new. But gone is the sales culture where decision-making is based solely on 'gut-feelings' and personal relationships. With D365 increasingly becoming popular among businesses, it is clear that the science of change involves a deep digital understanding of the customer, their behaviors, wants, and demands.
The promise of data-backed, one-on-one marketing, and sales is not only possible but also increasingly what customers expect from businesses.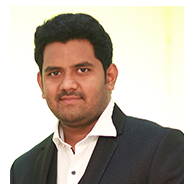 Manager