Enterprises are now faced with new challenges in their attempts to effectively manage digital strategies and deliver powerful digital employee experiences. They are expecting their IT service desk team to be a value center instead of just providing conventional IT service desk support.
The service providers are expected to be focussed not only on ticket resolution but also focus on enhancing end-user experience. They are shifting from Service level agreements driven culture to Experience level agreements culture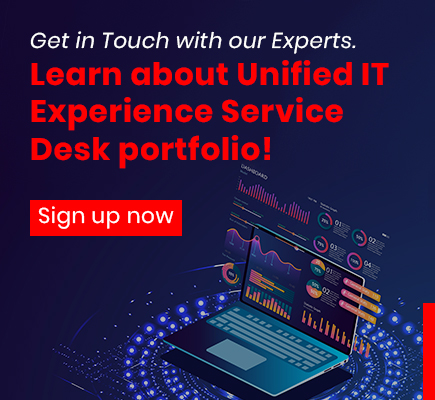 Based on service-centric and business-aligned metrics, a unified IT Experience Desk addresses this demand.
What is an IT Experience Desk (ITED)?
Whether it is IT Service desk OR IT Experience desk, they both are the first point of contact between end-users of a customer and IT services provider. However, ITED stands out by delivering personalized and innovative IT Service Desk experience. While the traditional IT service desk employed a "ticket" workload system and strained due to lack of automation, the modern version (ITED) employs voice and chat-based virtual assistants, process automation, digital workforce and Artificial Intelligence (AI) based predictive & proactive approach to issue resolution.
Apart from being the central point of contact for resolving IT issues, the ITED is able to support your digital transformation journey. It should be able to follow the business context, offers service-centric and business-aligned metrics that extensively add to end-user satisfaction. Eventually, it enables you to roll out new offerings (Service catalogue), equipment replacement, new applications and features within the enterprise.
A well-strategized ITED also enables globalization. It helps organizations to globalize their IT reach, by defining standardized processes, introduce automation tools, provide multi-lingual support along with unified manageability & insights to drive innovation.
A standard IT service desk support model focus on providing priority (VIP) support only to CXO organization, whereas all other end users are treated at the same priority level. This approach hurts the business most as it does not address the need for prioritization of end users. ITED focusses on identifying different User Personas to add most critical end users to the VIP support category.
Enterprises are also struggling to manage their Major Incident management (MIM) process. They face many issues in bringing right stakeholders together at the right time and get the Major incidents resolved quickly, thus impacting the business.
They expect single ownership and faster resolution to such Major incidents. That's where it is recommended to make your ITED a Unified IT Experience Desk (UITED) by moving your MIM process to front line. UITED strengthens your MIM process by owning it end-to-end, using automated notification and escalation process. This automation helps to get various stakeholders in an outage bridge, as early as possible and enable coordination for quick resolution.
Additionally, UITED can be a vital source of information since the data collected is comprehensive and real-time. Analysing this data can help measure individual user-experience by combining technical metrics and business drivers.
Creating a Unified IT Experience Desk from the traditional IT helpdesk is a tectonic shift and challenge for businesses. Enterprises that try to do this on their own can invariably spend major amounts of capital along with time. Furthermore, building such a model also calls for a transformation in mindset, understanding modern tools, preparing an automation repository, gaining fresh talent or upskilling the existing ones, and piloting organizational change management to incorporate the support models.
Discover YASH's Unified IT Experience Desk
YASH's Unified IT Experience Desk is such an offering that addresses all such needs and enhance your end-user experience. Our services include advisory and process consulting to expedite value realization from your existing service desk investments through appropriate knowledge execution and best practices implementations for the present-day workforce.
Connect with our experts to learn more about our Unified IT experience service desk portfolio!

Vice President, Cloud and Infrastructure Management Services