As businesses are moving towards digital transformation, it is imperative that your staff may need assistance with those technologies and fix for any problems they may encounter. They would always look for support from their IT service desk to resolve such issues effectively.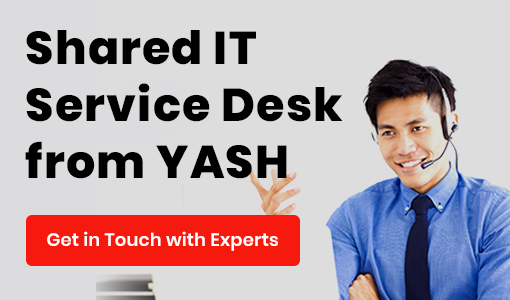 Even as there are arguments that an internal service desk may be sufficient to answer calls and address issues, expectations from the service desk are shifting. In the face of rapid globalization and digitalization, the service desk staff needs to be continuously trained and upskilled to ensure quality of support. Add to it, other challenges in the form of staff turnover, absenteeism and changes in business processes also hampers support capabilities.
While the objective of an IT Service desk is to support the IT organization, it certainly has far-stretching disadvantages for small and mid-size enterprises with limited IT budget and staffing.
According to a recent survey, by Finances Online, Reviews for Business, modernizing service desk systems and honing the skills to manage end-user expectations are some of the biggest obstacles to deliver high-quality service desk support. More so for small and mid-size enterprises, this can be a substantial expense and can eat into their annual IT budget. Therefore, outsourcing your service desk support makes all the more sense.
86% of service teams note that having a service desk system increases their productivity. (HubSpot, 2020)
What challenge small & mid-size enterprises face when they want to outsource their service desk support?
The biggest challenge for these enterprises is the "Irregular IT Ticket trends" which discourages outsourcing service providers to pick up such support contracts. Even if they want to, the cost comes out to be higher for the enterprise. To address this need, small and medium size enterprises shall look for a service provider who can offer IT service desk support in a shared model (SITSD).
HOW DOES SITSD HELP?
Shared IT Service Desk (SITSD) support refers to distributing the workload of support personnel across multiple customers while providing support services in a secured and efficient manner. Its sole purpose is to provide regular and critical support services to the enterprise.
Moreover, SITSD addresses some of the challenges outlined above as it will be managed by support executives with comprehensive technical knowledge and are competent to manage, troubleshoot, maintain, and upgrade the various technological tools used by the enterprises across industries.  Therefore, SITSD not only helps you reduce costs, it brings in lot of other benefits like enhanced quality and reliability, standardize processes, and flexible service delivery model. It does not require any large upfront investments as it comes with its own standard tools and accelerators for you to start receiving services immediately.
When enterprises allow SITSD to support their IT needs, it renders sufficient time for them to focus on more crucial business needs instead of mundane, daily issues associated with software and hardware.
SITSD Service desk specialists offer quick response since they are only a phone call, email, or support ticket away. Simply put, they are a readily available flex team. Since third-party service providers handle IT support for several organizations in this model, they usually have many technicians on-call to address challenges on demand thereby improving end-user experience and satisfaction.
Most small and mid-size enterprises have limitations to leverage emerging technological solutions due to financial constraints. SITSD helps you get access to latest technology and ensure access to a variety of resources without bearing the entire financial burden of sourcing them.
Gain from YASH's shared IT Service Desk support services
YASH Shared IT Service Desk support services will empower your enterprise by providing effective IT management and support with:
Pre-configured and integrated Industry standard voice & ITSM tools platform.
Latest technological solutions such as Multi-Lingual Live Chat support (with 100+ Global Languages).
Dynamic dashboards offering a real-time view of Service Performance
Different options to choose designated support hours.
Cost-effective pay-as-you-go pricing models that give visibility into monthly spends (Ticket based / User based / Hour based / Hybrid).
Learn how YASH technologies can support your IT Service desk needs.

Vice President, Cloud and Infrastructure Management Services