Avoid Service outages with Service Awareness and AIOps
Publish Date: June 18, 2021
When I talk to business leaders today, they want to know how their business services are performing. Rather than being satisfied with a superficial response from IT that services are "working or not," they need to know how well everything is functioning, i.e., the health, availability, and risk related to critical IT and business services.
IT operations teams, therefore, need solutions that can help them throughout their problem-solving processes, i.e., monitoring operations at all times, accelerating resolution through streamlined investigations, and even leveraging artificial intelligence and automation for self-remediations. In this blog, I would like to explain how to avoid service outages with service awareness using AIOps.
The painful legacy of legacy systems
According to Forrester, the prevalence of legacy IT monitoring systems paralyzes enterprises' ability to innovate, leaving IT without the ability to support new digital business initiatives quickly. Outdated monitoring software from legacy vendors cannot provide the agility that enterprises need for modern multi-cloud and Hybrid IT observability – much less automation. Some of the reasons for operation dysfunctions to occur includes:
Inadequate emphasis on IT practices and frameworks
Reactive, instead of proactive incident response
Revenue loss due to unnecessary outages
Siloed monitoring of issues and re-assignment of tickets
Lack of automation resulting in the ineffectiveness of problem management
Extended and frequent outages leading to increased P1s and P2s
Non-alignment of business objectives with IT
To help new-age enterprises manage their operations without delays and scale up efficiently, a robust and intelligent service-aware system is required to help identify root causes by mapping complex infrastructure, application, infrastructure to application, and service relationships.
WHAT is Service Awareness for IT Operations
Service awareness for IT Operations combines big data and machine learning functionality to support all primary IT Operations functions leveraging Artificial Intelligence.  It focuses on taking massive amounts of data and information available from different components of your infrastructure and applications,  uses machine learning to identify potential issues, causes, and remediation options to define business service performance. In some parlance, it is also called service-aware event management.
Think about today's mapping and directions provided by tools like Google Maps or Apple Maps.  Those tools understand the basic point A to point B directions and consider dynamic and changing information like accidents, lane closures, police, traffic, and other aspects to find the best available route at that time.  This highlights the service awareness for an everyday use case.
How does Service Awareness avoid service outages using AIOps?
As stated above, IT operations enabled by service awareness optimizes the health of your environment and eliminates service outages to understand when events are occurring and how to respond quickly to minimize impact. It helps deliver always-on business services that start with understanding Key Performance Indicators and providing a single pane of glass for visualizing different states of health. Here is how it happens:
Step 1: Organize data from your event monitoring sources (different Infrastructure & application components) to understand service degradation
Step 2: Utilize event management to reduce event noise
Step 3: Reduce mean time to resolution (MTTR)
Step 4: Drive remediation from the same place you take alert action
A common use case is when a network switch goes down.  There will be a natural impact on any OR all infrastructure components connected to it. Multiple data sources and legacy monitoring tools will fire off numerous alerts. Many are likely duplicates, and your IT support team will struggle hard to piece together the disparate information to triage, prioritize, and remediate the issue.
Too often, this event noise increases the number of P1 and P2 incidents because alerts have been deemed important.  The incidents typically increase MTTR and extend degradation because too many alerts with an apparent lack of insight will mean that the root cause is hard to find.  You need to get out of ad-hoc fire fighting mode into prioritizing your work based on business impact.
You can avoid such situations by leveraging service-aware context and AIOps.
By continuously analyzing raw metrics from various IT sources, the platform leverages machine learning techniques to establish baselines for what represents normal behavior.  When things deviate from normal behavior, an alert can be initiated that provides operators with an early warning system that something could potentially go wrong.  This is similar to Google Maps alerting you about an accident OR roadblock ahead and gives you an alternate route well in advance.
In summary, service-aware context uses AIOps and provide Business Service View to achieve the following:
Cut down incident volumes
Detect anomalies proactively
Perform root-cause analysis instead of simply recording the symptoms
Automate mundane tasks for efficient resource usage
Create a single pane of glass for monitoring streamlined IT
Optimize infrastructure and efficient resource planning
Ensure productivity improvements and cost savings
Continuous and improved IT reliability and user experiences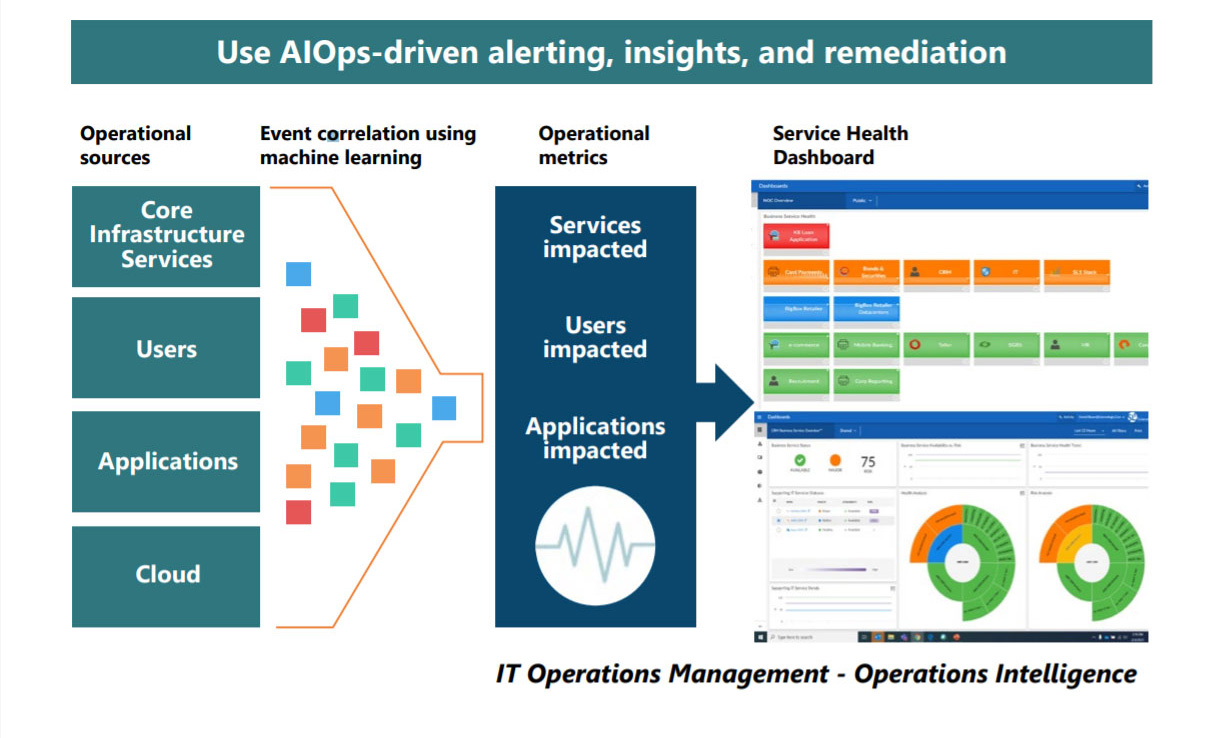 As a result, any additional time spent on manual fire-fighting and finger-pointing gets drastically reduced owing to quicker risk identification and faster resolution along with minimized costs. AIOps also enables full automation of IT workflows by integrating business data to support IT managers and analysts. Simultaneously, blending the data with IT management tools also makes operations proactive and helps create intelligent dashboards to have a predictive view of issues before their occurrence.
The best part? Enterprise IT and business units can bridge the traditional gap between them, ensuring that more issues are solved than created.
YASH's Intelligent Business Services Monitoring-as-a-service (IBSMaaS)
With more than two decades of providing exceptional business support to its customers, YASH brings its Intelligent Business Service Monitoring As A Service (IBSMaaS) offering on its AMURAATM platform. This service helps you move your focus from device-level availability to Business Service level availability and measure business outcomes ensuring the customer's systems are always on. It enhances business agility in supporting Digital Transformation initiatives.
There is no time like the present to avoid Service outages with Service Awareness and AIOps!
Connect with our experts to learn what the solution includes and how it can serve your enterprise! Feel free to check out our services here.

Vice President, Cloud and Infrastructure Management Services