Automation
Microsoft
Microsoft PowerApps changing the digital landscape
Publish Date: July 18, 2019
Gone are the days when companies would need to spend months and years on creating the best app for their services. 'Low code' development platforms are steadily trending more simply, because it gives anyone the ability to go build an app within weeks, with minimal knowledge of the underlying software development. This ability stands out as a democratic strength for anyone and everyone who in a relatively quick span of time, can get an edge on their competition.
After all, mobility, security, and collaboration have become a crucial core in today's business, with more and more people adopting technical tools and embracing digital transformation. Enhanced productivity directly translates to positive growth for the organization. The onus, therefore, is now on companies, to leverage the best available business tools for improved and agile employee productivity.
Why the demand?
Forrester's recent survey revealed a rosy picture in terms of the market's growth prospects. IT-firms and AD&D (application development and delivery) pros have come to realize the benefits of enabling their clients with a platform that offers powerful features to develop a desirable mobile and web user experience. 23% of the global developers in the survey reported using low-code platforms last year (2018). Another 22% planned on implementing the same within this year. Demand for software in an era of fast-paced digital transformation is ever more the common driver for the adoption of low code tools . In such a proliferating environment, PowerApps has increasingly become the leading choice for low-code platforms.
A key reason is, PowerApps allows enterprises to get more out of their data bank. Built on the foundation of CDM (Common Data Model) and CDS (Common Data Service), PowerApps stores data in a standardized and simplified format, convenient to build and run apps. Another advantage is that this platform has Dynamics 365 applications natively built on it, making it easier to create apps without needing extra data integration. PowerApps also integrates well with Microsoft Flow, that lets you quickly trigger workflows, drive business analytics on your data for fast and informed decision making – all from within an app.
Types of PowerApps
Canvas Apps: Canvas apps give the users the flexibility to manage the user experience and interface the way they want it, allowing the creativity and business sense to guide how the apps look and feel should be. Rather than complicated coding or programming you can drag & drop various elements into you canvas.
Model-driven Apps: With model driven apps, user can use all the power of common data service to rapidly configure forms, business rules & process flows. Model apps can run as either a standalone application or as the backend to a canvas application. One of the core benefits of Model-driven apps is their ability to generate data models.
PowerApps advance capabilities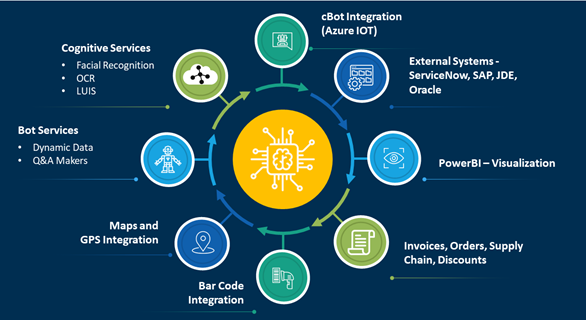 Benefits of PowerApps
No License cost:PowerApps is already part of your Enterprise Microsoft Office 365 license which means it is free. It is like going to your regular Buffet lunch and finding out that they just added a delicious new item to the menu at no extra cost.
Cloud based:No separate infrastructure cost or hardware cost, zero maintenance with scale-as-you-grow options.
Fast: Build Apps faster then what used to take weeks or months to build.
Easy: With No-code approach for simple applications to Low-code approach for enterprise grade applications, achieve true democratization for building Business Apps within your Organization. Spend less time re-inventing the wheel and more time behind the wheel. Connect separate Apps and automate processes using Microsoft Flow.
ROI from day one: With PowerApps, cut down the cost and time to develop Business Applications by 60 to 80%; whether it is building a brand-new Business App or extending or customizing your existing ERP, CRM or SCM apps. Make your apps Mobile, Tablet and Desktop ready all at the same time! Enable your teams to collaborate seamlessly and in real-time. Realize a manifold increase in productivity for you and your department through PowerApps.
How PowerApps is a gamechanger?
As customers move to Office 365 taking advantage of the enterprise grade application suite, they will find incredible power within the PowerApps application. PowerApps is designed to allow Microsoft Office power platform users the ability to automate several tasks and integrate with the most popular applications such as Dynamics CRM, Dynamics 365, Facebook, Twitter, Common Data Service, Azure cognitive service, Power BI, MS Flow, etc. to transform business problems into powerful enterprise solutions.
Aiming for empirical business outcomes
Let's take the example of event management. This time- and the resource-intensive task requires not just diligent planning but also precise execution. Multiple events can spell more trouble if mismanaged. 'Event Management' in Dynamics 365 is a specialized business software solution for professional event organizers or companies with a specialized department for event organization. This solution helps businesses streamline their workflow and unify all event-based information like communication history, sale of services, risk management, and event evaluation, in a central place. Essentially saving the hassle, money, and time.
Similarly, PowerApps solutions in the following four key areas can help businesses improve their bottom line & increase operational efficiency.
Customer Engagement plan
If you are a business, your network is often your net worth. Networking & customer engagement are one of the most important aspects of a sales prospecting process. It provides a great way to introduce yourself, build relationships & acquaint the new or existing audience with your products/services. Although networking is often a formal event, it also happens when you least expect it. Sales teams are always on the move, whether to meet clients, to pitch presentations, or run team training sessions. Therefore, access to a mobile-enabled tracking application taking care of their customer engagement activities is vital for customer retention as well as for new customer acquisitions. The Customer Engagement PowerApps provides the capability to track completed, canceled, or pursued opportunities through the dashboard.
Idle Equipment Catalogue management
Purchasing new manufacturing equipment can be a huge capital expense for an organization, but it further hurts company's bottom line & return on investments, if that expensive manufacturing equipment sits idle for a long time at one of its manufacturing plants, while company's other manufacturing plant may need the same equipment. This downtime can have serious repercussions for the company as it can turn into a snowball effect, impacting other areas waiting for the completion of prior processes, resulting in greater cost to the company. PowerApps helps in providing greater visibility of not-in-use, high-valued equipment's within a particular plant facility by broadcasting this message across plant facilities, thereby, helping in optimum utilization of resources across plants.
Move Management
Moving employees & assets within the organization is a mundane but critical organizational activity. Although moving is the easy part but formulating a strategy for managing the move is where the complexity lies. Whether organizations are moving employees or assets within the same building or across buildings, it is the planning, strategy & timing of the move that determines the seamless experience of the move process & helps improve employee engagement. PowerApps helps automate employee move management process by coordinating & visualizing moves on the floor plans with minimum need for providing move information manually. Users can request for move & track their request statuses; managers can accept or reject moves on the go. They can also leverage analytical insights into the move coordination process for managers.
Organizational engagement
Employee experience & engagement is always one of the paramount priorities of any organization. Informed & engaged employees help chart an organization's success story to a large extent in today's highly competitive world. However, this process can be extremely cumbersome, time-consuming & manual. A digital, hassle-free, paperless application providing comprehensive employee information helps employees get a more personalized & valued feeling thereby streamlining the whole employee experience, reducing the cost to the company and at the same time freeing up time for HR personnel's to focus on other strategic organizational initiatives. My Analytics in PowerApps, helps employee's to promptly check their timesheets, leave balance, learnings, holiday list, claims, approval request & much more on the go from anywhere, anytime.
Taking your tailored app to success
So, PowerApps are here to stay & transform enterprise application development! Businesses need applications driven by data, powered by AI and cognitive services to help them fundamentally reimagine how they engage with customers, empower employees, transform operations, and reimagine products and services.
Do you want to learn more about PowerApps & the potential that they possess to transform your business? Then let's catch up & find out how we can implement PowerApps in your business to help you in your digital transformation journey.
For more information contact YASH today at powerapps@yash.com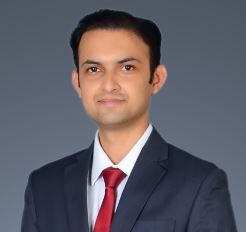 Business Analyst Microsoft Technologies @ YASH Technologies