.
Integrated, Plug n Play Digital Platform for accelerated customer acquisition
YASH Digital Onboarding Solution is a self-service mobile-first platform empowering customer journeys with minimal fallouts, accelerated acquisitions, and deepened relationships.
The integrated solution is built using reusable plug n play components like OCR engine, KYC engine, AML Screening, Id verification etc., providing extreme flexibility for the organizations to design the integrated solution.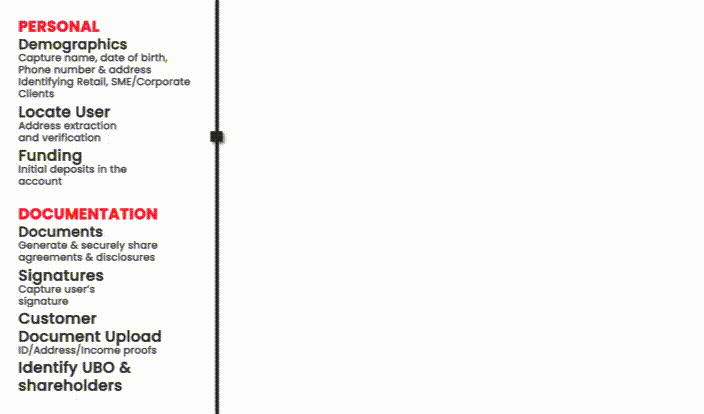 Integrated Customer Onboarding
.
End-to-end Digital Customer Onboarding Solution: Acquire new customers with YASH End-to-End Digital Customer Onboarding Solution and harness Digital Transformation.
AI and ML-based OCR: Our AI and ML-based OCR equips businesses to extract data from all the IDs and Documents submitted by their customers within seconds.
Multi-lingual Support: Our solution supports multiple languages, which helps businesses to onboard customers across regions.
KYC & AML checks: Our AI and ML-based regulatory compliant Digital KYC solution and AML solution real-time verify all the information extracted using the OCR scanner.
iOS, Android, and Web-ready: Our omnichannel iOS, Android, and Web-ready Integrated Customer Onboarding Solution enable businesses to onboard customers seamlessly using a mobile application or a web-based platform.
Applicable for: Banks, Telcos, Insurance & more
A single solution to achieve your strategic outcomes and craft personalized digital experiences
Address loss of productivity: Provide an omnichannel, seamless digital experience, eliminating the need for in-person presence for prospects
Ensure regulatory compliance: Ensure safe KYC documentation sharing and uploading in a completely paperless manner and without manual efforts
Enhance customer experiences: With minimal inputs from staff, give customers the freedom to choose and eliminate the redundancy of repeat servicing
Improve availability: Remove the need for fixed hours due to the high availability of digital channels to serve customers, round-the-clock
Strengthen background checks: Enjoy the flexibility of leveraging third-party applications and background verification checklists, including citizenship, fraud checks, and KYC
YASH value proposition
YASH's Digital Onboarding Solution allows banking customers to open and manage an account without ever having to visit the branch – from anywhere, anytime. It is the building block for seamless digital experiences in the customer journey for services such as providing out-of-the-box support for savings clients, checking accounts and cards, managing business accounts, offering advanced fintech products, and integrating with third-party apps. The platform helps in strategically configuring these with ease.