AI
Salesforce
The power of Salesforce Einstein integrations
Publish Date: September 7, 2020
If it seems as if artificial intelligence (AI) is omnipresent today, that is probably because it is. AI has migrated from the confines of research labs into our daily lives at breakneck speeds. They have also gotten cheaper, surging the use of 'smart' devices, generating an ocean of data which in turn, fuel machine learning and analytics. Things encompassing an entire universe of digitally connected devices – from phones, homes, self-driving cars, light bulbs, and much more – are now networked, and talking to each other, consumers, and businesses.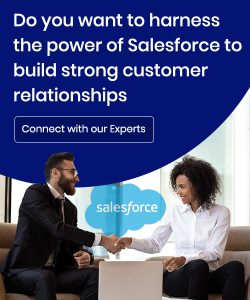 AI is particularly ubiquitous in marketing and customer relationships, as behind each of these devices of course, is a real person. And the next generation of consumers expect a cohesive, secure, and intelligent experience every time they interact with a business.
While popular culture has oft revered AI in the image of C3PO from Star Wars, HAL from 2001: A Space Odyssey, or even bots akin to Siri or Alexa, we will explore Einstein today, as an essential component of Salesforce-led business processes to add real value.
The AI-leveraged Marketer
Today's marketers have a wealth of insights and data at their disposal. Yet that does not always translate into intelligent prospect or customer interactions. Given that traditional marketing has lumped audiences into broad attribute-based groups such as industry or location, marketers fail to enough about each customer. Or even if they accomplish it, it is after a labor-intensive process of engaging people individually with the overtly-thought-out perfect message, content or offer.
With AI, such content or services can be actually anticipated rather than simply reacting to them. Long before a customer picks up the phone on the business to check the delivery for instance, an AI-powered CRM would be monitoring of her packages, and alert the service agent the moment it is delayed. The is possible because the interaction does not start with the customer when she picked up the phone, but instead on an ongoing basis. Furthermore, the depth of insights from customer interactions allows the AI-supported marketer to create and test campaigns, target and convert audiences effectively and deliver the right offer to the right prospect at the right time.
In our previous blogs in this series, we have explored at a length of the ability for businesses to leverage Salesforce's suite of tools for disparate industries, touching so many different areas and lines of businesses. Yet the hype around each solution can make it difficult to know which tools can deliver value for your company in a principled way. This is where Salesforce Einstein accurately solves for vague questions such as 'Am I selling the right product to the right customer without turning them off?', 'Am I marketing on the right social channel at the right time with the most relevant content?' and 'Am I able to anticipate my customer's problems before they occur?'. Let us understand how.
AI's for CRM: Einstein at work
The beauty of Salesforce products is that Einstein is seamlessly integrated into the entire platform, and in the tools and workflows in everyday use. Einstein enables your Sales, Service, Marketing, and IT to seamlessly discover new insights, predict likely outcomes and fuel smarter decision-making. It also recommends the next best steps and automates workflows for teams to focus on gaining insights into customers on an individual level. Moreover, to use it, you do not even have to manage any AI models or do any data preparation. How?
Einstein leverages the entire customer data in Salesforce – activity from social channels, emails, calendars, e-commerce, and even IOT signals – to train predictive models and understand which initiatives work out and which don't. It then makes recommendations on what your possible next steps could be. To illustrate, here are three key business activities that you may be doing without the benefit of Einstein's data integrations.
Empower sales to predict leads that convert: AI-powered business processes and workflows based on Einstein's automatic recommendations let you spend more time with the customer and less entering data. It gives you the power to understand what your customers need, and when they need it.
Ensure seamless customer services: Help your teams resolve issues quickly and free up agents with suggested steps and knowledge articles. You can also deliver the on-demand customer support by using AI chatbots with Einstein's NLP (natural language processing) and your Salesforce data.
Gain insights into how marketing campaigns perform: Instead of guessing your customer's needs, confidently reach every customer with the most relevant materials based on past data, and interconnect or tailor interest for the right products at the right time.
Not just for sales, services, and marketing: Why YASH for Salesforce?
The benefits of Einstein are not limited to simply sales, services, and marketing. As the first comprehensive AI for CRM in the market, Salesforce has democratized the use of AI for every business to become smarter and more predictive. But its values are not bolted onto Salesforce. As user-interaction durations shorten from minutes to seconds, speed and intelligence into every function of the business are oriented towards the customer first.
YASH Technologies is a certified Salesforce Partner, and with more than 25 years of experience in IT, we have deployed numerous specialized, tailored integrations that accelerate the benefits from cognitive technologies including Einstein.
Hungry for more insights and features from Salesforce? Explore Salesforce Einstein for your business here, or download the AI for CRM – e-book here.