Salesforce
Salesforce Cloud for industries: Inspiring customer trust and deep relationships
Publish Date: September 7, 2020
What makes a business successful is the way it engages with its customers to build and maintain strong relationships. Now more than ever, it is the time to embrace a robust and reliable customer relationship management that enables businesses to be ever-present, and communicate with customers in real-time to address a broad spectrum of issues and disputes. With a global pandemic forcing everyone to hit a reset button in their lives and livelihoods, businesses across the industries have found agility and flexibility in adopting technology to be the salvo during the hard times – right from their homes.
The collective goal for all industries is clear – to deeply understand customers, deliver new solutions, services – inspire customer trust.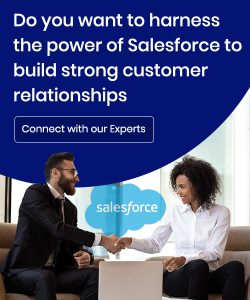 In the previous blog, we highlighted the benefits of the SDFC Lightning experience. Here we will dive into understanding a few tailored industry-specific, cloud-based products from Salesforce. We will learn how these products help provide usable and highly configurable out-of-the-box business processes – all aligned towards specific industry end-users, needs, goals, and KPI's. We will also learn how we can extend their capabilities to redefine the marketplace, build future partnerships, and enhance business offerings.
Boost performance and productivity with Financial Services Cloud
The global financial services industry has been grappling with evolving customer expectations, disruptive new entrants, and emerging regulations for some time now. Increased workforce productivity, accelerating time-to-value, visualizing key relationships has been the holy grail for banking professionals. With Salesforce, Financial advisors could now leverage smart mobility of personalized apps for any device and enhance visible alliances throughout the organization, as well as manage administrative compliance confidently by accessing secure customer profiles.
With Salesforce Financial Services Data Model and Console, for instance, banks have seen ~44% faster collaboration with the ability to track and visualize key customer relationships with Relationship Builder & Map. Wealth Management, on the other hand, has seen ~188% return on investment with FSC due to the ability to personalize wealth client relationships at scale. The insurance sector has been able to meet the evolving needs of every policyholder with ~37% faster decision making through built-in Einstein analytics[1]. Furthermore, Einstein bots for Financial Services, helps save time and boosts productivity by automating manual tasks, and discovers insights to explore opportunities through predictive data. Finally, Lightning Scheduler and Salesforce Shield ensure that appointments are always met and updated accurately, with a layer of security services on top of it.
Better transparency and account predictability with Manufacturing Cloud
Accurate forecasting or predictability is vital for the manufacturing industry, as the complex physical operations in its capital-intensive business model cannot be often modified in a quick, flexible or inexpensive manner to meet the changing customer demands. The impact of the current pandemic on global supply chains and downstream supplier relationships are evidence of this fact. Unfortunately, operation teams and managers on the shop floor are not always aligned with sales teams to ensure a single, real-time dashboard to view all the critical aspects of customer insights – often siloed across disparate ERP systems or spreadsheets. This discord negatively impacts the overall account performance as well as the ability to forecast demand variability across the value chain.
It is precisely here that the Manufacturing Cloud offering from Salesforce provides AI-driven insights in real-time to enhance engagement with clients, suppliers, dealers, and distributors. It helps in bringing them on the same page to make unanimous decisions for marketing, sales, and services. Leveraging Partner Communities Integration, businesses can communicate and collaborate with all their partners in a secure environment. Sales Cloud also allows organizations to close ongoing and upcoming business deals, optimize after-sales services, and deploy effective customer care support by gaining a 360-degree view of all processes.
Personalized care with Salesforce Health Cloud
During the outbreak of deadly coronavirus, it is a matter of life and death to offer timely care management and mobilize emergency response teams. It is, therefore, necessary to empower frontline healthcare warriors with real-time information to stay in touch with patients, partners, and workforces, and ensure all-round safety. It is here that Salesforce Health Cloud can immediately help the ones in need. From enabling companies to handle the accelerating volume of healthcare requests to ensure the security of confidential data, learning platforms, and self-service resource centers – these solutions are helping healthcare providers to better understand the requirements and expectations of your patients with data-driven actionable insights via a single viewing panel. It is helping them build deep patient relationships by delivering personalized one-on-one experience throughout all touchpoints.
Associating with YASH is a way forward to implement successful Salesforce solutions
Businesses make the most effective decisions by analyzing the best data insights. Modern enterprises need robust CRM systems to manage their engagements with customers and build effective customer management strategies. While the CRM system is imperative for every industry, it comes across various on-the-ground challenges in terms of its implementation and successful integration with various underlying IT systems.
YASH is a certified Salesforce partner with an experienced team of consultants and a precise understanding of individual business needs across industries. We deploy a variety of use case scenarios to solve real-world problems with tailored solutions such as advisory, maintenance, and implementation. YASH's services are battle-tested in terms of multi-channel customer integration, with results including increased customer satisfaction and loyalty and reduced IT infrastructure cost.
[1] Salesforce FSC datasheet