Industry 4.0
Manufacturing
Next-Gen Technologies to Navigate Key Shifts in Industrial Manufacturing
Publish Date: April 27, 2022
Manufacturers' need to adapt process innovation, embrace technology, and digitalize operations is increasing, courtesy of the multitude of challenges they face today. Thus, manufacturers must transform to become more resilient, agile, productive, and profitable. However, doing so necessitates a shift in organizational mindset regarding digital transformation strategies. Even though the transformative benefits of Industry 4.0 are critical for a manufacturer's survival and growth, few have invested the significant time and effort required to become future-ready. The time has never been better to reimagine and reshape the digital manufacturing infrastructure to create more connected, collaborative, resilient, and integrated operations.
As the fourth industrial revolution progresses, smart manufacturing technologies increase, benefiting manufacturing enterprises worldwide. With each generation, they become more powerful and capable. augmented reality/virtual reality (AR/VR), Artificial intelligence (AI), digital twins, cloud and edge computing, digital threads, and the Industrial Internet of Things (IIoT) were once considered the next generation of technology. But that generation is here, ready and waiting to solve problems and provide benefits. So, let's delve into the shifts and transformations and what manufacturers can do to stay ahead of what's next.
Main technologies into play
It should be no surprise that digital enablement is an essential component of driving rapid change and building resilience in manufacturing. Given the industry's current state, manufacturers must identify the most critical products for stabilization and growth, focus on strengthening associated supply chains, and assess necessary skills to meet near-term and future demand. There are numerous technologies at work right now. When technologies converge, new opportunities emerge, allowing businesses to consider growth, potential bottom-line benefits, and financial top-line benefits. The key technologies of Industry 4.0 are:
Artificial Intelligence/ Machine Learning
Augmented Reality
Additive Manufacturing
Cybersecurity
Industrial Software
Digital Twin
Machine Vision
Autonomous Robots
Cognitive Computing
Utilizing these technologies provides a solid foundation for future manufacturing success, and it is critical not to add technologies simply because they are in trend. But the roadmap should be to evaluate solutions based on solid business value and look at them holistically to ensure interoperability for maximum gains.
Navigating key shifts
There are significant changes that manufacturers should recognize & navigate through today to ensure that they have the proper digital infrastructure for future resiliency and agility.
Integrated Approach: The linear value chain is transitioning to an integrated value chain. Manufacturers should focus on the data rather than the product and recognize that the most significant opportunity for value creation will be in data management strategy.
Cognition roadmap: Automation is giving way to cognition, aided by AI. The actual value of AI is detecting areas for process improvement by revealing causal relationships that humans would never notice.
Shift to contextualization: Factories generate many data points from machines, devices, people, and other sources. However, simply having the data is insufficient. While many IIoT platforms and manufacturing execution systems claim to extract data from machines, gathering information requires interpretation. IIoT is relegated to colossal data lakes with no real value if it lacks meaning. For true IIoT to be realized, factories must shift from connectivity to contextualization.
What the next generation means for manufacturing
But what does all of this mean for your company? First and foremost, remember always to keep the big picture in mind. Numerous factors contribute to the successful implementation of new technology. It would help if you examined your overall business strategy and manufacturing strategy. Following that, consider streamlining your processes and empowering your teams. Keep in mind that the most critical aspect of these technologies is the value they bring to the business, and only implement those that will have a significant impact. After all, even as sophisticated as next-generation smart technologies are, they are just tools, and it is up to manufacturers to take advantage of them.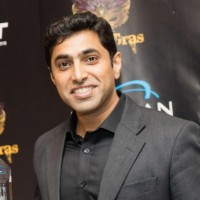 Sales Director – Europe