Supply chains are vulnerable and responsive to market shifts, disruptions, and logistical roadblocks. But as if these concerns weren't confrontative enough, contemporary manufacturers deal with yet another challenge – cybersecurity!
Complex supply chains could have loopholes, which are straightforward for bad actors to cut through. The latter can enter them quickly and damage supply chains. Sometimes, the damage is significant and critical enough to affect global trade and commerce! No wonder supply chain cyber breaches are on a continual rise and growing by approximately 35-38 percent yearly.
A report published by a competent European cybersecurity agency has analyzed about 23-25 attacks, for which even solid cybersecurity measures aren't good enough. Most supply chain attacks look to steal personal data or intellectual property. Let's discuss four supply chain cyberattacks or risks.
1. Intellectual Property Theft
The manufacturing industry thrives on IP. An attack on the company's IP data can cause a catastrophe. Thus, IP tops the list of cyberattack favorites.
The presence of third parties in the supply chain is the most concerning factor. They may abuse their access to IP and other confidential data. Unsurprisingly, over 70 percent of companies look to safeguard their IP.
But why only blame or doubt third parties – what if all are legitimate and trustworthy? Even an employee could go rogue and steal the company's IP or trade secrets, share them with its competitors, or sell them to hackers!
2. Malware Spread
Malware is another common concern for supply chain managers. There are two reasons for it. First, they execute unauthorized action on the victim's system and spread rapidly to gain control over the entire network. Second, they've evolved into various types, including adware, worms, viruses, ransomware, and spyware.
While companies can deal with these concerns by strengthening their cybersecurity, what about the vulnerabilities of other supply chain participants?
Even a little gap could drive a malware attack on the supply chain and inflict the malware across the network. Over 60 percent of the supply chain getting infected with the virus can bring the entire cycle to a complete halt!
3. Supplier Fraud
What is supplier fraud in the supply chain cybersecurity context? It is a cybercriminal disguised or claiming to be a known retailer. They may request a change to their payment processes and adopt advanced social engineering techniques like deepfake video recordings, AI-generated voicemails, and phishing attacks.
But frauds aren't limited to suppliers. Third-party vendors falling prey to evolving social engineering and fraud techniques can disrupt supply chains.
4. Digital Supply Chain Attacks
Digitization has become an almost pressing need these days. But what about the cybersecurity risks it brings to the table? You must have heard about digital supply chain attacks as part of the supply chain. These are also termed value-chain attacks or third-party attacks. Such attacks feature an attacker infiltrating your system using the trusted access you have extended to your partners or suppliers.
While using a web application or service, the third-party code hits the user's browser. In many cases, since companies rely on third-party servers, they do not have complete security oversight. So, if their third parties' security is compromised, cyber attackers may penetrate the system and capture visible or information available on the user's browser.
How can YASH Help Enhance Supply Chain Cybersecurity?
Supply chain cybersecurity is one of YASH's core offerings and expertise. We help manufacturing companies create a robust cybersecurity environment.
We focus on identifying vulnerabilities, enhancing cybersecurity visibility, setting stringent checkpoints, formulating cybersecurity policies, improving cybersecurity governance, and measuring the attack surface. Accordingly, our services include,
360 Cyber Posture Management
Zero Trust Monitoring – NexGen SOC
Vulnerability Management Services (VMS)
On-Demand vCISO Services
Breach & Attack Simulation (BAS) Service
Know Your Attack Surface (KYAS)
Click here to know more about each of the above services.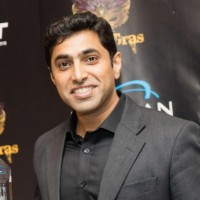 Sales Director – Europe