Manufacturers these days are increasingly joining the technology bandwagon. They are adopting more ingenious and tech-driven practices to compete better and augment efficiency. But with technology come cybersecurity concerns! Per reports, almost half of the manufacturing companies worldwide experienced a cyberattack or data breach incident in 2019!
Manufacturing firms are relatively new to the technology cosmos. Thus, they are an opportunity for cyber attackers to trespass easily. One such example is the 46-48 percent of cyberattacks that resulted from unpatched software vulnerabilities!
But the story doesn't end here. Many more current and emerging cyber security threats can hit manufacturers. YASH looks at four of them.
4 Current and Emerging Cyber Threats to the Manufacturing Industry
From stealing IP (Intellectual Property) to large-scale supply chain attacks, these four cyber threats are reasons for manufacturing companies worldwide to worry.
1. IP Theft
Intellectual Property (IP) is at the heart of manufacturing innovations and inventions. But unfortunately, it has always remained ignored.
But IP thefts are current and persistent. They constitute about 88-90 percent of all manufacturing cyberattacks! An attack on trade secrets can prove catastrophic for a manufacturing company. Thus, manufacturers cannot afford to let their IP come under an attacker's radar.
2. IoT Infiltration
IoT is a delightful value addition to the manufacturing industry. Its benefits cover the company's strategic, operational, commercial, and competitive. But at the same time, IoT is significantly concerning!
Connected IoT systems can enable cyberattacks that could allow a bad actor to trespass the company's network through the devices.
IoT networks work on the internet. Hence, manufacturing companies have to be more careful with IoT. If not protected appropriately, they may form a gateway for attackers to enter their cyber environment and wreak havoc blissfully.
3. Ransomware
The word ransomware would send chills down the spine, especially for those who've experienced such an attack. While ransomware is a common and open threat to every business, for manufacturers, it can cost them their business.
Ransomware is a malware variant that usually infects the system when someone within the network accidentally clicks on a malicious link or attachment.
Ransomware may disguise itself as an authentic and trustworthy link. But as soon as the user clicks it, it can gush in, encrypt the company's data, and potentially spread across the network. And when it acquires control over the entire network, the attackers ask for a ransom to regain access to the network.
The ransom obviously is in millions!
4. Supply Chain Attacks
Contemporary manufacturers deal with a massive amount of data and continuously conduct large-scale data transfers within the supply chain. Such transparency allows end-to-end supply chain visibility, thus enabling better operations. But did you know that a single cyberattack could paralyze the supply chain?
In such attacks, attackers enter the system of a partner or provider company who has access to the target company's systems. They then leverage the partner as a way to cross into the target's cyber environment, steal data and cause harm.
Sharp and Specific Manufacturing Cybersecurity Solutions with YASH!
YASH's manufacturing cybersecurity solutions are precise. We identify current and emerging industry-specific cyberattacks to devise solutions that help safeguard the company's cyber environment to the highest possible extent.
Our offerings, like 360-degree cyber posture management, zero trust monitoring, VMS, KYAS, and BAS refer to a proactive approach to preventing cyberattacks rather than curing them. We review the existing cybersecurity architecture, identify gaps and seal every visible, potential, and vulnerable entry point with cybersecurity strategies to make it difficult for attackers to cut through.
Click here to learn more about cybersecurity services. Connect with us if you are looking for next-gen cybersecurity solutions to counter evolving cyberattacks.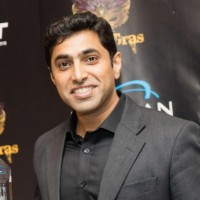 Sales Director – Europe