Comprehensive Supply Chain Planning Solution
Oracle Value Chain Planning (VCP) is a group of supply chain planning modules within Oracle E-Business Suite or Oracle ERP. These set of modules are developed/evolved based on the business process advancement and best practices (this article is based on Oracle Applications version 12.2.5).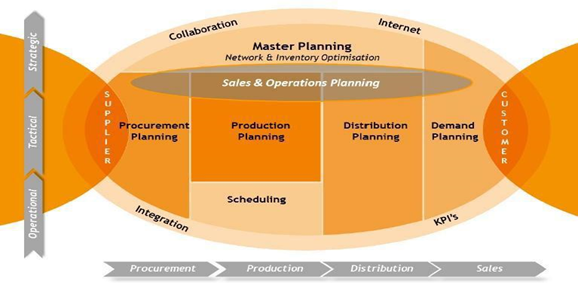 Value Chain Planning (VCP) is a comprehensive solution that puts together planning, optimization and analytics in a single framework. VCP helps organizations to create flexible supply chains that work proactively to take on any variations in demand. Value chain solutions have a modular approach and are implemented in an incremental fashion resolve key organizational problems first, all the products in the VCP domain built upon on the foundation established by a prior companion product. This relay approach helps organizations built over the work already done, avoiding any throwaway and providing highest Return on investments.
Oracle's Value Chain Planning solution help organizations to efficiently design, plan, and service value chains from factory to shelf. Its modular component-based architecture enables to start with any product and expand to other areas without any time constraints. The Oracle Value Chain Planning architecture leverages the scalability and security of Oracle's Database and Fusion Middleware technology, for example, SOA and can be deployed as a single instance with Oracle E-Business Suite, or integrated with other systems like SAP, MS Dynamics, JDE, etc. Whether you implement one module or the entire product solution, Oracle Value Chain Planning enables you to share unified supply chain planning information across the enterprise so you can make informed decisions faster.
Value Chain Planning has following set of products/modules:
Oracle Advanced Planning Command Centre (APCC)
Oracle Advanced Supply Chain Planning (ASCP)
Oracle Collaborative Planning
Oracle Demand Planning
Oracle Demand Signal Repository
Oracle Demantra Demand Management and Advanced Forecasting
Oracle Demantra Sales and Operations Planning
Oracle Demantra Predictive Trade Planning and Optimization
Oracle Demantra Deductions and Settlement Management
Oracle Global Order Promising
Oracle Inventory Optimization
Oracle Production Scheduling
Oracle Rapid Planning
Oracle Service Parts Planning
Oracle Strategic Network Optimization/li>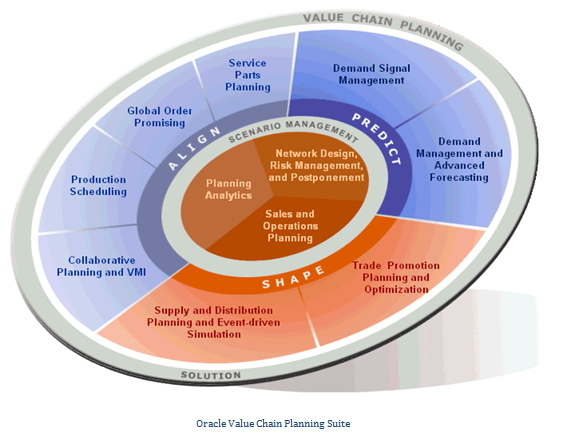 Oracle Advanced Planning Command Centre (APCC) – Oracle Advanced Planning Command Centre addresses all the following challenges and also provides a solution for them.
Critical supply chain performance metrics that drive business decisions.
Real-time access to the related data stored in detailed planning applications
Systemic process for simulating alternative business scenarios to make holistic supply chain decisions
Oracle Advanced Planning Command Centre offers vital supply chain decision makers a comprehensive solution that provides executives and planners multi-dimensional analysis of operational, tactical, and strategic supply chain plans, robust scenario modeling and management, and automated business process execution capabilities.
KEY FEATURES
Pre-built reports and context-sensitive drill downs to planner workbenches
Users have the option to create their reports and dashboards
Inbuilt configurable dashboards for Sales and Operations Planning, Supply Plan Analysis, Risk Management, Project Supply Chain Analysis and Inventory Analysis including excess and obsolescence
Translate supply and demand plan data to actionable business performance information. Real-time access to plan performance for company executives and business scenario management
KEY BENEFITS
Provide insight into all decision makers
Drive planning based on predictive analytics
Start quickly with pre-built content
Oracle Advanced Supply Chain Planning(ASCP) – Oracle Advanced Supply Chain Planning address all the following challenges and also provides a solution for them.
Reduction of supply chain planning cycle times
Use of alternate materials or resources to meet demand
Reallocating inventory in your distribution channel
A sudden reduction of supplier capacity impact on customer demand
ASCP provides database centric holistic planning and optimization that rapidly and significantly improves supply chain performance by analyzing all supply chain aspects and developing optimal plans across the virtual supply chain. It aides in Holistic Planning, Optimization, and Scheduling. Oracle ASCP can plan all supply chain facilities simultaneously. A single plan supports detailed short-term scheduling and long-term aggregate planning. This individual plan also supports multiple manufacturing methods, including discrete, flow, project and process manufacturing.
KEY FEATURES
A mix of unconstrained, constrained, and optimized plans. Holistic Centralized and Decentralized planning. Simultaneous material and capacity planning
Variable time bucketing and constraints
Model the realities of your supply chain: customer and supplier facilities; alternate components, resources, processes, suppliers, facilities, and ship methods; end item and component substitution, warehouse capacity, shelf life
Enforce capacity, enforce demand due dates
KEY BENEFITS
Reduce planning cycle time
Evolve from MRP to modern planning
Make better decisions faster
Oracle Collaborative Planning – Oracle Collaborative Planning address all the following challenges and has a solution for them.
Reduction of supply chain planning cycle times and inventory levels
Inventory replenishment automation
Effect of a sudden reduction of supplier capacity on customer demand
Impact of change in customers' demand downstream suppliers
Oracle Collaborative Planning is an Internet-based collaboration solution that improves supply chain performance significantly and rapidly. It offers advanced capabilities for collaborative demand, supply, and inventory planning across your virtual supply chain.
KEY FEATURES
Multi-enterprise collaborative planning
Global inventory and fulfillment visibility
Collaborate with customers – Receive customer forecast; compare to order forecast; publish supply commits
Collaborate with suppliers and contract manufacturers – Publish order forecast; receive supply commits
Horizontal and vertical bucketed planning views
Leverage MS Excel for integration
KEY BENEFITS
Reduce inventory
Improve responsiveness
Include your trading partners in your planning process
Oracle Demantra – Demand Management and Advanced Forecasting – Is your company trying to be more demand driven? Do you need to increase your forecast accuracy or quickly converge on a consensus forecast to drive your supply chain planning processes? Do you need to improve your management of product lifecycles, promotions, and other events? Oracle Demantra Demand Management address all the above questions and has a solution for them.
Oracle Demantra Demand Management enables you to sense demand in real time, improve forecast accuracy, and shape demand for profitability. The result is a demand-driven organization with higher service levels and sales, more satisfied customers, and lower inventory and distribution costs. Oracle's Demantra Demand Management and Advanced Forecasting helps you maximize profitability with superior capabilities to better sense, shape, and respond to demand.
KEY FEATURES
Multi-dimensional data modeling with flexible data hierarchies for up-to-date demand visibility and one number planning
Ability to plan for Configure to Order (CTO) products with multiple optional or mandatory sub-components, tracking interaction between items and components
Flexible time buckets, units, and currencies to address operational and financial planning needs
Specialized functions for service parts forecasting (handling intermittency)
Superior Bayesian forecasting engine to handle multiple, simultaneous causal factors
Can be deployed stand-alone
KEY BENEFITS
Improve forecast accuracy
Drive consensus and accountability
Enable best practices
Oracle Demantra S&OP – Are you looking to implement a more demand-driven sales and operations planning process and want to incorporate emerging best practices like more precise forecasts, collaboration, and postponement strategies? Do you need to consolidate disparate sources of information into a central repository to drive consensus and make better decisions? Oracle Demantra S&OP address all the above questions and has a solution for them.
Oracle's Sales and Operations Planning solution enable you to implement a continuous and proactive sales and operations planning process that profitably balances demand, supply, and budgets. Oracle's Demantra Real-time Sales and Operations Planning extends demand-driven adaptive planning across your company. It provides:
Sense, shape, and response capabilities to support sales and operations planning process with accurate forecasts that all departments can agree on
Superior demand management adapts to company business processes Configurable planning platform
Improves responsiveness to changes in demand and supply Workflow-driven collaborative planning.
Improves decision-making as a sole source of information. Validates business plans and identifies potential gaps Top-down bottom-up planning.
KEY FEATURES
Shape demand for marketing and promotion plans and new product introductions
Automated exception reporting and alerts
Role-based, configurable, spreadsheet-like worksheets
Out-of-the-box best practice templates for faster time to benefit and greater return on investment • Expand beyond traditional realm by including inputs from strategic design, inventory postponement optimization, promotion planning, and financial.
KEY BENEFITS
Evolve to a best in the class integrated business planning process
Interactively engage senior executives in the process
Drive decisions directly to Execution
Oracle Global Order Promising (GOP) – Oracle GOP address all the questions related to increasing on-time delivery, improving the reliability and accuracy of promises to critical customers, visibility to manufacturing, supplier, and transportation capacity while promising orders
and effects on existing orders when you accept a new order and has a solution for them.
Oracle Global Order Promising provides you with sophisticated, fast, accurate, and flexible order promising, 24 hours a day. You can promise order more accurately when you take all the constraints of your supply chain into consideration (substitutes, alternates, lead times, network, capacity). Also, you can have a more responsive and reliable promising process when the system is available 24×7 with 'zero downtime. Supply and demand information from multiple transaction systems can be consolidated to provide a unified global picture of demand and supply. Order promising is accessible from multiple order entry systems or order capture systems (such as web stores and call centers).
KEY FEATURES
Promise orders based on material availability, manufacturing capacity, transportation capacity, and supplier capacity – Available to Promise (ATP), Capable to Promise (CTP), Capable of delivering (CTD)
Supports complex multi-level CTO models, multi-level ATP check configuration, and combined product family and item ATP
Model the realities of your supply chain: types of supply and demand included in promising; shipping, receiving, manufacturing, and carrier calendars; product and component substitution, ship, and arrival sets
Use allocated ATP with user definable allocation, stealing rules and Promise spare parts
KEY BENEFITS
A source from a wide range of fulfillment locations, including stores, warehouses, plants and supplier sites
Promise against both current and future supply
Zero downtime database-centric architecture for high performance
Oracle Inventory Optimization (IO) – What is the most effective balance among customer service levels, budgets, and inventory cost? What is the inventory level to hold where and over which time-period? Can you account supply chain variability when determining your time-phased safety stocks? Oracle IO address all the above questions and has a solution for them.
Oracle Inventory Optimization considers the demand, supply, constraints, and variability in your extended supply chain to optimize inventory investment decisions. It helps to provide higher service levels to customers at significantly lower cost by applying inventory postponement recommendations, while simultaneously weighing the impacts on revenue, budgets, inventory policies, and sourcing.
KEY FEATURES
Postponement optimization – Use different postponement strategies
Demand, supply, and lead time variability, Demand fulfillment lead time
Account for seasonality trends and product lifecycle characteristics
Multi-dimensional analysis (organization, demand class, customer, item, plan)
Model manufacturing, distribution, customer, and supplier facilities • Comprehensive sourcing rules, shared with strategic and tactical planning tools
Analysis Workbench for profitability analysis, postponement analysis, safety stock level analysis, service level analysis, budget analysis, and cost breakdown analysis
Oracle Production Scheduling (PS) – Oracle PS address all the questions related to related to sequencing orders to best use production resources, decisions regarding offloading production to alternate resources. Challenges concerning minimizing the effect of unplanned downtime and evaluation of the impact of a supply shortage of fill rates and provides a solution for all of them.
You can create detailed, up-to-the-minute schedules with Oracle Production Scheduling enabling you to produce the right amount of product when it is needed, ensuring maximizing service, minimizing inventory, sequence-dependent setups, expediting, and other undesirable costs. It is possible to optimize the critical resources usage, calculate realistic and feasible schedules that the shop floor can execute, and quickly determine the schedule that best meets your objectives.
KEY FEATURES
Simultaneously considers capacity and calendar constraints on machines, crews, and tools
Automatic floating bottleneck detection
Graphical multi-stage production pegging • Sequence-dependent changeover minimization
Multi-dimensional analysis (organization, demand class, customer, item, plan)
Advanced analytical views (Gantt charts, line graphs, and bar charts)
Multi-scenario with KPIs for scenario comparisons
KEY BENEFITS
Maximize production throughput
Increase resource utilization
Reduce manufacturing costs
Oracle Rapid Planning – Are you struggling to respond to changing supply chain conditions especially if the request if for large, valuable customer, then is your organization in a position
To react quickly? What is the speed with which your organization responds to business-critical questions or events that occur in a day?
Are you able to assess the impact of engineering change or production shortfall on service levels?Oracle Rapid Planning address all the above questions and has a solution for them.
Oracle Rapid Planning enables you to reduce your decision-making time through real-time event dramatically drove planning and simulation. Embedded analytics, robust exception management, and a spreadsheet-style user interface provide predictive and actionable insight help in making a profitable decision. The decisions can be translated directly into action with seamless integration to execution. Rapid Planning can be deployed in heterogeneous environments and co-exist with existing planning and ERP environments.
KEY FEATURES
Fast event-driven material and capacity planning
Embedded analytics for scenario comparison, order comparison, clear to build analysis, and plan performance evaluation
Mass edit and manipulation of items, bills, routings, ASLs, resources, capacity, supply, and demand data (without requiring immediate changes in ERP)
Model the realities of your supply chain: alternates, substitutes, demand priorities, ship methods, line rates and so on • Improve revenue with clear to build and late demand analysis
KEY BENEFITS
Fast event-driven material and capacity planning
Value Chain Planning Integration
In most integrations, the VCP collections process is the critical process required to make a subset of EBS data available for planning with other VCP products as well as other ERP systems. The following diagram shows the integrations available between VCP and non-EBS systems: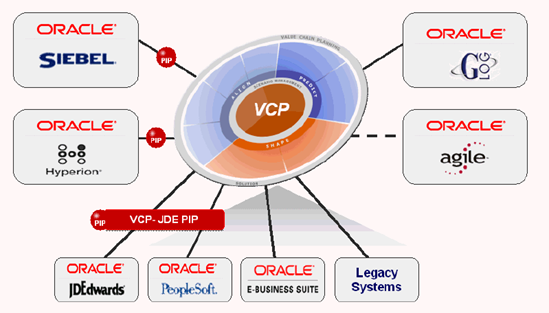 VCP Modules can be implemented and used standalone application. Also, the Value Chain Planning suite leverages pre-built integrations with both Oracle (EBS, JD Edwards, Peoplesoft, Siebel, and Hyperion) and non-Oracle ERP (SAP, MS Dynamics, etc.) and legacy systems. The pre-built integrations with Oracle applications also called Process Integration Packs (PIPs). Oracle's Application Integration Architecture (AIA) uses the Oracle Data Integrator (ODI) to transfer and transform data from one application to other according to the PIP.
Reference: www.oracle.com/us/products/applications and Oracle respective products Data Sheets
Get more than what you think from your Oracle EBS investment with services from YASH
Sudhakar Dama- PMP, OCP, Project Manager @YASH Technologies
More Blogs from this Author:
Comments
No Comments
Add Comments