Overview
One of the VCP modules, Oracle Production Scheduling, is a powerful tool that allows users to derive feasible, realistic production schedules and thus helps in optimizing the use of critical resources and in achieving the production facility targets. Oracle Production Scheduling has the option of seamless integration with Oracle EBS and non-Oracle ERP Systems like (SAP, MS Dynamics, etc.) with a user-friendly graphical user interface. This helps manufacturing execution system in scheduling work orders and demand fulfilment thru planned orders.
Oracle Production Scheduling enables you to create detailed, up-to-the-minute schedules that enable you to produce the right amount of product when it is needed, thereby maximizing service, minimizing inventory, sequence-dependent setups, expediting, and other undesirable costs.
It addresses the below significant concerns of manufacturing firms irrespective of the end-product and has solutions to all of them
A. How do I create a detailed daily production schedule that is realistic?
B. How do I schedule my production around floating bottlenecks effectively considering alternate machines?
C. How can I detail schedule my shop floor with material availability still in mind, even if MRP has assured material availability?
D. How do I prioritize and sequence my work orders as best as possible and what are the criterions?
E. How can I reduce my manufacturing lead times by enabling single piece flow?
F. How do I detail schedule with different scenarios for simulation?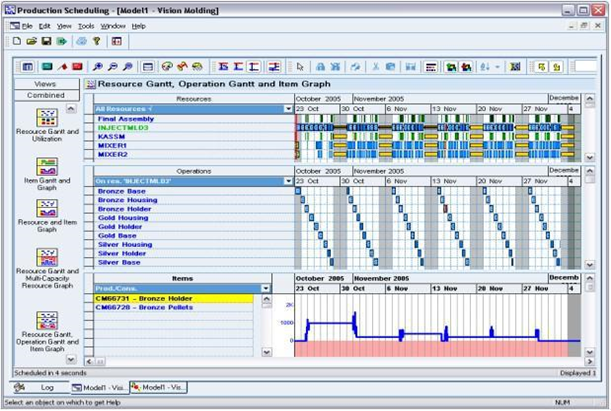 Oracle Production Scheduling GUI
Key Features
Below are the key features
Detection of Bottlenecks
Considers capacity, calendar constraints on resources, machines, crews and tools
Honors material constraints
Multi-stage production graphical representation
KPI's to determine the best schedule
Automatic scheduling of all stages of production across departments
Advanced analytical view of Gantt Chart, Line/Bar Charts, etc
Deployed stand-alone or integrated with Oracle EBS
Completely integrated with Oracle Advanced Supply Chain Planning
Schedule repair and maintenance work orders by integrating with Oracle Complex Maintenance Repair and Oracle Enterprise Asset Management
Resource dependent operation duration and lot sizes
Multi-scenario with KPIs for scenario comparison
Drag and drop manual scheduling
Demand priorities
Alert with the root cause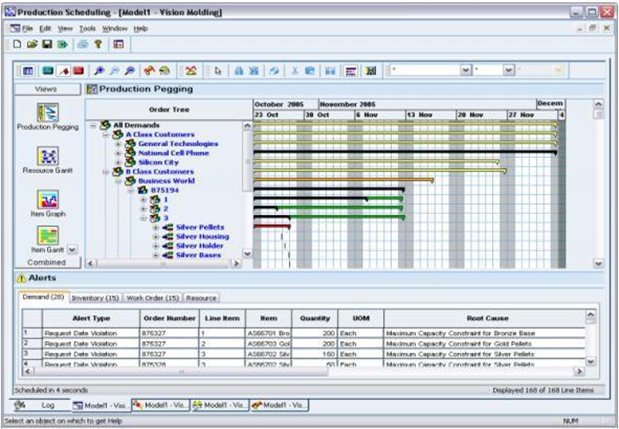 Oracle Production Scheduling GUI with Gantt chart
Benefits are listed below and not limited to
Create feasible maintenance schedules for complex maintenance tasks
Maximize throughput and increase resource utilization
Improve shop floor performance
Determine the best schedule through interactive simulation
Comprehensive and integrated manufacturing planning and scheduling
Reduce manufacturing costs
Oracle Production Scheduling Integration with Oracle EBS or Non-Oracle ERP Systems – Logical Data Flow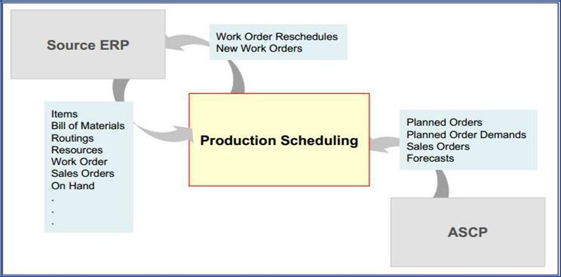 Get more than what you think from your Oracle EBS investment with services from YASH
Sudhakar Dama- PMP, OCP, Project Manager @YASH Technologies
Reference: http://www.oracle.com/us/products/applications/057132.pdf and
Oracle Production Scheduling Implementation Guides.
More Blogs from this Author:
Comments
No Comments
Add Comments