Today cloud-based technologies have found themselves at the end of our fingertips, coming in from several touchpoints in the form of either mobile or web applications. Microsoft's Office365 is one of such cloud technologies that is widely used by over 200,000 organizations in 181 economies and 39 languages. Chances are, you may be one of the millions of users who use some kind of Microsoft Office product or service.
To put it simply, the
Microsoft Office 365
suite is an online hosted version of the traditional installed version of the Microsoft Office Software. The suite of applications comes with the advantage of the elimination of IT tasks such as patching and infrastructure costs. The cloud service is provided by
Microsoft
, while the end-user gets the ability to access the offerings of Office 365 using their device anywhere with an internet connection.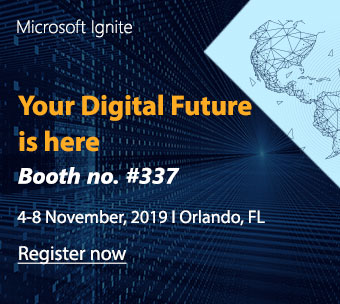 Many companies spend millions of dollars on O365. But they rarely fully realize the potential of its features that can be leveraged towards running the business smoothly. In most of the cases, many are not even aware of the features and how they can be extended or tailored to their organization needs. Despite trying to tackle transformation internally, you can end up with several cases of organizational change projects failing.
The right partner to guide you during the implementation of your O365 strategy not only allows you to embed responsive and seamless connectivity to the suite but also actively drive its use. For the newcomer to O365, let's shed some light on the salient features of the suite that can be adapted in any organization, and activate its fullest potential.
Why do organizations use O365?
The O365 suite packs a lot of business management, communication, storage, collaboration, and file management workflows. Even backup and CRM services can now be tied to Office 365.
Below is the picture of the digital periodic table of the whole O365 feature tree, and a brief intro into each feature.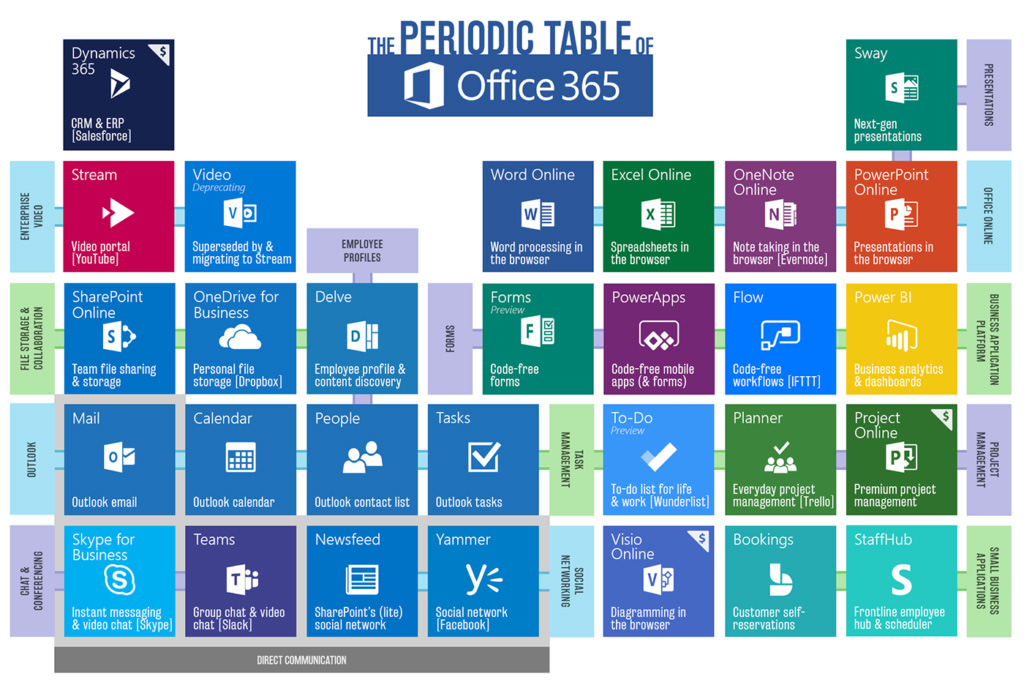 Microsoft Flow:
Microsoft Flow lets you automate everything from a simple push notification and content management to other complex business processes with pre-defined clear steps and phases. All of this is done without help any from developers. To create an automated workflow or flows, the user specifies which action should take place in the event of a specific instance occurring. Microsoft Flow is accessible on any browser or mobile device.
Microsoft Forms:
Microsoft Forms is a new asset from Office 365 Education, that lets you easily create quick custom questionnaires, quizzes, registrations, surveys, and more. You can also use its in-built analytics to evaluate responses after they come in. Forms data from quizzes and polls can be easily transferred to Excel for further grading or analysis.
Microsoft Power BI:
As the name suggests, Power BI is a business intelligence platform that offers non-technical business users with simple tools to aggregate, analyze, assign, visualize and share data. This is a simple 'drag and drops' way to develop forms for viewing and editing your data. You can use PowerApps to replace any paperwork you have with a digital equivalent. PowerApps lets you use built-in connections or those built by your organization to connect your app to cloud and on-premises services, including Office 365, OneDrive, Dynamics CRM, SQL Server, SharePoint, Oracle databases, and more.
Microsoft PowerApps:
Microsoft PowerApps is an enterprise service that helps you quickly create, integrate, and share applications that work on any device. PowerApps are drag and drop way to develop forms for viewing and editing your data. You can use PowerApps to replace any paperwork you have with a digital equivalent. PowerApps lets you use existing connections to connect your app to cloud and on-premises services, including Office 365, OneDrive, Dynamics CRM, Oracle databases, SQL Servers, and more.
Microsoft SharePoint Online:
SharePoint Online allows you to build, design, and manage sites and content. You can securely share your digital documents within or outside your organization. You can also create custom applications and integrate them into App Catalog to further share with others. You can integrate almost any business-related cloud-based applications with SharePoint Online.
Microsoft Planner:
A planner is a project management application that lets your team create, organize and assign work visually. With its visual dashboards and email notifications, managers can easily stay informed on the overall progress of the project. Similar to other project board apps, Planner has been compared to organizational software like Slack, Asana, and Trello.
Microsoft Bookings:
Microsoft Bookings lets you create a link so that your customers can use it to book appointments. The calendar is integrated with your personal calendar and therefore does not create double bookings. It helps organizations save time, manpower and customers find it a more convenient way of creating or booking an appointment.
Microsoft Yammer:
Much like Microsoft teams, Yammer is a Social Network for enterprises (ESN) that is designed for open collaboration between teams. It allows for Facebook-style communication with users within or outside of the organization. So, Your teams can be kept up-to-date by sharing files, ideas, files, images, recordings, videos, etc. You can also set up notifications in your inbox to view, manage, and prioritize important messages and announcements across your groups.
Microsoft Graph API:
Microsoft Graph API is a developers' API platform that lets you connect with the data that drives productivity. You can integrate your services with Excel, Outlook, OneDrive, and several other apps to build smarter productivity apps or get rich contextual data for your operations.
Microsoft Stream:
Microsoft Stream is an enterprise video service that offers the ability to host live events from within a single team collaboration app. Mostly used for one-to-many live conversations (like product launches), this service provides features that give intelligence on more ways to interact and find your videos, so that everyone can access them easily and quickly. Stream also uses facial recognition technology to recognize speakers, and create interactive list speakers that viewers can use to navigate their recording .
Your Office 365 partner must deliver beyond productivity
There is a lot to consider before implementing O365 – whether it is a single application or the whole suite. A very common mistake is when organizations keep the impact of the application on its users lowest in their priority list. Devising organizational change management with your cloud/IT partner is a necessary approach, in part so that people are willing and ready to accept, embrace and explore new ways of working that are critical to the businesses' future performance. It may be a result of low adoption rates, struggling to adopt new features or the lack of a change enablement approach or framework.
More than adopting new tools, success with O365 is about iteratively defining efficient ways of outcome-driven collaborating and working while setting up the organization to support it. Your IT partner must not simply deliver productivity with this suite, but a new way of working where businesses typically find their operations to become more agile, vastly collaborative, and outcome-driven.
This blog has the insight of only a handful of the features but O365 is more than you think. To know how to unlock its full benefits (along with several other associated cloud business platforms), reach out to YASH Technologies today.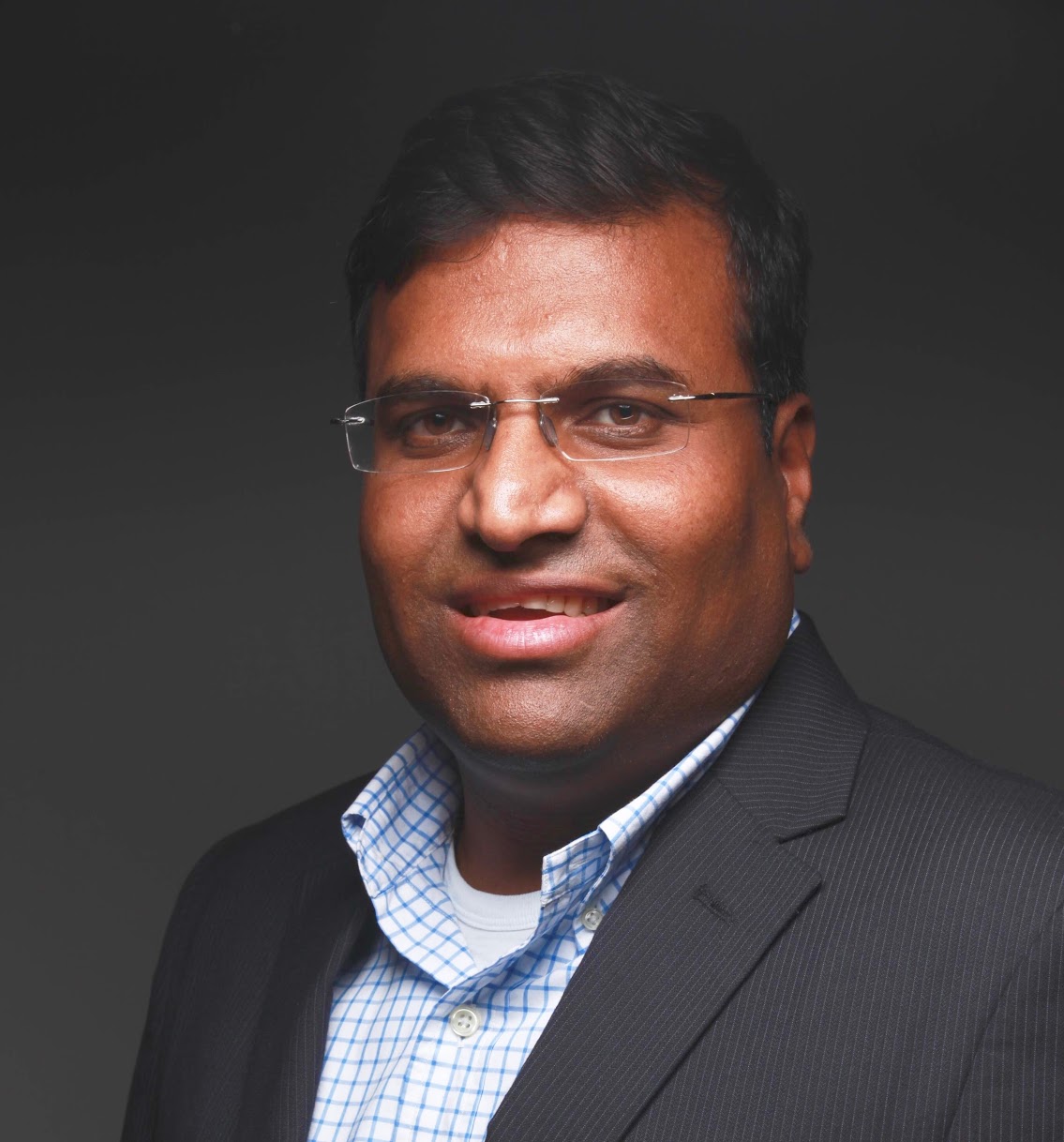 Vice President – Microsoft Cloud Services