Cloud
Does migrating SAP applications to Azure save costs?
Publish Date: August 7, 2020
The era of Industry 4.0 is proof that progress with effort and innovation can get you anything in the world. Yet nothing in the world can replace one thing – time.
Times of disruptions have taught businesses with the need for agility and quick time-to-value. The need becomes even more critical in times of crisis. And while such scenarios arise is precisely when technological interventions help, customers across industries have encountered/are encountering a myriad of obstacles stemming from IT/OT linkage complexities, omnipresence of disparate data, and business volatility.
Failing to prepare means you are preparing to fail. The purpose of this blog, therefore, is to break down the considerations for the right hyper-scale cloud platform, to maximize your ROI from SAP applications.
Minimizing TCO of your SAP landscape
When it comes to the vast and complex SAP landscape, the primary considerations swing between capital expenses (CapEx) and operational expenses (OpEx). Akin to utility billing, cloud computing has shifted IT spending to 'pay-as-you-go' models. This well-established argument is sound for new applications when you are looking to realize ROI from modern technologies.
Why spend money on hardware, space for data center, power, and related software when all of them can be rented by the hour at a much higher utilization rate?
Let us understand how Azure minimizes the TCO (total cost of ownership) of data centers and equipment. And why for any organization, the right economic decisions require a more in-depth investigation into detailed costs and tailored benefits of enterprise cloud.
Beyond CAPEX vs OPEX
Azure migration services are known to have reduced hardware utilization & capacity requirements significantly down to 20% and 10% outside the peak cycle. As a result, enterprises are ending up spending much more on compute and storage than is required. The graph below illustrates the traditional view of drastic shifts from fixed CapEx to variable OpEx expenses, via cloud computing.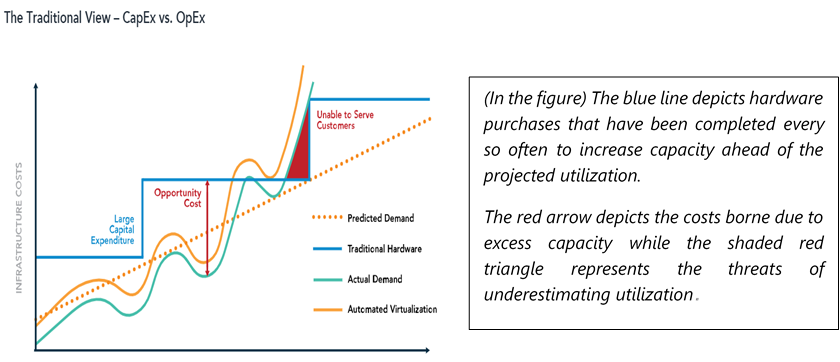 But the business case for deploying SAP S/4 HANA on the cloud is compelling. Since the pandemic began for instance, SAP has added 45% new SAP S/4HANA customers in their first quarter. Public cloud service providers, including SAP-certified Microsoft Azure, have provided the proof-of-pudding by eliminating capital expenses and reducing the cost of underutilized hardware with on-demand usage models.
As per Forrester's Global Business Technographics Infrastructure Survey, the top five business drivers for public cloud are:
• To achieve savings in CAPEX by lowering hardware's TCO (total cost of ownership)
• Leveraging S/4HANA's in-memory database to accelerate the execution of any system function
• Real-time updates, reporting, analytics, and visualizations for agile decision-making
• Access to advanced technologies including IoT, AI, machine learning, blockchain, and more
• Getting on-demand hardware capacity, and scaling the cloud/IT for a disruption-proof future
We at YASH share the opinion that irrespective of the size, geography, or industry we serve, the cloud has become more useful than its usual purpose, given its ability as the facilitator of extended capabilities. Let us now understand why Forrester has found a high preference for SAP's business applications on Azure, for a majority of enterprise customers.
Why SAP on Azure?
Just over 25 years ago, SAP and Microsoft formed an alliance with Hasso Platner and Bill Gates at the helm, that has now turned out to be one of our industry's longest-running partnerships. Back then, conversations were focused on using Windows as the operating system for SAP's SAPGUI desktop client. Today it has resulted in 90% of Fortune 500 customers using Azure and 80% running SAP solutions[1]. Given the strong partnership between the two giants, Microsoft themselves run S/4HANA Finance via HEC (HANA Enterprise Cloud) on Azure and integrates S/4 with Azure's AI and analytical services[2].
[1] Microsoft
[2] TechTarget
Why is that?
On the surface, the most significant benefit Azure (not unlike others in the marketplace) offers is the advantage of shifting from CapEx to OpEx. The benefits, however, trickle further into the IT departments, by freed-up IT resources to support higher-value activities.
Quantified business benefits revealed in Forrester's 'TEC of Microsoft Azure For SAP':
A payback on Azure investments for enterprises in just nine months
Legacy infrastructure cost savings to the tune of USD 8.3 million
Value from reallocated IT staff worth USD 1.2 million
Faster time-to-market for SAP software releases valued at USD 3.3 million
The eliminated expense of physical data center space to the tune of $1.1 million
To illustrate long term benefits, Forrester's interviews with existing customers and following financial analysis quantified benefits to the tune of USD 15.9 million over three years (vs. previously USD 7.9 million). The outcomes added up to an NPV (net present value) of nearly USD 8 million, with an ROI of 102%.
Flexibility to tackle future's transformative changes
Not having to think about constant hardware upgrades is liberating for modern enterprises. The flexibility to move costs from CapEx to OpEx with SAP on Azure has helped businesses align organizational initiatives better.
This liberating feeling has been shared by many of YASH's customers as well. Our SAP application suite on Azure Public Cloud last year, ended on a high note, when our attempt hedged more than 140 TB data on 550 servers, with 180 business applications to support >8,000 employees. One of India's largest integrated paper and pulp manufacturing centers as well saw significant reductions in cost, errors, and productivity gains through 360-degree visibility and automation. YASH also delivered a successful migration to AZURE for a US-based global equipment & engineering division, enabling cost savings to the tune of almost 56%.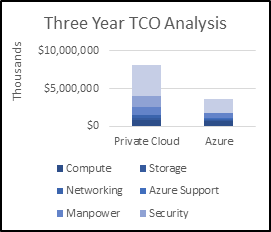 YASH was able to achieve such excellent outcomes only by integrating data from SAP and non-SAP systems on Azure's cloud platform – from the ground up, with extensive planning and collaboration. As a trusted Microsoft Gold Partner and SAP-certified implementation partner, our pool of SAP and MS consultants have helped a number of our clients with the insights and innovation – that put them in control of their data.
To explore our
SAP services, click here
, and discover our
Azure services here
.