"Thinking you know what Customers want is risky. Knowing what they want leads to Customer Experience improvements that matter." [3]
In research [2] ] that linked survey responses with actual customer behaviors, purchasing patterns, referrals and company growth; it turned out that a single survey question can, in fact, serve as a useful predictor of growth for the company. But that question wasn't about customer satisfaction or even loyalty, but about customers' willingness to recommend a product or service to someone else. This blog further details nuances of establishing Customer Relationship on insights into customer understanding and various measures around.
Businesses previously were much more straightforward as they were a mere one-to-one dealing. But with the emergence of new strategies and technologies in the global marketplace and increasing compétition, the approach to the business had to transform. One of the ongoing challenges for successful businesses is in optimizing Customer Satisfaction and developing Customer Centric focus for better manageability of CRM, Customer Relationship Management or Business Relationship Management. Customer Relationship Management is a process that extends beyond business and deals with relationships with customers. Customer Relationship Management strategies give a new outlook to keep the business going into a cordial relationship by fulfilling the mutual needs of buying and selling.
Gartner's research and analysis on providing exceptional service with customer in mind had the following findings [1]-
Even if an enterprise manages to earn its customers' trust, it must be expected that customers will still trust their peers more than a business.
Customer service must be framed as an enterprise objective, not just the responsibility of one department. IT leaders must, therefore, work collaboratively with multiple stakeholders across the business.
A CEO who drives or favors a holistic view of the customer and their customer service experience is an invaluable ally for IT leaders and the lines of business (LOBs) in creating an integrated experience
Do not mix Customer Experience with Customer Service. It is about much more than just Customer Service.
"Great Customer Experiences don't happen by accident.
They're the result of countless deliberate decisions made by every single person in the Customer Experience ecosystem on a daily basis. It is the sum of all interactions a customer has with a company. This can include everything from a customer's initial awareness or discovery of a company, product, or service and progress through the purchase and use of those products or services.
Together these all add up to the critical moments—the touch points—that create an organization's overall Customer Experience.
Research depicted in Figure 1 is indicative of, 'Customer Experience' as a key differentiator for the success of businesses.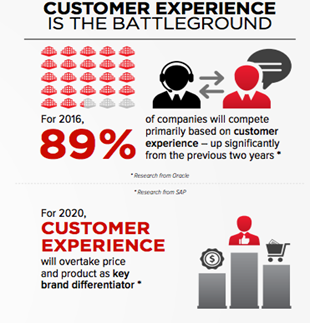 The Need for Customer Experience Measurement
The challenging task for any company is to make itself customer-centric, and measuring customer experience allows the company to understand the needs of its customers and build an organization that is focused solely on the customer. It is important not just to understand the customer, but measuring customer experience as well. It allows businesses to measure the extent to which their customer experience strategy is performing in meeting business KPIs.
Key Aspect of, 'Focus on Value'
One of the most fundamental principles of IT Service Management talks about, 'Focus on Value' and states that it is the customer who determines what is of Value to them, not IT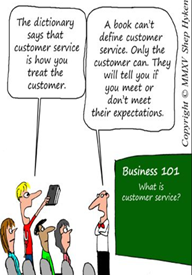 In relevance to understanding Customer Service and overall customer experience, and gauging the Value provided to the customer, it is in the context of not just the Business outcomes the customer wants, but as a combination of the Customer's perceptions & preferences of the services or products of his/her (customer's) choice.
Measuring Customer Experience (CX)
Measuring customer satisfaction is not the only measure of customer experience, it extends beyond that and has to be measured along the entire customer journey. It comprises of critical steps that later lead to Customer Experience metrics.
Know the Customer – Understanding the customer allows business to think like them, and offer the right and relevant products & services to engage them better and provide superior experiences.
Identify all touch-points – Analyze the customer journey from start to finish, map the entire customer experience and develop touchpoint metrics specifically measuring the performance of each touchpoint.
Work on Key Problem areas – Identify and single out every problem, and devise innovative solutions to address these specific problems.
Choosing the Right CX Metrics and Measuring

Choice of right business metrics & its analysis is key to measuring the CXI. The analysis should comprise of aspects of some of the below-outlined points and should involve measuring them on a continuum of service improvement culture –
Customer satisfaction
Visualizing the entire customer journey
Which interactions matter most
What drives customer loyalty
Scope for improvements
Forrester's CX Index report [4] states that 73% of companies believe in improving customer experience as a priority. But only a negligible percentage of organizations deliver an excellent experience for their customers.
Listed below are a few standard metrics to measure CX practices for organizations [7]-
Net promoter Score (NPS)
It's a measure of the percentage of customers who would or wouldn't recommend the business to others and is typically measured by a customer survey. Customers rate the company on a scale of 0-10. By subtracting the Detractors from the Promoters, you can get the NPS score.
Customer Satisfaction (CSAT)
This is the average satisfaction score as measured through an automated survey that captures customer sentiments by asking them to rate their level of satisfaction of their interaction on a scale of "Not satisfied at all" to "Very satisfied." In most cases, Customer Satisfaction is considered as an emotional expression of the customer's experience and could differ under similar scenarios for similar products on their buying experience.
Customer Effort Score (CES)
This score determines the effort required by customers to accomplish a task and is measured through an automated post-interaction customer survey asking them to rate a specific statement on a defined scale.
Customer Churn Rate
This is a measure of the percentage of customers who either don't make a repeat purchase or cancel their recurring service or can be calculated by dividing the lost customers by the active customers for any given period.
First Response & Average Handling Time
This is the average amount of time taken for a customer to get an initial response to their support issue and is measured by taking the average amount of time from when the customers first open their support tickets to the time they receive their first response. Average handling time is the average amount of time taken to resolve a customer support interaction from start to finish.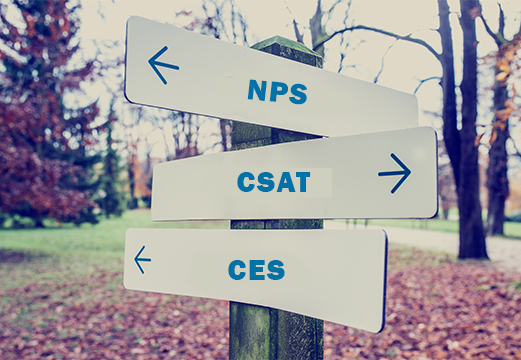 Which CX Survey Measurement should you adopt?
Every business is different in many ways, and no single metric will work for every organization in every industry. There are many various methods and measurement tools that can be used to benchmark and compare customer experiences. Each of these comes with its strengths and weaknesses, and the challenge is to choose the measurement approach that would be the least trouble to customers, while still allowing to meet business goals.
For the One Number You Need to Grow, here's what the research [2] got to conclude –

"The only path to profitable growth may lie in a company's ability to get its loyal customers to become, in effect, its marketing department."
Conclusion
The various methods and measures for gauging customer experience, which in context of customer and not IT, should enable organizations to look to the linkages between the quality of services provided, the value perceived by the customer, which thereby enhance customer loyalty. These must be objectively measured and incorporate feedback loops to be able to address gaps and drive improvements as needed.
Finally, on the Science of Customer Satisfaction Index, here is what ASCI Experts have devised [9] –
ACSI – American Customer Satisfaction Index :
The American Customer Satisfaction Index uses customer interviews as input to a multi-equation econometric model developed at the University of Michigan's Ross School of Business.
The ACSI model is a cause-and-effect model with indices for drivers of satisfaction on the left side (customer expectations, perceived quality, and perceived value), satisfaction (ACSI) in the center, and outcomes of satisfaction on the right side (customer complaints and customer loyalty, including customer retention and price tolerance)
The ACSI model is self-weighting to maximize the explanation of customer satisfaction (ACSI) on customer loyalty. Looking at the indexes and impacts, users can determine which drivers of satisfaction, if improved, would have the most effect on customer loyalty. This method is also useful for benchmarking.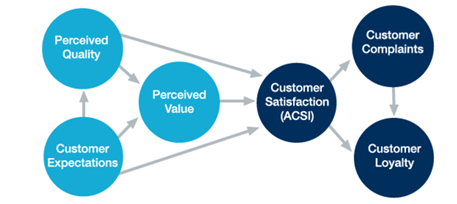 The Future
CRM is now indispensable to businesses in their quest for outstanding Customer Relationship Management in the categories of customer satisfaction, customer delight, customer loyalty and is used widely to describe the heights to which companies can attain in their customer management process. The future belongs to CRM solutions and they will be an integral part of the overall organizational automation, process integration and would also be part of the approach towards integration of the entire organizational activities. The whole customer management process is getting revolutionized with Big Data and Predictive Analytics, and this is where the future of CRM lies. 
Get more insights on YASH Data Science & Analytics services
Lakshmi Nanduri – Program manger @YASH Technologies
Lakshmi Nanduri
References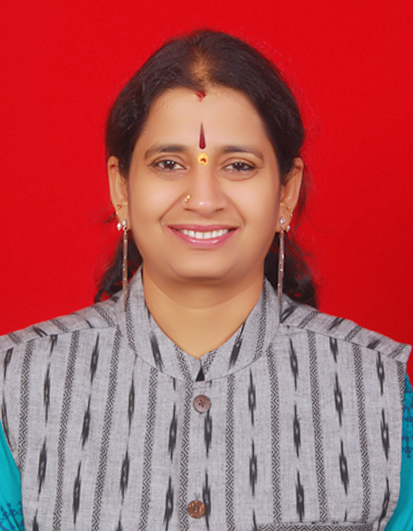 Program manager