The digitization of manufacturing processes has paved the way for Industry 4.0, a term that has become analogous to the fourth industrial revolution. Critical technologies such as Automation, AI, and the IoT are bringing together isolated arms of manufacturing and supply chains.
Certain cases, as reported by Mckinsey, back this up. For instance, an African Gold mine was able to increase its annual yield by $20 Million with Big Data.
How Manufacturers Can Ride the Digital Trend Wave
Numerous critical factors are shaping the path to Industry 4.0. But, manufacturers need not jump into the waters. With an ideal adoption curve, there is ample opportunity to implement smart technologies one step at a time.
So, what are the best technologies and paths to explore in this journey?
Critical Path to Adopting Industry 4.0
The efficiency and extent to which manufacturers can embrace the wave of change depend on the steps and the method that they use to adopt technologies.
For example, consider a steel tube plant where senior industrial workers are responsible for maintenance. While knowledge retention takes a severe hit when such workers retire, this is also an opportunity to kickstart the industry 4.0 journey by adopting data-driven need-based maintenance. For instance, AI-based recommendations are useful for automatic suggestions for part replacements.
In another example, consider a paper production facility where a plant manager wants to know of potential production stoppages to take corrective actions in advance. The SCADA, MES, and Historian have real-time data of the plant. The plant can fully benefit by analyzing the unstructured data from the operator logbook and the images from Quality Control systems along with the structured data. To facilitate such analysis with a rapid turnaround time necessitates storing the data in a data lake on the cloud. And in this case, this also marks the first step in the pathway to industry 4.0.
Here is how a typical adoption path of next-gen technologies lies concerning industry 4.0 to achieve digital transformation:
Nonetheless, certain technologies should be considered as the pillars of Industry 4.0, regardless of the use case: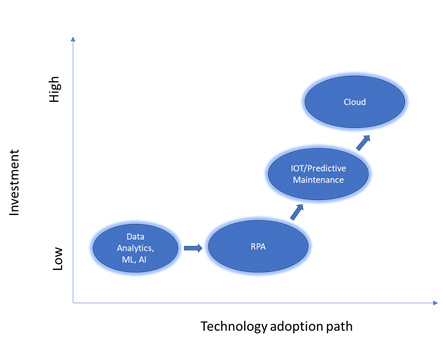 Big Data and Analytics
Manufacturing has long suffered from the inconvenience of organizational data existing in silos, which hinders the decision-making process, making it inherently evaluation-based. Big Data and Analytics facilitates real-time decision-making to the point that critical data sets can be collected and analyzed from both enterprise and customer-facing systems at once. Typical solutions can be built around :
Predictive maintenance: Reducing downtimes and wastes by predicting part failures and analyzing factors that drive the wear and tear.
Product optimization: Tracking quality parameters and drivers that result in variable quality levels and efficiency.
Supply chain optimization: Correctly anticipating order shipment times, facilitating on-time delivery, and resolving storage issues.
Internet of Things
Another vital pillar to an Industry 4.0 organization is to have more devices, products, and machines equipped with edge computing. The notion is to create a connected mesh of objects that enables computing devices to communicate with one another. This works with autonomous devices connecting to a central server, database, or programmable logic controller.
Once deployed, sensors in such products can collect product data through various stages of the product development cycle, transforming into critical business insights
Cybersecurity and Cloud
Embracing digital transformation also poses fresh challenges in the space of digital security. New risk profiles emerge that can have a direct impact on uptime, brand reputation, and partner relationships, placing importance on cybersecurity. The following action plan can be put into place for this:
Introducing a Zero Trust Architecture where the network hosts only authorized users and devices.
Identifying memory locations of critical organizational data such as trade secrets and proprietary information.
Conducting regular penetration testing to find vulnerable spots of possible security breaches and accordingly formulating a system update plan.
Moreover, the cloud makes manufacturers Agile. Cloud systems are quicker than traditional systems in terms of roll-outs, customization, and scaling. Consequently, manufacturers can save over a million with improved IT organizational agility, business process improvements, and risk mitigation.
Robotic Process Automation (RPA)
Implementation steps for Robotic Process Automation (RPA) in manufacturing explore avenues such as product lifecycle management, product development, prototyping, and round the clock testing.
Primary functional tasks where RPA is be efficiently used include:
Automated creation of an accurate Bill of Materials (BOM).
Automation of redundant administration tasks and report generation.
Enhanced customer communication and complaint resolution.
Data migration while moving from old to newer systems.
Logistics data automation with real-time freight tracking and
Integration of ERP and RPA for automated reporting.
Organizational Change Management
While adopting a series of new technologies with varying implementation curves, failure rates can be high. The scenario calls for greater tolerance to failure, along with an adherence to a fail-fast fail-safe approach. Not only does it increase the probability of success, but it also leads to better employee productivity.
Failure rates can also depend on whether an organization is an early technology adopter or a laggard. Early adoption can bring in an unprecedented competitive advantage.



Source
Partnership Network
One of the major challenges in the entire picture is inflated expectations and shortcomings in terms of application maintenance and upkeep costs. For instance, the adoption of RPA can be usually implemented in-house and characterized by early productivity and revenue ROIs. But the law of diminishing marginal returns quickly kicks in in the form of maintenance costs.
Scalability remains the issue, warranting the importance of a strong partner network. With the right partners, organizations can quickly scale by outsourcing talents and bringing in expertise about the sustainable adoption of technologies. The end result? Manufacturers can steer clear of the chasm of Early Adoption (as depicted in the image). One of the primary contributors to this chasm is change management, a hurdle that can be easily overcome with the right transformation partner. By having relevant experience of implementing multiple technologies, such partners can pinpoint possible pitfalls and skillfully avoid them.
Mapping Business Benefits
Mapping the existing business functions need to quantify the benefits for every opportunity. Leaders need to look at investment needs and quantified benefits to prioritize their investments.


Source
Rounding It Up
Organizations can reap benefits of Industry 4.0 depending on the implementation of various technologies and the efficiency with which their workforce is upskilled or recruited.
To have sustainable benefits and competitive differentiation, one must build a well-designed OCM and partner network to implement technology changes. With the rapid changes in technology, management principles play a more significant role  than ever in the successful adoption of Industry 4.0.
As a next step, you can contact us for our comprehensive digital case study  that was recently selected by ISG