Technology
Kickstart integration with MuleSoft®
Publish Date: June 12, 2020
Innovations in technology have created amazing solutions to varied deep-rooted problems. The explosion of various technologies, applications, and systems has also created chaos. An average enterprise today has nearly 900 applications. Yet, only 29% are interconnected which is a significant burden on IT teams as the tasks of implementation, maintenance, and governance only increase in efforts, and often lead to siloed data. The impending lack of integration results in fragmented operations, disconnected infrastructure, budget allocation, as well as fragmented customer experiences. Connectivity tools, in this regard, help overcome the numerous challenges that accompany integration.
While single solution integration tools have a notable existence in the market, their simplicity is often not adequate to overcome the challenges specific to communication between disparate data or even sharing some kinds of data – essentially prohibiting businesses from deploying complex integrations for desired outcomes. The truth of the matter is that more complexities in integration inevitably lead to diminished ease in deploying these solutions. In this blog, let us first cover what integration means for a business, and how MuleSoft, as an integration tool, has been able to overcome the challenges mentioned above.
Integration: Traditional methods and evolving needs
By definition, the act of bringing together various smaller components of your IT into a single system function harmoniously as one is what we know as integration. The goal of the process is to stitch together often different and disparate sub-systems so that the data each component hold, can become part of a larger and more comprehensive 'single source of truth.' In simple terms, integrations should enable you to quickly and easily share data as and when required. The more businesses adopt new technologies, applications, and tools, the more there is a need for integration. This growth of the ecosystem often leads to difficulties in creating interoperability, and roadblocks in creating seamless functionalities within the business.
One approach that has worked for organizations for the longest time, and up to a certain extent is the implementation of 'point-to-point integration'.
This method requires developers to create custom codes between several components within the business environment. The benefit of this approach is that it allows for quick and easy communication between a few applications, except it cannot be scaled and hence is not future proof. Point-to-point integration leads to the creation of a system that is not only fragile and tangled but also difficult to maintain – something commonly referred to as a 'spaghetti architecture'. The image below should give an idea about how complex the system can derive any real and clear insight.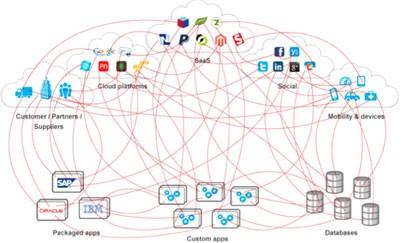 When business requirements change (and they inevitably have to), even the minor modifications can put a strain on the Spaghetti architecture, therefore, also limit business scalability and agility.
Enter MuleSoft Anypoint platform
It can be tricky to secure an integration tool for an enterprise that is not only cost-effective but also easy to manage and scalable. MuleSoft was founded over two decades ago with the sole purpose of building architectures that are light, fast, lean, and low-maintenance, and doing away with the environmentally-unfriendly practice of only stitching applications together with custom codes and forgetting about it. Since the introduction of 'Mule ESB', the company has witnessed the emergence of SaaS and APIs on the cloud and on-premise.
MuleSoft's Anypoint platform later emerged as the only solution that would not only meet the challenges mentioned above but also serve its purpose beyond a simple integration tool to provide an end-to-end integration platform accesses via a single dashboard.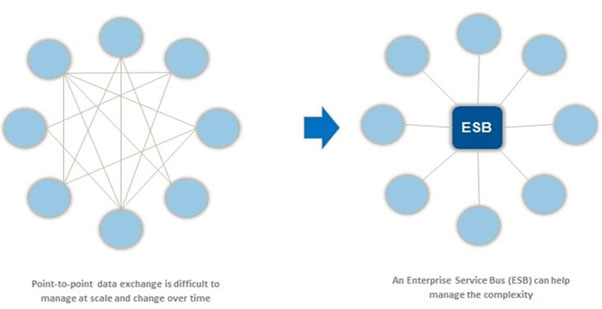 MuleSoft's Anypoint is heralded as the next generation of integration platforms as increasingly more and more businesses are relying on it to employ 'best-of-breed' apps and services. Let's dive into its components and how they serve the purpose of a unified integration suite for enterprises.
Key components of the MuleSoft Anypoint platform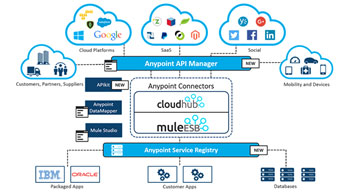 Figure 3: MuleSoft® Anypoint Platform Components
Akin to modules and connectors in operations, the core components of Anypoint serve the purpose of building blocks of flow. Their nature and applications are as varied as their benefits.
Cloud hub iPaaS: Allows businesses to integrate repeatedly without the need of complex code to application connectivity on the cloud or on-prem very easily and fairly quickly
Mule ESB: One of the world's most popular integration tools, Mule Enterprise Service Bus is a middleware technology that delivers lightweight and open source solutions to easily connect with systems on the cloud as well as on-prem
Anypoint Studio: Helps expedite productivity of developers by using the graphical design environment to build, edit and integrate apps and services easily and quickly
Enterprise Management Console: Gives enterprise the ability to manage ESB resources, including endpoints, servers, and assistance with flexibility and visibility
DataWeave: Allows you to integrate data with DataWeave's graphical data mapping and transformation
Enterprise Security: Anypoint's Enterprise Security enables you to protect your entire enterprise from loss of data integrity, unwanted external attacks, and unwarranted access.
Capabilities & benefits of Mule runtime engine
Mule runtime is the engine that runs the Anypoint Platform – a Java-based enterprise service bus (ESD) – one of a kind in the industry that can be leveraged for integrations of data and applications across legacy systems, SaaS applications, and APIs. With its integration program, it is easy for enterprise IT to compare the feasibility of applications (JMS, JDBC, Web Services, HTTP, etc.) and share exchange data easily and quickly. Regardless of the applications in use or the different technologies they utilize, the Mule engine enables the quick integration of existing systems.
Key capabilities of the platform include:
API empowerment: The platform gives you the ability to build new APIs quickly, design new interfaces for existing APIs, and simplify the management of APIs within the system. It allows for a rapid exposure of valuable data to web apps, mobile and connected devices in a controlled and secure manner. Further, it also empowers the enterprise with various kinds of APIs i.e., System APIs, Process APIs, and Experience APIs.
B2B modernization: By extending MuleSoft's extending API connectivity approach, enterprises can not only build reusable services across various B2B processes and trading partners but also helps combine batches and real-time processes for a unified data and application integration solution. Moreover, it allows for a customizable, template-led approach to development, and streamlines the adoption of popular DevOps methodologies for continuous integrations and efficient implementations.
Quick ESB integrations and connectivity: With a combination of application integrations and the power of data, enterprises can chart-out a seamless path that benefits from additional capabilities in the Anytime platform and API-driven connectivity. You can also quickly build integrations that range from simple to advance with the help of pre-built templates and connectors.
Orchestrate the Internet of Things: It's easy to connect data from your enterprise and orchestrate it from the cloud to the devices at the edge of the network. With several real-life data sources such as medical devices, industrial sensors, point-of-sale systems, and more, the platform offers the benefits of being developer-friendly, with open standards and out-of-the-box transport protocols. There is also the added benefit of easy, fast, and governed mobile access to any data from backend systems, SaaS applications, and legacy databases.
Highly available, flexible, and scalable architecture
The robust and simple nature of the MuleSoft suite makes it a panacea for efficiently developing reusable, manageable and governable solutions and APIs. The comprehensiveness of the Anypoint platform also allows for unwavering quality, security, and versatility, which is easy to interface, monitor, and customize – as and when your business may need it.