SAP
Technology
Machine Learning in S/4 HANA – An Overview
Publish Date: October 5, 2020
Today's businesses face the constant need to disrupt themselves before the industry/market does. Forecasting scenarios of trends, influencers and data-led decision-making are becoming business-as-usual with the rapid adoption of technology.
Modern ERP systems such as SAP consider automation, predictive analytics, conversational UI, chatbots, and innovative business process modeling as key building blocks to constitute an 'Intelligent' enterprise. And why not? ML algorithms are not resource-intensive in terms of memory consumption and CPI time. Embedded ML architectures also have a low TCO (total cost of ownership) and low TCD (total cost of development).
Let us understand why the availability of big data, better algorithms and processing power facilitate easy and quick integration of ML into the SAP S/4 HANA's architecture.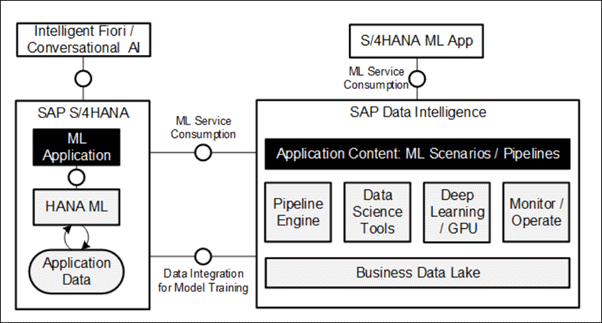 Figure 1 – This diagram depicts embedded ML architecture based on HANA ML with PAL (Predictive Analytics Library) and APL (Automated Predictive Library) the necessary algorithms.
A trusted path to an intelligent enterprise
There are countless ways that ML (machine learning) driven predictive intelligence and automated workflows benefit a business today – across any industry. You can use predictive modeling to assess your customer churn or apply NLP (natural language processing) and OCR (optical character recognition) to cut downtime in your packaging process. Marketers are used to seeing live dashboards of customer sentiments via social channels, while bankers are improving customer experience by resolving disputes quickly with RPA (robotic process automation).
In the case of S/4 HANA's in-memory platform, the power of SAP's intelligent suite and digital core combines the transactional and analytical capabilities to innovate freely with embedded ML abilities. Additional Leonardo ML features that are pre-integrated into S/4 HANA support businesses by deploying specific use cases and out-of-the-box solutions within the HANA suite.
Another benefit of S/4 HANA ML models is that it can easily handle large volumes of data and GPU. Typically exchanged data files such as images, audio, video, etc. require big data solutions. Scenarios based on neural networks, sentiment analysis, image recognition, and NLP also come with high data volume and demand GPU power. S/4 HANA enables these capabilities through SAP CAI or Conversational AI – a self-learning chatbot building platform that uses ML functionalities to gain knowledge based on historical experience and data. Similarly, Fiori helps with rich UI interfaces, BI visualization, and charts with ML.
In terms of use-cases based ML scenarios, businesses can leverage HANA's model adaptation and configuration techniques to meet both 'moderate' and 'complex' AI requirements for their business. SAP's ABAP CDS links your apps to the ML data seamlessly to increase 'predictive confidence' and 'predictive power' and validate your ML models.

Accelerate your last-mile to ML deployment
As the illustration above shows, SAP HANA does facilitate intelligent applications for every industry across every continent. Many companies, however, struggle and waste nearly 25% of their time in deployment.
As an SAP Gold Partner for 25+ years, YASH specializes in capturing the opportunities between the misaligned pace of work, processes, and machine learning teams. We help turn your data mine into a gold mine (so to speak) of valuable opportunities and performance gains.
Read more about YASH SAP HANA ML