SAP
Technology
A fiery evolution of Fiori
Publish Date: October 5, 2020
In 2013, a small initiative from SAP to create an industry-scale design system for a 'mobile-first' world laid the foundation for today's ERP design systems.
SAP Fiori's intelligence is driven towards providing the right solutions to users with data-driven insights. Its integration capability allows enterprises to use a single environment for data access across multiple SAP products and making cross-product navigation easy and seamless.
But how did Fiori become so crucial? In this blog, let us dive into how evolved into what it is today, as well as its relevance in today's world.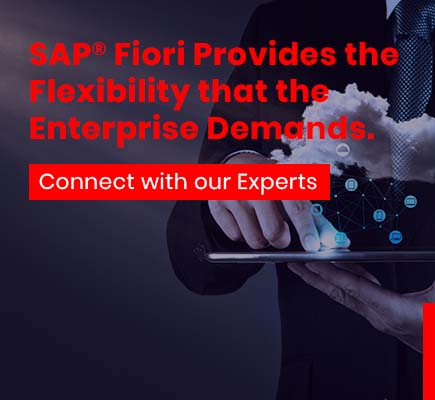 Why Fiori?
The year 2020's pandemic has accelerated the pace of evolution by transforming markets and industries with new business models and the need to build their future with systematic and structured innovation. It is precisely here that SAP Fiori has become integral for enterprises leveraging S/4 HANA, to provide great user experiences that are:
Intelligent – harmonized look and feel across products
Integrated – embedded machine learning and automation of mundane tasks
Consistent – seamlessly integrated with content from different products
&nbps;

Fiori applications are web apps that need the SAPUI5 library, a Fiori Launchpad, and of course, an 'SAP Fiori Front-end Server' or FES. SAP FES bundles a few underlying technology components required to run SAP Fiori scenarios. The components include:
UI development tool-kit for the HTML5 or SAPUI5 framework
Core components of SAP Gateway on the ABAP stack
Foundation for SAP Fiori deployment
SAP Fiori Basis Apps (only available with SAP NetWeaver 7.5 or higher)
Essentially, SAP Fiori FES helps simplify customer consumption by clearly differentiating the exact stacks required for the SAP Fiori application. Now, let us dive into its evolution.
From Fiori 1.0 to 3.0
Arriving at these core priorities with User Interface Technology has a long history. Starting with classic Dynpros, Business Server Pages (BSP), selection screens, Floorplan Manager (FPM), Enterprise Portal (UI integration for clients) to SAP NetWeaver, Visual Business, etc. – to finally creating Fiori.
SAP Fiori 1.0
SAP Fiori started the initiative by applying a mobile-first design approach to the most frequently used cases.
In its first version, evolved from browser-based SAPUI5 versions (from 1.26 to 1.38), SAP broke down large, monolithic enterprise transactions into specific task-focused apps. The design process gradually expanded with additional functionality while moving up to larger devices such as desktops and tablets. Fiori 1.0 primarily allowed for a responsive experience across all devices, using modern mobile-inspired interaction patterns and leveraging template-based applications for varied tasks.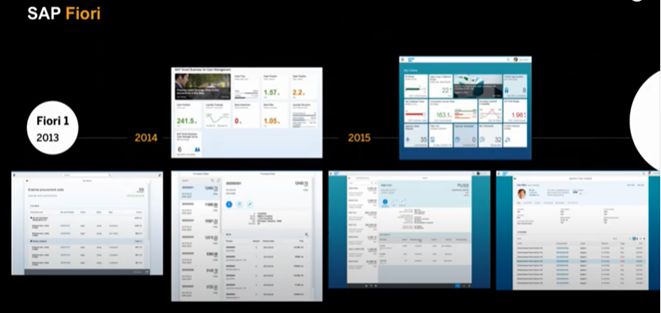 SAP Fiori 2.0
With the success of Fiori 1.0, SAP introduced new capabilities to make SAP Fiori available as a 'ready-to-serve' design system for all business scenarios. The design in Fiori 2.0 grew into a system that was even further able to offer intuitive solutions for even the most complex business scenarios. Some of its benefits include:
Faster and direct access to relevant data and apps
Transparency on priority items with timely notifications
Helps users confidently and quickly take informed actions
Increased user satisfaction with enhanced personalization with a 'Me Area', a wide choice of ready-to-use templates, App Finder environment as well as rich visualization of reports with variability functions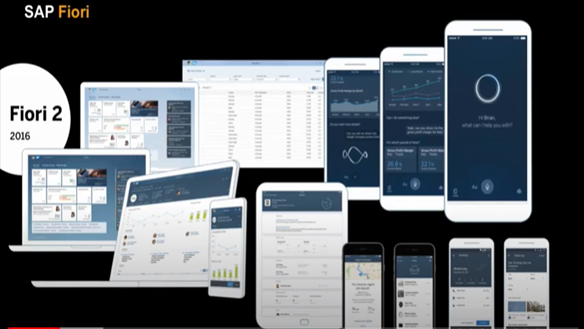 Even today, this technology is available within the SAP Business Suite via FES 3.0 and completely on the S/4 HANA environment.
SAP Fiori 3.0
The year 2018 saw the third iteration of the SAP Fiori technology, riding on its continued success and proven ability to scale and integrate the latest trends already established on past Fiori versions. This is when all product areas finally committed to work towards the adoption of Fiori 3.0 to further establish it as the new product standard for UX consistency.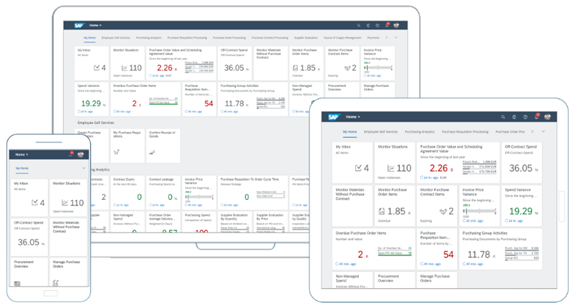 SAP allowed users to move from Fiori 2.0 to 3.0, with some conditions applied to their latest SAP S/4HANA Cloud 1908 and 1909 release. With the popularity of AI assistants and chatbots, a digital assistant with a fully conversational UI was fully integrated into the experience. Some of its new features include:
Proactive business scenario handling, with clarifications, insights, and anticipated actions.
Dynamic content that supports intelligent AI-embedded apps for analytics, briefings, tasks, alerts, and recommendations ranked by importance
A new theme with a fresh, modern look and rich, engaging feel
Improved search previews, result visualizations, results from page, and search integration with the digital assistant.
A central inbox is also combined with a digital assistant.
The pressure to innovate – fast, scalably, continuously & consistently.
The pressure to innovate sustainable, agile, and at the same time, groundbreaking value for customers, employees, and society at large is relentless today. It is not going to go away anytime soon.
Instead, businesses face the overwhelming need to navigate a constantly evolving technology, marketplace, and consumer behavior that it is becoming increasingly difficult to choose which digital tools will deliver the most impact. This scarcity of choice in the overabundance of experiences has driven companies to acquire greater visibility, focus, and customer-centricity across their operations and business models.
Reference: sap.com
SAP® Fiori provides the flexibility that the enterprise demands.