ERP is a business software system that allows manufacturers to interpret and manage data operate in real time, allows instant production status to make business operations efficient and effective. Traditional ERP deployments required significant amounts of infrastructure or hardware and periodic software upgrades to be maintained by an IT department. These operations involved additional cost and time, and complexity. Such environments made a way to the need for cloud-based ERP systems.
Unique and complex processes and workflows are characteristics of manufacturing firms. Standard ERP systems provide a basic level of functionalities way short to fulfill the requirements in the ever-changing market. A customized ERP application designed for specific industry domains with explicit workflows and data formats is a need of today. Cloud ERP products promise more than what the traditional products are offering. The major reason to move to the cloud can be its offering in service levels, possible customization, and process optimization. Also, factors such as operational costs and compliance add considerable value to the cloud products.
Basic Advantages of cloud ERP:
Integrates with add-on applications
Provides widgets, templates, and workflow tools
Has integrations to extend the core functionality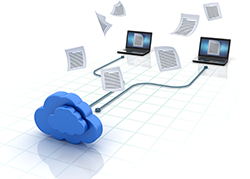 As compared to traditional ERP software, a Cloud ERP enables manufacturers to increase efficiencies and reduce costs and provides visibility to management to make informed decisions. Cost is the ultimate decision spinner- and cloud promises a reduction in costs. Cloud software is priced under a monthly or annual subscription basis, with additional recurring fees for support, training and updates. For established manufacturing firms, cloud solutions can be a choice as it requires low capital and infrastructure investments. With new manufacturers, it is easy to move to the cloud as they do not have the legacy system to replace.
What Cloud ERP promises:
The manufacturing companies already on cloud ERP are utilizing one or more of the following benefits:
Integrated reports across the departments
Reduce infrastructure and logistics costs
Capture business intelligence by integrating data from customized processes & rules of different functions
Streamline order tracking
Reduce time-to-market
Ensure quality
Automate services and customer support
Make global operations local: Access from anywhere
Bring transparency in operations
Standardize manufacturing operations and processes
increase efficiency in material planning, vendor management, inventory management
Flexibility by providing support for different business models like build-to-order, configure-to-order, and engineer-to-order.
Proactively provide market trend analysis
Deal with multiple languages and currency units
Increased mobility through devices
Cloud-based ERP systems can be customized depending on the level and complexity of the business processes; which is a typical requirement of manufacturing industry. Again we have multiple deployment option like public and private cloud. Customers also can harness the combined analytical and transactional processing power of cloud ERP to connect manufacturing processes with IoT data for better visibility into shop floor operations and optimized asset utilization and productivity. Cloud ERP is flexible enough to allow businesses to fulfill unique operational and production needs. Many manufacturing industries are investing in Cloud ERP platforms due to its advantages in speed of deployment and level of planning compared to other ERP deployments, which is due to less flexibility in the customization. They now have a better option than traditional on-premises systems. Cloud-based ERP products give manufacturing companies the capabilities of an on-premises system with the reduction in costs and help businesses become agiler. If you are one of the manufacturing businesses considering to deploydeploying ERP for the first time, you have no reason not to consider a cloud solution offering tremendous benefits.
Get more than what you think with YASH Cloud Services
Vamsi krishna Solution Architect @ YASH Technologies
More Blogs from this Author:
Comments
No Comments
Add Comments