Manufacturing
SAP
Ease of planning with Fiori : New advanced features in S/4HANA manufacturing
Publish Date: January 7, 2021
Planning is a vital part of any manufacturer's life. It is a crucial factor that helps drive efficacy in inventory and resource management.
From demand management, capacity planning, materials flow, forecasting to fully coordinated production control and inventory management; planning helps map out the time to assure that products, parts, and materials are available to the right teams, at the right time, and the right quantity. Essentially, planners need real-time information and analytics to plan well and meet customer demands, considering the company's capacity accurately.
For a long, SAP's S/4HANA implementation has been a critical bridge between engineering and manufacturing with its digital core to support digital collaboration and capabilities for comprehensive, end-to-end planning. And with every new version release from SAP, more and more advanced functionalities are being released. Like my earlier blogs based on exploring such new features, this blog will also take you through these new FIORI apps for planning and advanced features in S/4HANA manufacturing.
Distinct 'my area of responsibility' function: This feature was previously available and visible on the MRP related applications under the 'User Action' menu. Here you would have had to select the plant and the MRP controller to process any applications. However, you now get a separate application called 'my area of responsibility', which allows you to assign, re-assign, or even switch the AOR status off and on.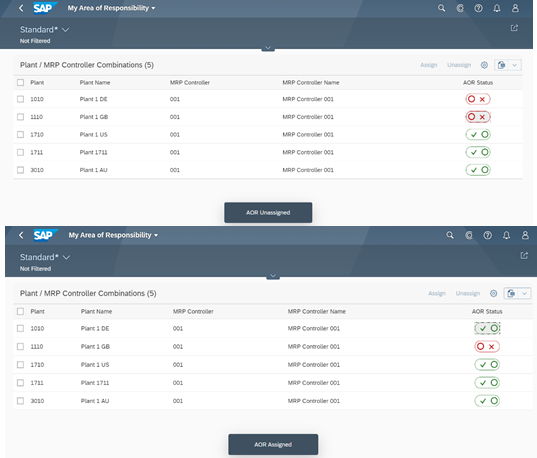 The Manage Process Orders application: We can now manage the progress and the logs of the process orders with this app. You will also get a clear overview of your current status with all the information you may need to solve issues; in case they exist. For example, suppose a particular order gets delayed. In that case, you can navigate the details at a glance as to why the order is delayed, be it because of missing components or any deviation in quantity. You can even use the information to resolve issues with immediate, swift action steps and keep production processes running smoothly.
Some of its noteworthy key features include:
Filtering of orders by quantity or quality issues, or even by their component and processing availability status using Fiori's visual filters
Managing the end-to-end workflow of your process orders from start to finish
Releasing or technically completing orders in operation in progress
Viewing existing issues related materials, operations, confirmations, and the likes, for every process order, as well as determining the root cause of the issue
Viewing order confirmations with the yield and scrap quantity.
Navigating quality, material management, and production planning applications for you to review the quality of orders, the work center's status, etc.
Handover Purchase requisitions: With this app, you will see all purchase requisitions in the areas of responsibilities that are automatically created during the MRP run. These, of course, will need to be checked before you hand it over to purchasing. However, this app lets you all select purchase requisitions in only a single step.
You do need to maintain some prerequisites to achieve it in one step. The first is the activation of MRP groups with the handover feature within the MRP group (OPPR). The second step is to assign these material groups into the 'material master'.
Once the material is assigned with the MRP group and the MRP live/run is executed, the system takes the materials maintained within the MRP group into consideration.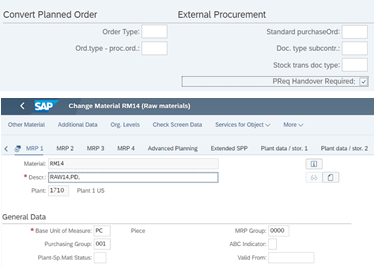 You can see a small icon beside purchase requisition for conducting the handover in the Manage Material coverage app. Without the handover step, the purchase requisition will not be visible or available for a conversion to purchase order.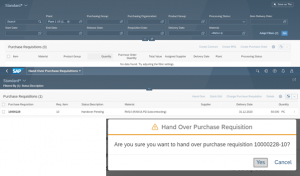 Once you accept the 'hand-overring,' you can see that the handover icon status will have an additional 'lock' icon with an approval tick.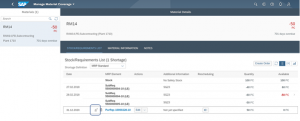 This means that it is now ready to be assigned to the supplier.
Therefore, this new app helps you check the MRP purchase requisitions thoroughly and then hand them over to the purchase for further processing.
Manage material Coverage: You can see the individual customer segments, net requirements section, and direct procurement segments present for every material. To address the eternal problem of material shortage, the system offers different solutions that can be simulated to preview every effect and find the best solution that suits the issue.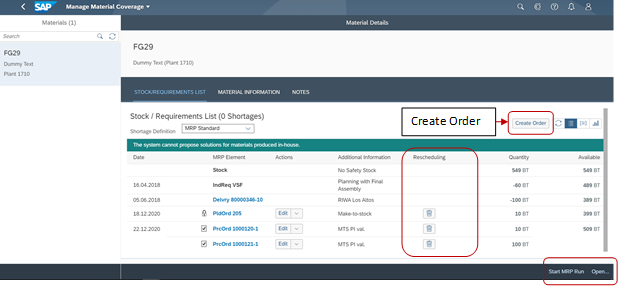 A must-have for modern planning and scheduling (APS) practices
These interesting features from SAP are crucial for bringing efficiency in planning with real-time insights and the steps to make informed decisions. Such advanced planning and scheduling functionalities are essential for modern-day manufacturing and critical in keeping up with rapid changes or market volatilities with flexibility, efficiency, agility, and accuracy – saving money, time, and efforts in the process.

Solution Architect @ YASH Technologies