SAP
SAP Production Engineering & Operations Master Data (Shop Floor Routings)
Publish Date: August 5, 2020
Beginning S/4HANA 1709, SAP has introduced brand new functionality in the manufacturing line of business known as Production Engineering and Operations (PEO). With this new functionality, SAP brings in the much-needed features required to model the production process in more detail and aids in providing more detailed process instructions to the production operators. It also enables us to verify that the production process has been appropriately executed and record production progress data. SAP PEO offers functionality that addresses the business needs of the following roles:
Production engineer
Production operator
Production process specialist
Production supervisor
Quality engineer
Though SAP PEO offers functionality catering to both Production Engineering and Production Operations, this blog will focus on the master data in the Production Engineering & Operation.


Master data in PEO, leverages the existing SAP Production Planning master data objects such as Bill of Materials (BOMs), Routings and Production Versions, and makes a complete overhaul to the structure of BOMs and shop floor routings that are version managed in PEO. We will look at the BOMs master data object in detail below and the other objects in subsequent blogs,
Version managed Shop Floor Routing:
The new shop floor routing is a version-controlled routing that enables additional capabilities in the operations. In a version-managed shop floor routing, every routing version has its own release status. A released routing version is a consistent model of a product's operations and activities. Only released routing versions can be used in production execution and cannot be changed whereas, a new routing version needs to be created to incorporate any further changes to the routing. Changes can only be made to the new routing version until it is released. However, it cannot be used in production execution while still in the status "in process", which guarantees consistent routings in production execution.
PEO Shop floor routings enable capturing more level of detail with the introduction of the "Operation Activity" under an operation that provides the flexibility to capture the detailed process execution steps. Every routing operation can have one or multiple operation activities.
The table below shows the key differences between Classical and Shop Floor Routing,
| | | |
| --- | --- | --- |
| Attributes | Classical Routing | Shop Floor Routing |
| Identification | Identified by group and group counter for task list type N. | Identified by group and group counter+ version. |
| Change states | In the case of routings with history, the change states are identified using ECNs. | No change states of routing. Each version is a unique instance of the routing. Any change in one routing version does not affect other version. |
| Edit control | Routing is always open for editing. ECNs are used to ensure the date effectivity of change states. | On release, a routing version is frozen and cannot be changed. If changes are required, a new version of the routing gets created by copying the previous version. |
| Routing determination for production | Applicability of routing for production gets determined by production version, but applicable operations are determined based on production date. | Which routing version and BOM version are getting used for production is decided by the production version. No further determination of BOM components and routing operations according to the production date. |
| Parameter effectivity | Supported | Unitized parameter effectivity supported from 1809 OP. |
| App access | Accessible using legacy SAPGUI transactions. | It can be accessed using the new Manage Shop Floor Routings app and using the SAP GUI transaction (MSFR4). |
Operation activities enable you to define detailed work instructions for production operators while allowing maintenance of scheduling and costing at the operation level. The following additional functions can be maintained in the shop floor routing at the operation activity level; we will look at each of these in detail,
Operation Activity
Component Allocation
PRTs and Documents
Operator Qualifications & Buyoffs
Inspection Characteristics
Work instructions
Work instructions with embedded data collection
Action Handlers
Compare routing versions
Shop Floor Routing – Operation Activities: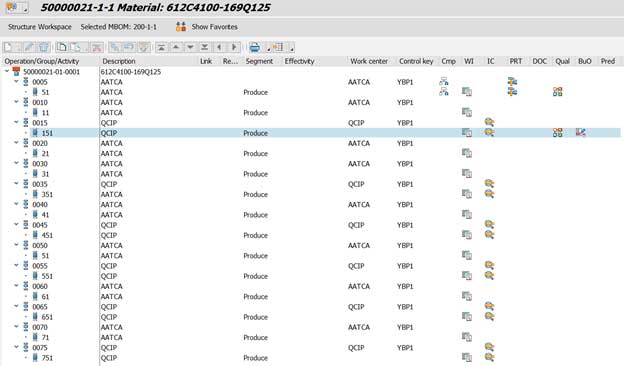 Operation activities provide the flexibility to breakdown the operation into further detailed steps and capture more detail within an operation.
There can be several operations activities in an operation that are executed one after the other.
Operation activities can belong to the following segments: Setup, produce, or teardown.
The operation activities themselves get executed in production and not the operation.
All aspects of the operation, such as component allocation, work instructions, inspection characteristics, PRTs, documents, buyoffs, qualifications, and action handlers, are assigned to operation activities.
Shop Floor Routing – Component Allocation: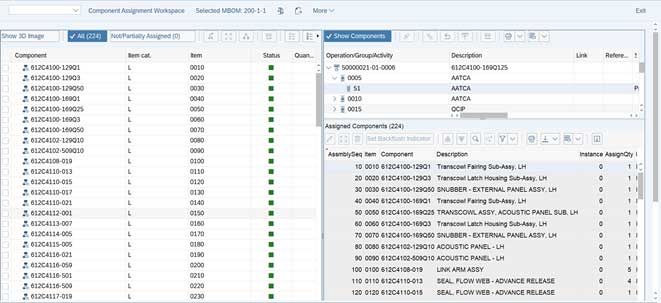 Assign components to operating activities in the corresponding workspace.
The BOM items are displayed on the left pane, which shows the current state of component allocation.
Components can be partially allocated to different activities in operation.
You can explicitly define the assembly sequence of the components. Enforcement during shop floor execution can be turned on or off.
If available, a 3D visual can be seen next to the MBOM item list. A selected item in the MBOM list gets highlighted in the 3D image and vice versa.
Shop Floor Routing – PRTs and Documents:


Assign PRTs (equipment and/or materials) to operation activities in the PRTs tab.
Assign documents to operation activities in the Documents tab.
Shop Floor Routing – Qualifications: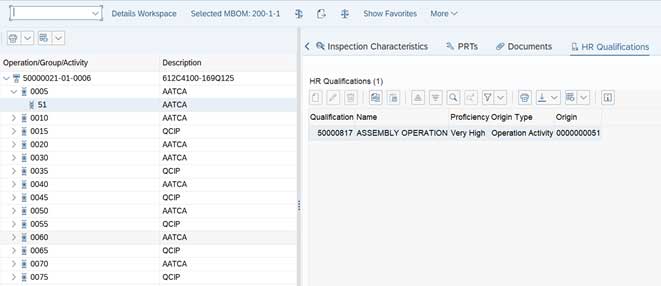 Assign one or more qualifications to the operation activities.
Define the proficiency level required for the operation activity.
Only an operator with the required or a higher qualification can perform the operation activity.
Shop Floor Routing – Buyoffs:


The buyoff is a process to sign off on a complex task by getting it reviewed by experts.
Define a sequence of buyoffs for an operations activity. – You can also copy buyoffs using the buyoff template.
A buyoff step consists of the description and the team and/or function that can perform the step.
Some buyoff steps may require qualification checks too. These buyoff steps can only be performed by personnel with the required qualifications.
Shop Floor Routing – Inspection Characteristics:


Define and assign inspection characteristics to the operation activities. These readings can be utilized for quality management or analytical purposes, such as root cause analysis.
Use predefined master inspection characteristics or create inspection characteristics specifically for the routing.
Characteristics can also be grouped to capture the readings in a table format.
Copy appropriate characteristics from other routings.
The data for the inspection gets collected by operators using the "Perform Work" apps.
Shop Floor Routing – Work Instructions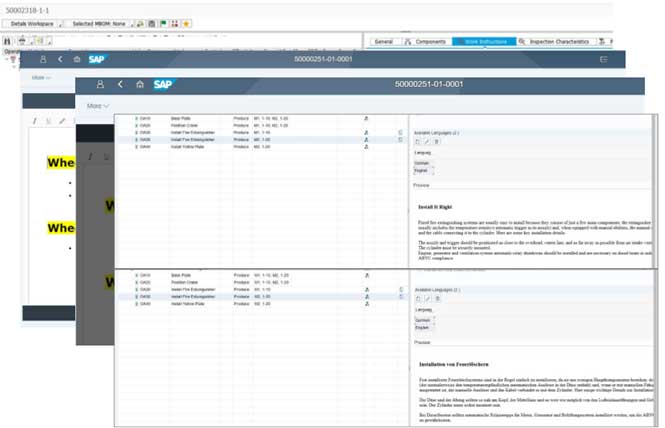 Rich text work instructions for each operation activity can be defined.
The work instructions editor lets you create content using rich text, which can be authored directly in the editor. The editor supports features such as background and foreground color, font and font size selection, highlighting, and bulleting.
The instruction can also contain images based on an external source or using DMS attachment service.
Standard texts can also be used to enrich the work instruction content. The standard texts are rich text snippets that can be reused across several work instructions.
Work instructions and standard texts can be authored in different languages. During execution, they will be shown in the logon language of the operator.
Shop Floor Routing – Work instructions with embedded data collection: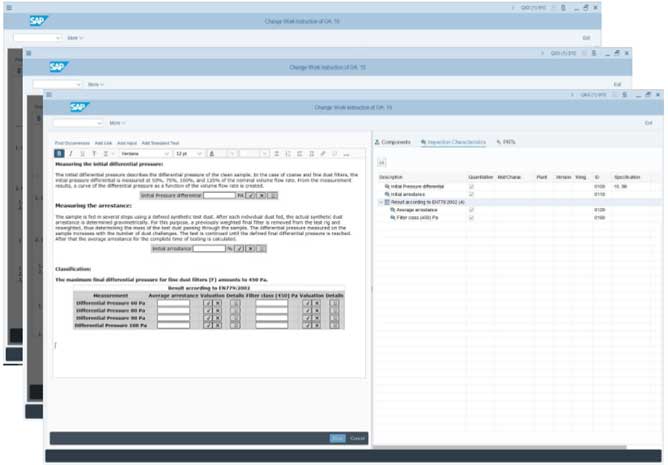 Interactive work instructions allow the production operators to record the data collection required for component serial numbers and batches as well as the readings for inspection characteristics.
You can add clickable hyperlinks in the work instruction, which, on selection, highlight the corresponding part in the component list and the 3D model in the Perform Work app.
The serial number and batch collection for components can be configured.
The inspection characteristics can be collected multiple times in an easy-to-use table format.
Shop Floor Routing – Action Handler:


The action handlers contain business logic, like for example, checks or determinations.
You can assign different action events to operations activities.
If during production order execution,a production operator triggers the action , the system executes the checks or events associated with the action handlers.
Shop Floor Routing – Compare Routing Versions: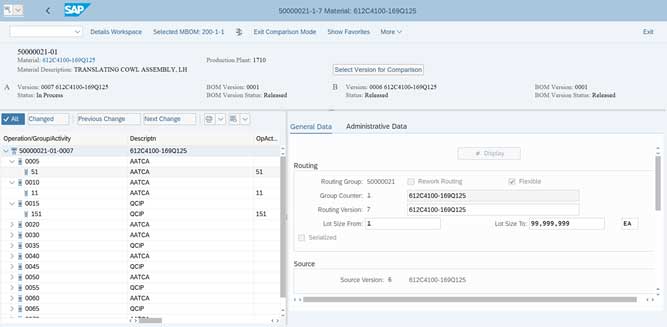 Compare mode helps compare different versions of routing
For each operation, operation activity, and operation activity object (such as inspections characteristics), you can see whether they are the same.
Work instructions get compared for all available languages, and differences get highlighted.
Copy operation,operation activity and operation activity object from one version to the other.
Production Versions:
With the PEO functionality, SAP has provided a new app, "Manage Production Version", to handle the version controls of the BOMs and shop floor routings. With S/4HANA production version is the only source of supply for in-house manufacturing, and it is mandatory.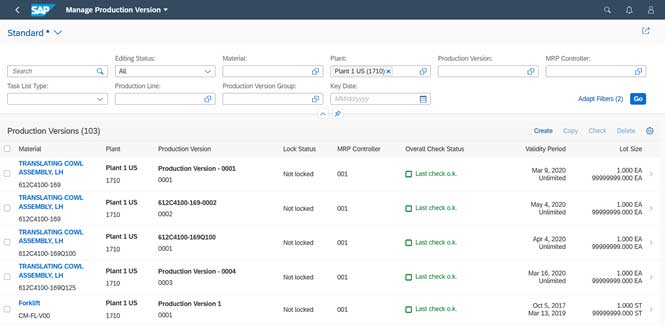 The production version is the single supply source for in-house production. It provides the exact BOM, routing alternatives and versions for production use for a given date and order quantity.
The Manage Production Versions app is created and enhanced to support the version-controlled BOM and shop floor routing. Only assigns a released BOM and shop floor routing version to a production version.
This blog is an effort to introduce the audience to the scope of PEO functionality and the new master data objects that come along with it. With this solution, SAP is now offering a way to model the detailed production execution process within the core of S/4HANA. PEO enables the operator to be provided with detailed work instructions to be presented on a single screen while working on the shop floor. This solution offers the small and medium enterprise customers an alternative to the MES system and yet achieve the detailed shop floor execution process.
Reference : https://www.dmc-group.com/dmc-ortim/wp-content/uploads/sites/6/2019/07/S4-PEO-1809-L2.pdf

Solution Architect @ YASH Technologies