SAP
SuccessFactors Reporting & Analytics – Advantage HR
Publish Date: July 10, 2018
In an era where people are talking about big data, cloud-enabled real-time analytics, etc., we still see HR professionals struggling to find a comprehensive reporting solution. Their inability to receive timely and accurate information about their workforce creates gaps in processes leading to operational roadblocks. This also creates an unnecessary dependence on the organization's IT resources to have reports built in their existing HR systems to meet their specific needs.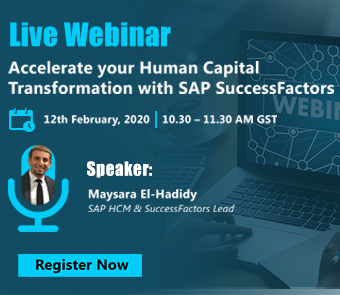 Now let's see how SuccessFactors has addressed these concerns and how various reporting options can be used to your advantage in SAP SuccessFactors.
Report Center
SAP SuccessFactors has created a one-stop shop, called "Report Center", a central place from where users can access all reports. Report Center simplifies the usage of SuccessFactors reporting tools by providing access to reports from one place, including finding, managing and creating reports, regardless of the data source. SuccessFactors calls it their Go-Forward solution. SAP SuccessFactors also assures, with Report Center, you will no longer need SAP Support or partner help to schedule ad-hoc reports.
In a nutshell, "Report Center" is a new way to navigate and access Reporting, Workforce Analytics and Workforce Planning applications.


Report Center provides various reporting formats that allow you to build reports that fit your needs:



Also, remember, there are few tools embedded from classic view to the all-new "Report Center," and they have been renamed:
| | |
| --- | --- |
| What it used to be? | What is it now? |
| Adhoc Report | Report – Table |
| Adhoc Report with a custom template | Report – Custom |
| Online Report Designer Report (ORD) | Report – Canvas |
| Tile | Tile |
| Dashboard | Dashboard |
Online Report Designer (ORD) aka Report – Canvas
The Online Report Designer (ORD) aka "Report – Canvas" is a combination of advanced ad-hoc reporting and visual reporting in SAP SuccessFactors. This feature is available and ready to use out of the box. ORD is a non-technical reporting tool that can be used by anyone in the organization (subject to permissions).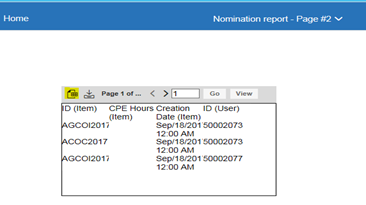 ORD reports are exportable in PDF, MS-Office Word, Excel & PowerPoint formats. It is possible to schedule the reports and send via email.
Advantages of ORD:
Internal tool with SuccessFactors Support
Advanced reporting tool
Free (part of Foundation) and available for every customer
Supports Cross Domain Reports
Basic and advanced options for visualisation
Suitable for several levels of complexity
Pre-delivered list of standard reports in Employee Central
Comparing old and new data in one report
Some limitations in ORD:
Data Manipulation is not possible, as, it does not support the writing of SQL statements within the query
Multiple worksheets are not supported in Excel output
LMS data is limited

Common tools used to create Online Report Designer (ORD) Reports (also referred to as Reports- Canvas or Canvas Reports) are:
Detailed Ad Hoc Reporting
The Detailed Reporting tool provides the ability to select fields from your SAP SuccessFactors data to build live transactional list reports. End users will be able to create reports without writing any code. They will be able to incorporate custom columns, calculations, use conditions and logic, pivot data to produce live aggregations, e.g., average, sum, count or find the min/max value and write If/Then/Else statements to transform data into meaningful reports.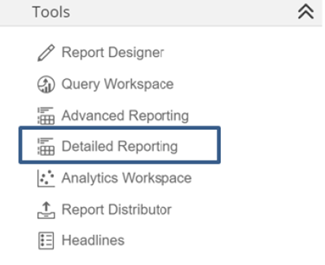 Advanced Reporting or Employee Central Advanced Reporting – Standard Reports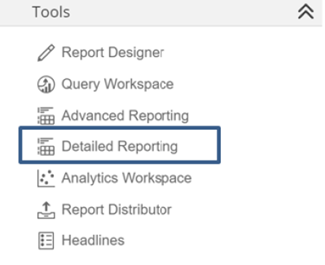 SAP SuccessFactors now comes with a lot of out-of-the-box reporting content. There are a number of reports that are available as a standard report in Advanced Reporting. Advanced Reporting is available for all EC Customers irrespective of whether they have purchased Workforce Analytics (WFA) or not.
Advance reporting tool is used to create and save queries when using the replicated data source.
Here is the sample of available reports: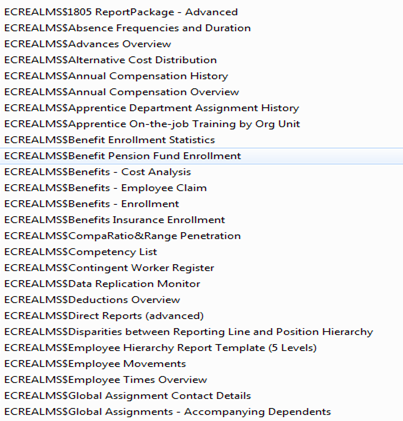 Report Designer: Traditional report management tool to manage all ORD reports
Report Distributor: Report distribution tool to automate the delivery of reports and queries via FTP, email, or run offline.
Tile-Based Dashboard
SAP SuccessFactors Dashboards is an embedded analytics solution in the SAP SuccessFactors suite. The technology behind it is an in-memory analytics and calculation engine pulling data from the Adhoc reporting framework. This allows the dashboards to be fast, interactive and always have data that is 100% up to date (no delay). The dashboards are built by SAP SuccessFactors and partners and are available as customized dashboards or as standard dashboards available for all customers in the Success Store gallery
Types:
Tiles:
Future of dashboards which are fast & flexible
Each tile is independent, so administrators can mix and match tiles into the dashboards they need.
Administrators can build simple to advanced custom tiles.

Standard Dashboards:
Slower compared to tiles
hardcoded and have complex logic that may not always work for all customers.
Standard dashboards cannot be edited or hide any of the charts, so you have to accept all charts as is.

Tile-based Dashboards
Collection of tiles
Tile-based dashboards provide a method to easily collect and visualize multiple Tiles in a single place.
Administrators can create and share these dashboards at targeted user groups.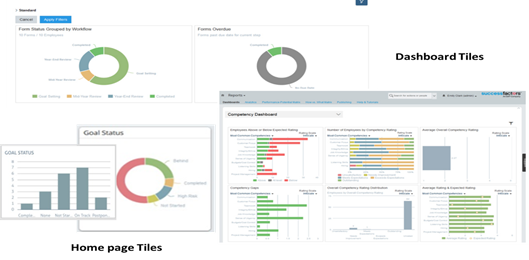 Workforce Analytics
SAP SuccessFactors Workforce Analytics (WFA) provides concrete and actionable insights on workforce data to drive your business strategies today, and help you plan. It comes with a comprehensive library of more than 2,000 plus standard metrics, industry benchmarks, and HR best practices that help measure the things that matter.
This module also supports cross-domain reporting and new charts library with ORD. WFA module needs separate subscription and requires considerable effort to implement. WFA gives you an intuitive report, customized KPIs and the ability to detect workforce trends and create awareness of problems before they occur. Since mid-2017, Workforce Analytics is also available with HANA.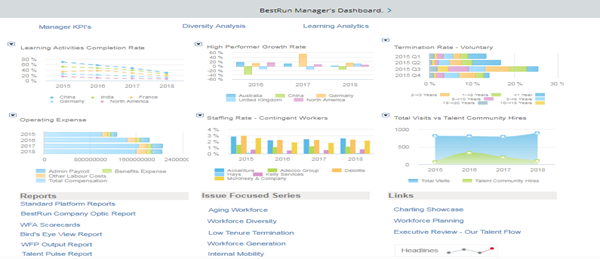 Adhoc Reports with BIRT
BIRT (Business Intelligence and Reporting Tool) is an open source project and in SAP SuccessFactors, you can use BIRT templates to visualize ad-hoc reports.
Printable chart/table/list/pivot-table with custom SQL requirements
Offline Template Builder
Advanced cell level formulae
Multiple queries on one page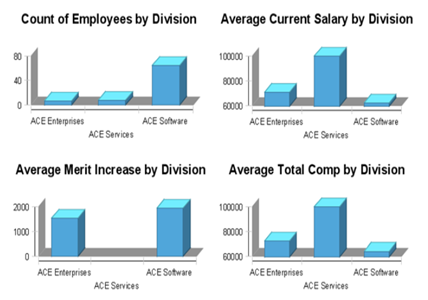 YouCalc Dashboard Reports
YouCalc Dashboard Reports are visual reports in SAP SuccessFactors. Its an External (3rd party) tool built using a client-based (i.e., installed on a PC) tool called YouCalc Dashboard Builder (standalone software).
Inherits features from Adhoc
Formatting
Very flexible
Attractive design / layout
Many functions
Real time data with acceptable performance
Drilldown (can be exported to Excel)
Can use several Adhoc reports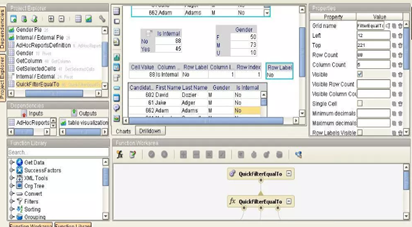 Workforce Planning
SAP SuccessFactors Workforce Planning (WFP) as explained by SAP, it is a systematic process that aligns business and HR needs to ensure organizations have the right people, with the right skills, at the right time and cost to execute efficiently and successfully. With proper planning, you minimize risks associated with executing business strategy.
Workforce Planning offers you a complete package of capabilities that includes both strategic workforce & operational headcount planning. With strategic planning, you can develop strategies that help ensure you hire and retain the right talent for years to come. The operational headcount planning helps you to plan the changing organizational needs and transform this traditionally once-a-year process into ongoing planning practice.



Plateau Report Designer (PRD)
Plateau Report Designer (PRD) is a reporting tool used to create custom reports in SuccessFactors Learning Solution. When the standard reports can't fulfil your needs, you can create a custom report or modify an existing standard one though PRD. For example, if you want to create your own Certificate or if you want to add a custom column in a standard report, you can do that through PRD.
The Plateau Report Designer GUI extends the BIRT Report Designer GUI. It contains three panes, which you can rearrange and configure. PRD can be enabled only on staging system.



And Here is the Road Map!!
SAP SuccessFactors plans to consolidate all these tools and migrate them to Cloud Analytics (formerly Business Objects in the Cloud) in the near future.
Road travelled….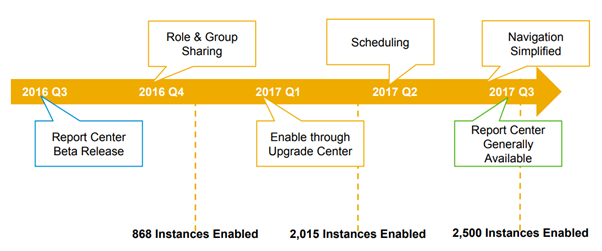 Road ahead…..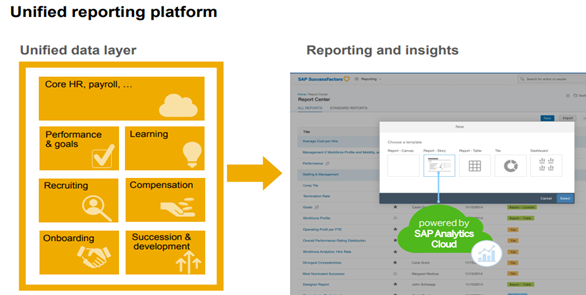 …… Planned for Q3 2018



Pic Credit: SConnect, Berlin, 2018
Visit Our SAP SuccessFactors HCM suite to transform your HR functions!
Nagesh: Senior Consultant – SuccessFactors & SAP-HCM, @YASH Technologies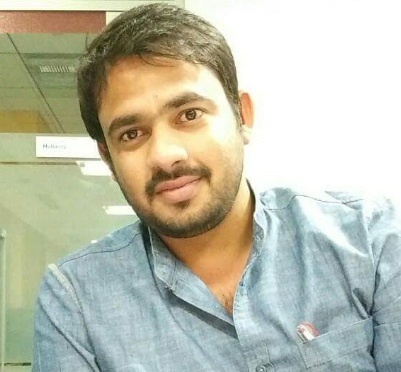 SAP SuccessFactors Lead Consultant