Automation
Modernization as a Service – Create a new legacy
Publish Date: October 25, 2019
There is no secret recipe for IT application modernization. Irrespective of domains, sectors or size, all organizations should plan their cloud migration process strategically. Modernizing the IT infrastructure is essential, whether the push comes from within the organization for upgrading legacy systems, or the impetus is a cloud-first imperative to stay ahead of the competition.
While large organizations have the resources to deal with IT modernization, most small and mid-sized businesses (SMB) IT teams outsource their application modernization and cloud migration needs. Pay-as-you-go models in the form of plug-n-play APIs have also led to a swarm of new and impressive technologies from which to choose.
To make sure that your digital investments provide a solid return, in the end, migration projects will need to strike the right balance between IT and business goals. Before that, however, let us better define Modernization-as-a-Service (MaaS).
What is IT modernization?
IT in businesses has come a long way from telephone technology and manual switchboard exchanges to automated AI chatbots that are "dramatically" front-ending several aspects of many organizations. Every advance in technology offers an opportunity to modernize by enhancing features, lowering cost, and ensuring better service.
Furthermore, in the present digital era, IT modernization is a process of managing or moving away from obsolete or soon to be obsolete software and hardware solutions. Modernization projects go beyond the typical understanding of simply upgrading technologies. These projects often require modernized thinking, skillsets and tools to comprehend and use new applications and systems – for which an organization must have a strategy. To be precise, Application modernization is the re-purposing, refactoring or consolidation of legacy applications to align them more closely with relevant business needs.
MaaS in simple terms is:
Anticipating this evolution and developing a process that adapts by maintaining agility and integration with business needs
Scale the back end of your aging infrastructure continuum to the latest set of modern features that will maximize benefit to your business.
When deploying, the goal of MaaS is to create new business value by implementing a process that evaluates new technologies, matches the benefits to align with business goals, and implements without reliance on the investment. Too many companies are held hostage by implementations that cause applications to rely on underlying infrastructure making it expensive to move away from them when encountering the EOL/EOS scenarios of either the application or the infrastructure. Historically to save costs, companies have favored a more encompassing approach to modernizing their IT, i.e. complete data center migrations or lift & shift operations. However, much like eradicating disease by vaccinating, digital disruptions have created an urgent need to imbibe a more holistic, end-to-end, and tailored approach to IT modernization.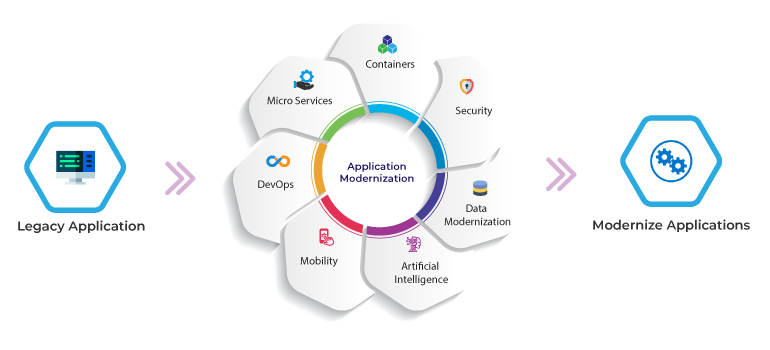 Time of the essence
A popular topic of enterprise technology news in 2019 is the EOL/EOS deadline for the Windows 2008 R2 and SQL Server 2008. The answer to that dilemma is a conscious move to the cloud/Azure as it can reduce operational overhead costs, limit IT maintenance expenses, enable innovation and propel productivity for the business. As per Gartner's emerging Technology Roadmap for Large Enterprises, 2019-2021, IT leaders worldwide see the value (in the adoption of more than 108 emerging technologies) in the following areas[1]:
Network
Security
Digital workplace
Compute and storage (on-premise, hybrid and public)
Computer storage (on the cloud)
This demonstrates MaaS by choosing to modernize EoS/EoL applications depending on where they stand in their digital transformation journey. However, time is always a factor when it comes to modernizing applications. Consumption of too many resources can cause disruption, project deadline overruns and increase costs. Fewer resources working alone without having the required experience in specific domains (with in-house developers) can also lead to an increase in the expenses and risks. Beginnings are slow, and mistakes are common in these stages, and training of the staff in addition to selecting the right tools needs experience, tested knowledge, skills, and abilities. Opting for specialized service providers in such a case is proven to be the most cost-effective option.
Services entailed in an IT Modernization project
Professionally certified services teams such as YASH, are integration experts with vast domain experience across all types and phases of IT modernization. Before any IT modernization happens, teams of specialized consultants assess and understand the current data flow and evaluate the downstream effects of any application upgrade. Working collaboratively, the internal operational and IT teams can determine which data movement patterns can hurt/benefit the business. A trustworthy ecosystem of resources are invaluable to an organization's overall modernization efforts; for instance when –
Existing legacy systems are facing obsolescence and require new interpretation and aggregation to compete in the digital era
Projects need continued development because the company finds new requirements from the applications
Companies lack the knowledge of the existing processes and need support with analysis
In the case of Windows EOS, a common inexpensive service that companies opt for is migration to Azure infrastructure services (IaaS), which focuses on reducing cost and dependency on on-premises infrastructure.
The bigger picture
The advantageous flexibility of the Azure IaaS and other cloud IaaS services is only one part of MaaS. When choosing your professional service provider, select a company that incorporates MaaS principles, processes, and architecture to ensure your new solution is not re-creating the same EoS/EoL problem you are currently trying to solve. Choosing a service provider who effectively integrates with business process owners and architects technology solutions that successfully marry cost, business needs, and targeted benefits is an absolute must. Notably, as the digital evolution lifecycle shortens and quickens, partnering with the right professional services provider who embraces MaaS is a must.
Choose YASH and benefit from a culture of integration that is unmatched in serving your companies IT needs with long term, scalable, and repeatable solutions providing experience proven results.
Resources: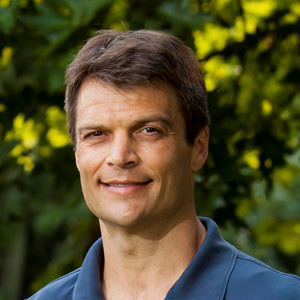 Sr. Technical Architect Infrastructure Management Services