Microsoft
Microsoft Power Portals: low code websites for external users
Publish Date: October 1, 2020
For long now, IT has been the driver of innovation and transformation in businesses. They have pioneered countless solutions to severe problems and helped organizations weather tough conditions. A pandemic, for instance, has brought us to unprecedented times where organizations of every size are forced to adjust to a new normal. Reimaging ways to work differently, communicate, and collaborate creatively to consumer demands.
And because today technology underpins everything from how a business designs or sells its products, Mckinsey emphasizes the need for businesses to excel first and foremost at developing software[1]. The report also concluded that driving effective business performance from software development comes down to the velocity of innovation, creating the right environment, and mitigating the points of friction for the organization, IT, and its stakeholders to innovate (i.e.,tech intensity). It also brings in security and governance-led concerns to be addressed.
Mckinsey – Developer Velocity: How software excellence fuels business performance
Microsoft's PowerApps, with its Power family, has been able to bridge these gaps of speed, cost and time of developing apps for mobile and web. In this blog, we shall take a closer look at one of its avatars – PowerApps Portals, and its impact on businesses.
Safe, quick & seamless collaboration – Why PowerApps Portals?
The PowerApps platform is one of the most popular and significant IT trends influencing enterprise operations and decision-making today – and with significant results! In its TEI (The Total Economic Impact™) Of Power Apps report, Forrester revealed ~74% reduced cost for companies in app development, ~188% ROI over three years, and ~132,000 worker hours (or 3.2 hours/week) saved from streamlined and automated activities .
A common dilemma for business leaders, however, is regarding the safety of data shared with external partners.
Portals(successor to Dynamics 365 Portals)is a new capability of the Power Platform that allows you to create low-code responsive websites that interact with the data stored in CDS (Common Data Service) and share with users external to your organization. Focused on both security and ease of function, PowerApps Portals help you empower any audience inside or outside your organization to safely engage with your sensitive business data through self-service interactive websites.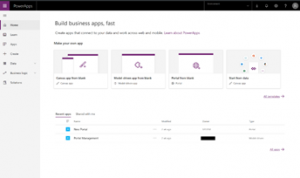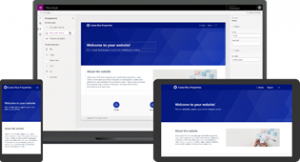 Creating custom-designed, pixel-perfect websites with rich UI using no-code portal designer WYSIWYG
– compatible for screen-sizes small to large – is now simple and easy for any business purpose you require.
The benefits of Portals in the context of the entire Microsoft family, however, go beyond simply creating quick-to-build and easy-to-use websites.
Common Data Service: The powerhouse of business impact/intelligence
Consider a product-based company looking for a solution to develop a 'single source of truth' dashboard for its internal employees and external clients, vendors & partners. They want to see the latest news and updates, blogs, market trends, etc. related to existing as well as theupcoming products. Undoubtedly, the native technology of website development will help, but managing it can be time-consuming and costly.
Now take the ability offered by Portals to login using a wide variety of external accounts for verification & authentication providers (i.e. LinkedIn, Azure AD B2C, Facebook, Google, Corporate Account, etc.). It means that if you have data stored in the Common Data Service, you can start to take all of the information, concepts, and artefacts you are already using (forms, views, dashboards, charts, etc.).And further, expose them to a much wider set of users – right away, and without a lot of additional work. CDS offers a rich, relational business database, surrounded by a sophisticated enterprise-grade security model. It also has business logic and rich modelled components on top of the data stored in CDS.
Portals also uses familiar Microsoft & CDS components such as model-driven forms, views, dashboards to surface the critical data stored in CDS with only a few clicks. Along with that,
Portals can get easily integrated with Microsoft services such as Microsoft Flow, Power BI embed, SharePoint, Azure, and more.
Professional/enterprise developers can use the extensions of CDS and Dynamics 365 Customer Engagement portal, which include templates, workflows, code plug-ins, and more to extend the abilities of the website.
Now all of that can be made available to external users using Portals. Which means, these are not simple static websites. With the power of CDS serving as a powerhouse of intelligence, it can accomplish sophisticated business scenarios – such as partner management, customer self-service – as well as straightforward websites like FAQs.
Also, with the power of many authentication providers, you can provide a completely personalized experience, when the user does login. It means, every person sees the pages and governed controls tailored to their personalization and identity.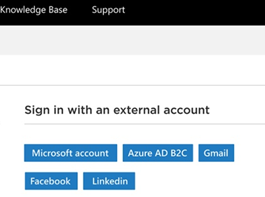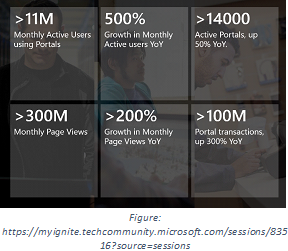 The momentum of PowerApps Portals
Since July 2019's preview, Microsoft's PowerApps Portals has shown a great momentum in adoption by enterprises, as well as the returns, as depicted in the image here.
To achieve the best results such as these, however, improving innovation/software velocity must be seen as a journey, not a race. The most significant returns will then also come in the form of answers to the most nebulous of problems – addressed with the right tools, digital ecosystem, and safe culture to 'fail fast, learn fast'.