Microsoft
From low code to high aspirations – Intro to prospering with Power Platform
Publish Date: September 11, 2020
Microsoft recently introduced the Power Platform 'return to the workplace' solutions at its flagship partner summit Inspire 2020. Designed for quick deployment and easy customizations especially for small and medium businesses (SMBs), the Power Platform's 'Back2Business Solution Boxes' are primarily being targeted at helping companies ensure location readiness, employee health and safety (EHS) and workplace care management.
This commendable initiative shows the faith businesses around the world have put in Power Platform. It also demonstrates the power of 'low code' apps to turn around cost-effective tech-solutions, to rapidly tackle global humanitarian challenges.
While this all-inclusive technology is meant to boost a culture of innovation by users who do not necessarily have to be professional developers and coders, newcomers often struggle to understand the full range of tools and advantages Power Platform offers.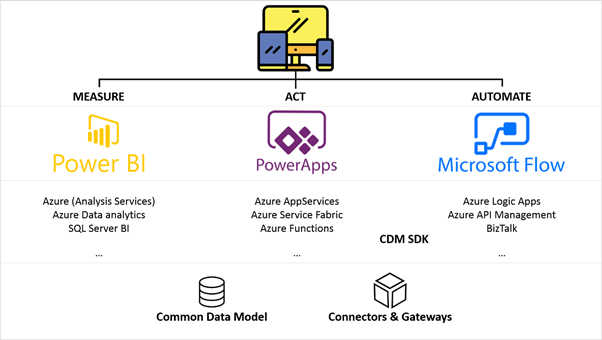 Power Platform essentials
Power Platform had launched with three main solutions – Power BI, Power Apps and Microsoft Flow. Today the family has expanded with advanced tools including AI Builder, Power Automate and Power Virtual Agents. Together with Microsoft's Azure and digital accelerators from Microsoft Dynamics CRM, businesses can strategically fuse intelligence to analyze data, automate, and act on it – 'the triple-A loop'.
The Microsoft Common Data Service (CDS) for instance, allows businesses to put their data to work with a strong, well-governed and secure integration with Microsoft 365, Azure services and more. The business impact of freeing up overwhelmed IT staff for more valuable work is also undeniable.
As per Forrester's 'The Total Economic Impact of Power Apps and Power Automate' report, businesses have achieved:
Minimized cost of app/software development by ~70%
Custom, in-house apps removing the need to pay any external licensing fees
Efficiency gains of ~15% via process automation for mobile workforces
Reduced maintenance and management efforts by a whopping ~38%
High productivity by streamlining and automating business processes
Pro-code extensibility to map, scale and grow, whenever needed
Pivot, but map common pitfalls first
Economic downturns are forcing many industries to deal with tighter IT resources and budgets, and thus turning to low-code technologies. Before you begin, scaling business aspirations with low-code Power Platform solutions however, do remember that it is important to put a method to the madness. Making sure that the right protocols around security, privacy, control, documentation, reliability, testing and more are all in place. Finally, ensuring proper integration with your legacy systems and applications will also matter.
As a Microsoft Gold Partner, YASH helps number of  small to  large Fortune 500 companies – with low-code expertise, consultation and tailored services. In the following blogs, we will explore the virtues of Power Platform for distinct industries, along with some case studies.