Microsoft
Dynamics 365 for marketing: Why segmented data makes life easier
Publish Date: March 17, 2020
Today when the world is 'cloud-first, mobile-first,' it makes sense that even the relationships between consumers and marketers will also evolve. No marketer wants to darkly 'spray and pray' anymore because only sheer luck can get you diamonds in the rough. Both consumers and brands like to do a lot of homework before any purchase. Given mobility is driving today's consumer behavior, and brands are drowning in data. As such, 'predictive marketing' has replaced conventional approaches. The predictive analytics software market is projected to reach USD 25.2 billion by the year 2026[1].
Segmenting customers by collecting and analyzing data helps brands develop better products, and then customize them to maximize benefits within each segment. A great start to devising an effective segmentation strategy is to work with the right tools. Microsoft's popular Dynamics 365 customer journey is one of the leading platforms that not only lets brands quickly effectively engage with consumers but also improve service quality and responsiveness.
Before we do that, let's understand what a modern-day, digital-era customer journey is, and why customer segmentation using D365 can be the ideal enabler.
Creating an effective customer journey roadmap
Precise segmentation is one of the cornerstones of effective marketing campaigns. By segmenting your audience into groups (or a collection of contacts), you can target messages similar to their personality, buying patterns, or needs. The more relevant the marketing message is, the more emphatic will the influence on the individual.
Segmentation is key because it contextualizes any conversation you as a brand may want to have with any individual. Marketers thrive in context. Creating customer maps helps visualize the end-to-end buying journey of any product or service. And brands can't analyze any customer's journey without context effectively. Yet creating an impact needs more than just customer maps and messaging. As per Gartner, 82% of organizations have successfully created a customer map, yet only 47% of them are using these maps effectively[2]. Why is that even after digging into data and learning more about the customers, nearly half of them are not seeing a return on investment?
It's because, more often than not, the outcome of the map reflects and is driven by the company's perspective – and not enough of the customers. The wrong direction leads to critical nuances of the customer journey being missed or utilizing touchpoints that are of no value to the customer.
Turning prospects into engaging customers with Dynamic 365 marketing
Segmentation can be of little value if you don't know how to use it. D365 for marketing is an easy-to-use app that works seamlessly with sales, ERP, and CRM platforms, and also comes with built-in business intelligence. This means you can not only dynamically customize all data to attract new and cultivate promising leads.
To turn leads or prospects into engaged customers is a process. The best way to use it is to be strategic right from the start when you set up your segmentation model. As a brand, you should be able to maximize the use of the deep reservoir of data and prioritize the following core goals:
Nurture more customer demand
Tailor customer experiences
Create relationships and scale them
Make insights-driven decisions in real-time
For example, if you want to open a new restaurant in Chicago, you will probably need to promote the opening of the joint only to the local contacts. If you are a fashion store running a sale on blazers, you will most likely market email messages to contacts who are male. Beyond the typical demographic segmentation, D365 also lets you segment target customer journeys in two ways (even combines!):
Profile segments – which record the profiles in the form of contacts, leads, accounts, etc. to generate insights
Behavioral segments – which record the interactions in the form of someone opening an email link, responding to a contest or registering for an event
Here are some of the other things marketers can do using D365:
Design customer journeys: create and tailor unlimited workflows with the simple 'no-code' drag-and-drop customer journey builder and assign to segments
Roll out multi-channel campaigns: roll out campaigns across multiple channels with templates and tools available readily to drive effective conversations
Manage events seamlessly: create branded event portals for attendees and manage logistics, scheduling, registrations and tracking all from the portal management system
Host webinars: create, manage and deliver webinars with ease to generate leads
Manage leads: track, score, and nurture leads intuitively using the intelligent, automated system so that you know which leads are most valuable and sales-ready
Get rich analytical insights: get an exhaustive and informed picture of your customer with powerful data visualization tools in D365 Customer Insights
Track your competitors: find and analyze your competitor's marketing and sales strategies wit the in-built intelligence platform, ensuring you are always aware of your weak and strong points
Succeed with intelligent marketing
Marketing in the digital age is undoubtedly being pulled into the domain of what we traditionally know as sales. With Dynamic 365-fueled intelligence, brands can today achieve their well-defined sales and marketing to not only drive qualified leads and increase revenues but also ultimately create exceptional customer experiences that stand the test of time.
[1] Acumen Research and Consulting
[2] Gartner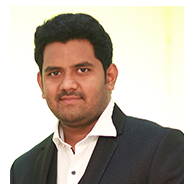 Manager